You have /5 articles left.
Sign up for a free account or log in.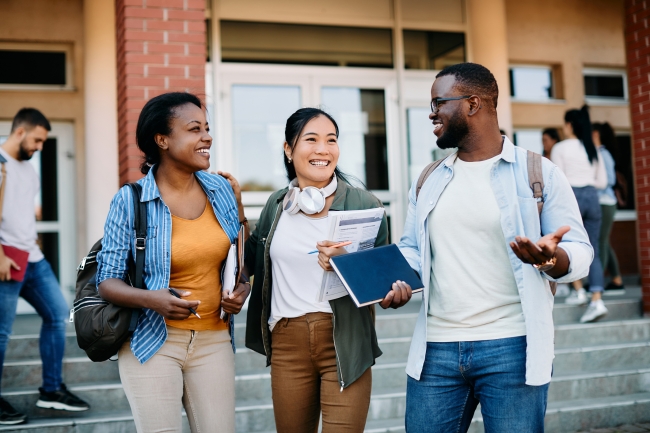 Drazen Zigic/istock/getty images plus
"Can I be honest with you?" That is what I heard after a long pause from a graduate student. As my mind and body struggled to register the gravity and meaning of those six words, I mumbled, "Yes, you can," while preparing for a conversation that seemed bigger than what that person had come into my office for. Yet, in that moment, I had opened the door and was willing to stay in dialogue as long as needed to create safety for them and for me.
As more individuals consider returning to higher education to complete additional credentials, graduate education plays a crucial role in shaping the future workforce in academe and across various other sectors. Graduate students represent future torchbearers of knowledge, research, leadership and innovation. While their journey is one of intellectual growth and constant self-discovery, graduate students whom I've known have also found themselves facing different obstacles that many institutions have yet to reconcile: being one of the few, underrepresented students in their department; searching for gender-neutral washrooms or other culturally sensitive spaces; navigating multiple buildings and massive campuses in search of ablutions stations; and adapting to numerous cultural and academic norms that are not always clear.
Criteria for what constitutes effective and successful spaces differs, depending on the needs of different graduate students. However, the term "space" transcends physical or virtual locations. Today, the request for spaces is becoming more nuanced and vital for educational institutions to reflect on, given the overlapping identities graduate students hold and recent trends demonstrating that not every graduate student experiences safety—physical, emotional or psychological—on many of our campuses.
In addition, racially minoritized students experience challenges that are greater in severity and frequency than their counterparts. Meanwhile, a hidden curriculum becomes an outdated roadmap riddled with invisible roads or detours that are not often compatible with policies related to completion time periods.
As a result, it's important for us to provide graduate students with two key types of support in order for them to succeed both academically and beyond their time at our institutions. First, they need access to spaces that have been intentionally created to allow for their full participation. Second, they need to find supportive, nonjudgmental individuals who are able to be present and willing to listen to their experiences and emotions—what's otherwise known as holding space.
How do we begin to offer these to graduate students? Five strategies can pave this pathway:
Being and seeing. The first requires self-reflection. We should ask ourselves questions such as: How do we see ourselves embodying the system and deep-structured patterns that either allow or prevent these spaces from being available? How do the identities I hold (visible and invisible) allow me to relate or not to the graduate student population we serve? Self-awareness of one's positionality is key to identifying what helps and hinders making and holding spaces for graduate students, as well as building trust and rapport with them.
Centering. The second strategy is to center the various community voices that we support so solutions and actionable steps emerge from their lived experiences. An undertaking of allyship that recognizes the power imbalances and reduces the hierarchical barriers that can exist between students and our institutions is also paramount. Simon Fraser University's Morris J. Wosk Centre for Dialogue has created a Beyond Inclusion guide based on eight principles that I lean on in considering ethical and reciprocal engagement with communities.
Co-creating. Partnering with graduate students as co-creators shifts away from the status quo of looking to best practices and other institutions as the only sources of inspiration. By empowering graduate students to tap into their own resources and capacity to devise solutions, "co-ownership" and shared interest can be powerful drivers of transforming uncomfortable spaces into those of safety and responsiveness. Steps taken like that of University of British Columbia's Graduate and Postdoctoral Studies department have led to better awareness of experiences and distinct needs of racialized students. This approach can also foster mentorship, collaboration and the growth of future leaders who can champion systemic change from within.
Naming. As many of us grapple with institutional limitations, naming what is and isn't possible in our systems and processes is important. As part of my learning from the Praxis Institute, four dimensions of transformation uphold our systems: the scope of what can be done, the speed and pace of change that is rooted in strategic priorities, the direction to which change is embraced (or not) and the depth to which both comfort and discomfort guides possibilities. Through the negotiation of identifying costs, trade-offs and possibilities, conversations with graduate students can be deepened by modeling how decisions stem from prioritization while building understanding and transparency. This also allows graduate students to engage in constructive dialogue, empathize with diverse perspectives and navigate complex dynamics—all of which are vital for success in any career path.
Expanding metrics of success. Finally, success needs to be redefined and stretched beyond what is embedded in quantitative data. Storytelling or, qualitative data and explaining the intentionality sought to build spaces can be influential metrics. An example of this is a post of an initiative that I was fortunate to collaborate and co-lead that resulted in a report focused on the impact of the process and a graphic illustration of what this space meant for students. Such measures also create avenues to collectively create a sense of belonging.
Will we make mistakes along this pathway? Yes, it is part and parcel of the learning process of changing how institutions relate to graduate students' needs in light of how career development is responding to the future of work. Understanding how to provide a sincere apology will become important as will understanding that holding space requires strengthening ourselves to do so in competence, embodiment, continuous learning and practice. Holding space can lead to extensions of our campus environments that allow graduate students to be themselves, share their experiences, and develop essential skills to navigate a complex and rapidly evolving world and career path.
I invite you to reflect on these strategies and perhaps add more, so that if the question, "Can I be honest with you?" comes your way, your response will be more confident than my initial one. As we embrace the art of holding space, we can actively create safety for graduate students. That, in turn, will not only shape individual career trajectories but also strengthen the fabric of future generations.