You have /5 articles left.
Sign up for a free account or log in.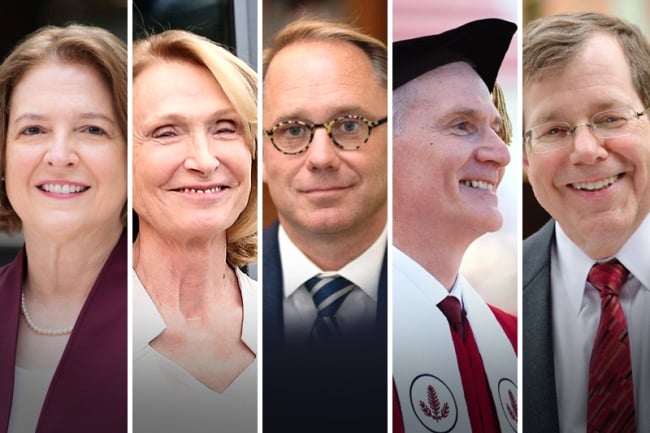 Photo illustration by Justin Morrison/Inside Higher Ed | Photos: Texas A&M University, Robin L Marshall/Getty Images, Seton Hall, Stanford University/Facebook, Thomas Jefferson University
The end of July brought a flurry of sudden presidential resignations.
Over the course of a week, presidents stepped down at Stanford University, Texas A&M University, Seton Hall University, Thomas Jefferson University and Berklee College of Music. Their reasons for resigning are as varied as the institutions they led, with some departing amid scrutiny and scandal while others left shrouded in mystery.
Only Marc Tessier-Lavigne at Stanford had been on the job for more than five years.
The resignations come as the sector faces a long list of challenges, from the growing politicization of higher education to the shrinking number of students to go around. And while certain institutions may be more affected by these issues than others, experts believe that a difficult environment is likely driving presidents away.
G. David Gearhart, chancellor emeritus of the University of Arkansas who has written books on higher education leadership, argues that the college presidency has become an increasingly hard job due to challenges that only seem to be increasing.
"I personally believe that being a college or university president may, in fact, be the toughest job in America, or for that matter across the world, but certainly in this country. It's become a very difficult position to do the right way," Gearhart said. "There are so many groups out there that a college president has to try to appease, and it's almost impossible to do that with all of the political machinations that are happening these days, not to mention the huge decline that we're going to be seeing over the next several years in enrollment, which has already started."
Sudden Changes
The two resignations that generated the biggest headlines came at Stanford and Texas A&M.
Tessier-Lavigne announced his resignation on July 19, following a months-long investigation into alleged research misconduct that cleared him of personal misconduct but found that he had not corrected mistakes in scientific papers.
The scandal hit hard at Stanford, one of the most prestigious research universities in the world, leading Tessier-Lavigne to conclude it was in the institution's best interest for him to depart the office he has occupied since 2016. He will officially exit his role on Aug. 31 but remain on the faculty.
Texas A&M University has been embroiled in a series of recent scandals related to academic freedom, but it was a hiring debacle related to a nascent journalism program that led President Kathy Banks to quit. She retired abruptly on July 21 as questions swirled about the botched hiring of Kathleen McElroy, a Black academic and former New York Times editor who claimed that her offer of a tenured position to lead the revived journalism program was changed to a one-year contract with no tenure provision.
McElroy, who has conducted research on diversity, equity and inclusion, was set to join Texas A&M at a time when DEI initiatives have faced pushback from state lawmakers who have passed legislation to bar DEI offices at public universities and to crack down on various DEI practices.
Banks claimed she did not revoke McElroy's offer, but she provided little information about the controversy during a Texas A&M Faculty Senate meeting on July 19. Banks told faculty she was "embarrassed" and "saddened by the negative attention" around the scandal.
When she retired two days later, she cited "negative press" related to the hiring debacle.
But a review of the Faculty Senate meeting, which ran more than three hours, revealed clear distrust from members who accused Banks and other leaders of resisting transparency.
"It is outrageous to come here and provide insufficient information," Dana Gaddy, a professor in the university's veterinary program, said at the meeting, arguing that leaders chose not to collect the information needed to answer their questions about the botched McElroy hiring.
Gaddy's comment was just one of many scathing remarks made by furious faculty members in a meeting that suggested Banks had clearly lost their support over the hiring flap.
(Reached by phone, Banks said, "I'm not speaking with the press" before hanging up.)
That scandal has since been surpassed by another controversy at Texas A&M, in which system leaders suspended a professor for reportedly criticizing Lieutenant Governor Dan Patrick in a speech. Local news reports indicated that Texas A&M system chancellor John Sharp had discussed the professor's suspension in text messages with Patrick, who is a powerful figure in the state Legislature.
The sudden exits of the other three college presidents may not have generated as many headlines as the departures at Stanford and Texas A&M, but they are no less wrenching for the institutions involved.
At Seton Hall, a Catholic university in New Jersey, President Joseph Nyre stepped down on July 24 after four years on the job.
Local news outlets reported that Nyre resigned amid conflict with the university's Board of Regents over an embezzlement scandal at the Seton Hall Law School in which employees stole nearly $1 million. Nyre reportedly sought more oversight of the law school in the wake of the incident, which some regents resisted, creating irreconcilable differences that appeared to prompt his resignation, according to The Asbury Park Press.
University statements related to his departure made no mention of the embezzlement incident.
"In the coming months, the University will complete its three-year strategic plan, Harvest Our Treasures, which has elevated Seton Hall to greater eminence in Catholic higher education. With the conclusion of Harvest Our Treasures in sight, I believe this is an appropriate time for new leadership to help write the next chapter of Seton Hall's remarkable story," Nyre wrote in his resignation announcement. "As such, I have informed the Board of Regents that I will be taking a sabbatical during the upcoming year and then plan to relinquish my position as President."
(Nyre declined an interview request from Inside Higher Ed.)
An email to the Seton Hall community from Board of Regents chairman Hank D'Alessandro praised Nyre, highlighting his accomplishments and making no reference to law school issues.
At Thomas Jefferson University, located in Philadelphia, Dr. Mark Tykocinski resigned after only a year as president.
In that time, Dr. Tykocinski sparked outrage for liking posts on X, the platform formerly known as Twitter, that criticized coronavirus vaccines, gender-confirmation surgery and college diversity, equity and inclusion offices. Critics told The Philadelphia Inquirer that the president's activity on the social media platform "sent an anti–public health message." Dr. Tykocinski later apologized and told the newspaper that he used the like function to bookmark posts for further research.
Like Seton Hall, the university did not address the underlying controversy in a statement on Dr. Tykocinski's resignation.
"With the search process for a new Dean of Jefferson's Sidney Kimmel Medical College nearing conclusion and his cancer immunotherapy research having reached a pivotal stage, Dr. Mark Tykocinski has made the decision to step down as President and Dean of Thomas Jefferson University to focus on his research. He will be a member of the Jefferson faculty as a full professor," a Thomas Jefferson University spokesperson wrote in an email to Inside Higher Ed.
The departure of Erica Muhl at Berklee College of Music is perhaps the most mysterious of the abrupt exits, coming after the president took a sudden leave of absence in June. Berklee's board has offered little explanation for that leave or Muhl's abrupt break with the college.
At the time of her departure, Muhl had only been on the job for two years, making her the shortest-serving president at an institution that has only had four top executives in 78 years.
The Big Picture
The sudden resignations of five presidents over the course of a week this summer reinforce a theme that emerged from the latest American College President Study from the American Council on Education: presidential terms are shrinking across higher education.
Each of ACE's last three surveys has shown a decline in length of service. In this year's edition, respondents from a broad range of institutions told ACE they had been on the job for 5.9 years. Prior surveys found an average of 6.5 years in 2016, seven years in 2011 and 8.5 years in 2006.
Some experts worry what that turnover means for institutional stability.
"I think institutions, whether they're journalism institutions, business institutions or higher ed institutions, benefit from stability and continuity that comes from long-term relationships with leadership. And if there's excessive turnover, I think, the institution suffers," said Bob Dickeson, a higher education consultant and former president of the University of Northern Colorado.
Dickeson, who served in that role for a decade, suggested that presidents have to hit the ground running, which he believes makes it difficult to do the job. Oftentimes leaders need at least a year or two to get their bearings and figure out the institution's inner workings. At the same time, if they stay too long, it can mean that the university stagnates due to a lack of fresh ideas from the top.
The perfect range for a presidency, he believes, is between seven and 10 years.
Reasons for presidential resignations are as abundant as colleges themselves, experts say. Sometimes presidents are pushed out by scandals, other times by politics or business issues.
Gearhart noted that leaders of public universities can face unique political challenges. Their boards are often stocked with partisan trustees representing the views of the governor who appointed them, and legislatures are increasingly creeping into classrooms to dictate matters of curriculum, putting academe at the center of many culture war clashes.
And board turnover can abruptly transform the extent of a leader's support, meaning the results of state elections can have direct professional consequences for presidents.
"You can come in with a board that is fully supportive, and after a period of time, that changes," Gearhart said.
Dickeson said that when institutions struggle, the blame usually falls on the president.
"We tend to look to the president of any organization as responsible for what goes on there, whether that's fair or not. But I think that goes with the territory. The person who assumes the presidency is going to have to accept responsibility for what goes on there under their watch," he said.
But Dickeson—who recently wrote a guide on the presidential search, screening and selection process for the American Council of Trustees and Alumni—also noted that boards have to take responsibility for failed presidencies, given their role in finding and hiring college leaders.
"If I was on the board, I would say, 'OK, what went wrong? How did we screw up?' Because the fact that the person has left is as much our fault as theirs, if there is fault to be assigned," Dickeson said.
In the aftermath of a failed presidency, Dickeson said trustees should interrogate their search processes to understand what went wrong. And while some failures may be inevitable, Dickeson argues that board has to take responsibility and ask hard questions to guide trustees forward: "What are the lessons learned? And how do we prevent that from happening the next time?"