You have /5 articles left.
Sign up for a free account or log in.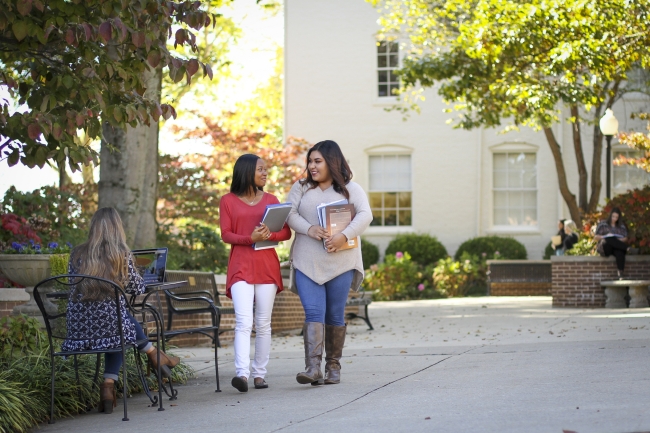 A push to help adult learners reach their career goals drove an expansion of degree programs at Athens State University in Alabama.
The university added six degree programs last fall and another one this spring, an ambitious "all-hands-on-deck" effort that flowed from a decline in the number of undergraduates, said Catherine Wehlburg, the institution's interim president. The steady decline stretches back a full 10 years, according to state data.
Athens State, an upper-division institution that enrolls only undergraduate transfer students, last fall saw a rise in total enrollment fueled by new graduate students even as the number of undergraduate students continued to slide, according to state data.
"We know community college enrollments have been decreasing pretty significantly, so that is impacting our undergraduate numbers," Wehlburg said.
Five of the new degree programs are for graduate students at a university that enrolled its first graduate students in 2016, an Athens State spokesman said. The university last year also launched seven undergraduate certificate programs and seven graduate certificate programs, according to the spokesman. The boost in graduate enrollment more than offset a 1.6 percent dip in undergraduate enrollment, which fell to 2,519 students last fall, according to state data. Total enrollment increased by 3.5 percent to 2,893 students, snapping a streak of four consecutive years with declining total enrollment.
Faculty members said they recognized a need to serve adult learners who have jobs and sometimes very specific career goals with programs designed to be fully or mostly online to help students who need flexibility in their schedules.
New programs are enrolling students that are "having to do what they need to do to keep their job going," said Adam Lewis, an associate professor of computer science who has led the development of master's degree programs in computer science and cybersecurity.
Lewis spoke of making sure programs align with industry needs in booming Huntsville, Ala., about 30 miles east of Athens State, which is located in Limestone County in the Huntsville metro area.
The drive to expand programs began shortly after the arrival of president Philip Way in 2019, said Wehlburg, who has been provost since June 2021.
"When Dr. Way came to campus, which was a little over three years ago, looking at enrollment, looking at what impact COVID was certainly going to be having on students coming back, there was a real need to increase options for students and to make them specific to our regional area," Wehlburg said. "And so the request went out to build new programs that would fit into what was growing regionally for us."
There were 939 aerospace and defense firms in the 16-county Huntsville workforce region in 2021, up from 804 just 10 years earlier, according to a report from the North Alabama Industrial Development Association. As a result, a bachelor's degree program in aerospace systems management is among the new degree offerings.
A local economic development official praised the university's efforts.
Athens State "has responded to the demand to provide undergraduate and graduate degree programs that align with the increased job opportunities with the Department of Defense, aerospace and FBI expansions in the region," Bethany Shockney, president and chief executive officer for the Limestone County Economic Development Association, said in a statement.
Way resigned last year and currently serves as a special assistant to the university's Board of Trustees, Wehlburg said.
Debra Baird, a professor of religious studies and education, credited Wehlburg with guiding the expansion.
"Most people here by that time had realized we had to make some changes," Baird said, describing the receptiveness of faculty members to adding more graduate programs. "We had gotten through the resistance and the thought that we needed to remain just a liberal arts institution."
But the call for new programs raised questions about whether there would be enough resources to go around.
"My first thought was, 'Do these people really understand what they're asking for?'" said Lewis, explaining that he wanted to know if staffing would be sufficient to both maintain the university's existing undergraduate program and grow graduate programs.
"That was part of the initial negotiations that we had between the faculty and the administration, to figure out what we were going to do, was building that staffing plan," said Lewis.
Wehlburg said the university added four faculty members in 2021, but three were replacements rather than newly created faculty member positions. The 2021 hires have an annual cost of about $260,000, plus benefits, she said. Last year, the university added 11 faculty members, including two new faculty member positions and nine replacements, for an annual cost of about $714,000.
The university gained some savings from replacing faculty members retiring as full professors with assistant professor hires, Wehlburg said. The savings "provided us with most of the funds to make these new hires," she said in an email.
Wehlburg said the university also ended a bachelor's program in public safety and health administration last year and used the savings to support a new bachelor's degree program in public health, which she said better fits the needs of students and the community.
The total costs from adding the new programs have been "truly not very much," Wehlburg said. "We run a very tight and lean budget."
Lewis said there were compromises involved, but the university approved adding two new faculty lines in support of the computer science and cybersecurity programs.
"We were able to pull together the business case, given the required credit-hour production we had to maintain on the undergraduate side," Lewis said.
He added, "We've been rather fortunate in that regard. Our local administration is very serious about making the graduate programs work. They have been very good about trying to get us the resources."
Researchers elsewhere, along with graduate school officials, say serving this group of students is important.
"There are labor statistics that show pretty clearly that the fastest-growing segments of the workforce will be in jobs, in careers that require some level of postgraduate preparation," said Suzanne Ortega, president of the Council of Graduate Schools, an organization with about 500 member institutions. The federal Bureau of Labor Statistics projected a growth rate of almost 17 percent from 2016 to 2026 in occupations that typically require a master's degree, the fastest growth rate for any education level.
Baird led the development of a master's degree program in interdisciplinary studies.
"The students sometimes ask their employers what exactly they're looking for them to be able to do when they finish this master's," Baird said, describing most of the 12 students in the program this term as "midcareer" and in their 30s or 40s.
"We think we are doing a service to all of the employers by allowing these students to take the courses the employer thinks are most important, and not just the static master's degree," she said.
Lewis said meeting the demands of both students and employers drove decisions about which new programs to offer.
"The customer for higher education isn't necessarily the student. It's going to be the employers who are looking to hire the student," Lewis said.
Students attending graduate school often have to juggle their time between academic responsibilities and personal obligations, said Jessica Nicklin, an associate professor of psychology and assistant provost for graduate studies and research at the University of Hartford in Connecticut.
"Our graduate students often say, 'I want more opportunity for connection or community, or I want to meet people.' But then they can't come because they're too busy," said Nicklin, who has researched how graduate students try to maintain a sense of balance given other responsibilities.
Baird said her approach is to make sure she's available to help students who may have needs outside of business hours.
"All my students have my cellphone number. They know where I live," Baird said, adding, "They know they can email me at any time."
Joseph Fuller, a professor at Harvard Business School who helps lead its Managing the Future of Work initiative, said it's important for higher education leaders to pay attention to industry needs in their communities.
"The institutions that approach industry, with the right mind-set, and with a sustained effort, do create better outcomes on the whole with these programs than they create with their kind of general studies programs, or when they just kind of survey the market and say, well, there seem to be a bunch of jobs in this, so we'll come up with a curriculum on our own," Fuller said.