You have /5 articles left.
Sign up for a free account or log in.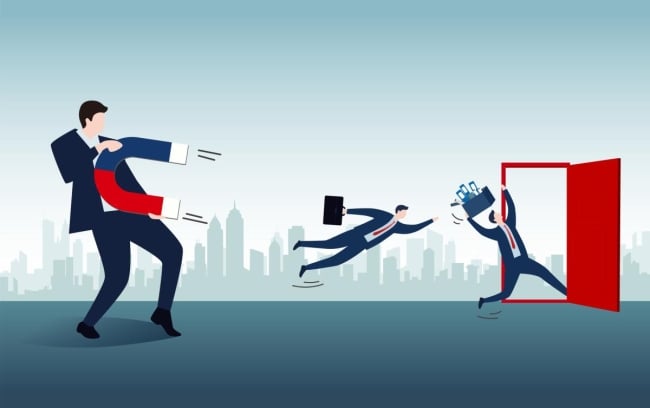 zhuweiyi49/digitalvision vectors/getty images
As we begin a new year, higher education will continue to face the challenge of unfilled job positions as employees depart to other organizations and sectors. According to a recent survey from the College and University Professional Association for Human Resources, 57 percent of college employees (faculty and staff) reported they are likely to leave their jobs in the coming year.
Colleges and universities saw greater numbers of departures last year. In Inside Higher Ed's 2022 Survey of College and University Chief Academic Officers, 79 percent of provosts observed that their faculty members were leaving a somewhat higher to significantly higher rates in comparison to past data trends. And 73 percent of the respondents said that their staff members were leaving at somewhat higher or significantly higher rates than before, as well.
The reasons cited for the departures include burnout, low compensation, lack of remote or hybrid work options, and recent racial and political unrest—which places pressure on workplace relationships and complicates people's sense of belonging. In addition, employees are being lured away by more competitive packages from rival colleges or organizations in other fields.
Besides actually leaving their college or university, many employees have been disengaging as a way of dealing with burnout and other issues. Recent data from the 2022 State of the Global Workplace report from Gallup states that only 21 percent of employees claim to be engaged at work.
Social media has recently popularized this disengagement and departure cycle through a variety of names: the Great Resignation, the Great Reshuffle, the Great Re-Evaluation, the Big Quit, the Turnover Tsunami and, most recently, quiet quitting. Despite the relative newness of those terms in public discourse, the trend they characterize has been on the rise for years. And while the pandemic and responses to recent racially charged national events may have exacerbated it, as in other industries, higher education's struggle to grapple with such workplace issues reflects longer-term challenges to meaningful employee engagement.
How can higher education leaders begin in 2023 to recenter and re-engage their employees in the midst of increasing departures and disengagement? Based on my experience working on these and other issues of engagement, diversity and inclusion, I'll offer a few suggestions.
Start With Belongingness
"Belongingness" is not just a diversity, equity and inclusion buzzword. It is a shared fundamental human need that is hardwired into our DNA. Cultivating a sense of belonging entails everything from the physical, structural design of our campuses to perceived institutional messaging that is reflected through resource allocation, traditions, policy and the processes of who gets access, rewards, punishments or support. Leaders should periodically and proactively engage in measures to interrogate and assess their institutional culture and climate of belonging to determine if the intent matches the impact on employees
Specifically, we need to ask:
What data do we need to identify and use to prioritize areas of growth and improvement?
How do we know what it is like to work here?
Who is thriving and why?
What are our institutional best practices to ensure that everyone is welcomed, valued and respected?
Whom are we including and excluding in our planning?
How often are we checking in with employees to discover if the actions taken reflect their priorities and values?
And finally: Are we asking the right questions?
By routinely considering these issues, belongingness becomes both a goal and a continuing process of nurturing a culture dedicated to continuous improvement.
Prioritize Psychological Safety
Extensive academic literature exists on psychological safety and its effect on people's learning and their performance in teams and organizations. Psychological safety is a shared belief held by employees that others in their workspace will not embarrass, reject or punish them for speaking up. When employees feel comfortable enough to show up as their whole selves, campuses can better create innovative and appropriate responses to their needs and demands. Moreover, employees will trust the institution enough to buy in to its strategic efforts and are more likely to take risks, discuss challenges and embrace mistakes as part of the learning process.
When psychological safety is centered in these learning processes, individuals are encouraged to express themselves freely. Done correctly, recentering employee engagement becomes a co-constructional experience in which groups are not just empowered to lean in. They are also open to building trusting relationships and finding common ground to speak openly and honestly in a manner that informs leadership. In return, psychological safety becomes a catalyst for transparency and data-driven priorities that can help leaders identify barriers and create an equity-driven culture and climate at all levels of the institution.
A meaningful way to demonstrate psychological safety can occur through employee onboarding process. In addition to setting the standards and expectations through rules, required trainings, policies and procedures, take the time to ask new team members what they would prefer regarding things like the type of feedback they need, their conflict-management style, incentives they would find meaningful, helpful resources to support their whole person and the like. By doing so, your institution values people, not just their performance, which ironically boosts employees' productivity, as well as their job satisfaction, motivation and sense of fulfillment.
Double Down on Wellness
I also encourage institutional leaders to consider opportunities to include other holistic wellness practices in their employee engagement strategies—especially for their most vulnerable populations. Employees currently face a range of challenges: emerging public health concerns for themselves and their families, feelings of burnout or racialized trauma, and financial burdens due to increased costs of living, among many others. For example, a recent study highlighted that 54 percent of Americans are merely coping when it comes to financial matters, while another 17 percent are vulnerable and struggling in all or nearly all areas of their financial lives.
While almost everyone has felt the pain point of at least one of those issues, our historically underrepresented and minoritized groups have felt it the hardest. A 2018 study found that Black people experienced days of poor mental health over a three-month period after a police killing of an unarmed Black person in their state. According to data from the Centers for Disease Control and Prevention, the age-adjusted COVID-19 mortality rate is significantly higher for American Indian or Alaska Native people than white people. And LGBTQ persons are 2.5 times more likely to experience depression, anxiety and substance misuse than non-LGBTQ individuals, yet they continue to face barriers to health-care access as a result of social stigma, discrimination and violence.
Doubling down presents an opportunity for institutional leaders to champion their employees by exploring and interrogating traditional policies, procedures, practices, benefits packages and wellness programs to make sure they are competitive, accessible and inclusive. At the organizational system level, that might involve:
Offering self-care days;
Enhancing parental leave policies and childcare subsidies;
Instituting more robust holistic health programs that address racial fatigue and trauma; and
Embedding required well-being and self-care components in leadership and employee competencies.
Colleges and universities should also bolster financial wellness tools. Most employers offer a range of financial wellness benefits such as retirement savings plans, life and disability insurance, financial planning and coaching. However, with the growing costs associated with inflation, campus leaders are being challenged to generate even more forward-thinking approaches to work and their commitment to employees.
An example could be increasing employee access to financial resources to cover their needs. In one survey, 15 percent of human resources professionals noted that their institution offered emergency funds—typically in the form of payroll advances or emergency savings funded through payroll deductions—and each of those organizations has since reported higher employee satisfaction ratings.
Provide TIMELY Communication
Communication is a catalyst for advancing beliefs, shared meaning, data, strategy and actions at both the organizational and personal levels. TIMELY communication is my acronym and guideline of reminders for messaging diverse audiences.
Time-sensitive and transparent. Messages have a usefulness window, and long delays communicate a lack of time sensitivity and run the risk of losing the message's importance, relevance and effectiveness. Time sensitivity, coupled with transparency, aids institutional progress and goals by increasing accountability and closing the gap between purposeful messaging and actions. This is paramount in times of crisis.
Intentional messaging. Messages and actions need to be succinct and intentional in a manner that highlights the action, the purpose behind the action and how it applies to the larger strategic vision of what the campus is aiming to achieve.
Meet people where they are. Communication should be personalized to the community and reflect the college or university's stance and values. People connect with campus culture. When messaging, you should start with a holistic picture of the campus, its goals and vision and conclude with concrete actions and everyone's role in reaching the shared goals and vision.
Engage key constituencies. Engaging communication is both a two-way dialogue and intentionally inclusive. That includes finding ways to invite feedback through, for example, town hall meetings, surveys and informal conversations. Employees—whether faculty members, administrators or staff members—need to feel truly heard and to see themselves as part of the institution's larger goals. Last, ensure that communication mediums are accessible to reflect the diversity of your audiences. Provide, for instance, ADA accommodations for people who need them and technological accommodations for those who can't attend in person.
Language inclusivity. Words are powerful and defining. Inclusive language sends the message that words matter and the intended audience is respected and valued.
Your brand authenticity. Messaging should be recognizable, consistent, and reflect a clear image of your institution's identity and positioning. And, because recent research shows that employees seek to connect emotionally to their organization's culture, the delivery should be realistic, humble, transparent and tell a story that reflects the audience and intertwines both the process and progress of your journey toward achieving a goal. In other words, employees want to feel invested in and aligned with the vision, mission and values of the institution. After hosting a town hall or open Q&A forum with employees, for instance, campus leaders should take visible action and provide updates to demonstrate to employees that they have been heard and show how that action supports the institutional mission.
Meaningful employee engagement begins and ends with intentionally building an inclusive and equity-driven climate and culture. It requires an everyday commitment to listening, learning, investing and actively checking in on employee well-being.
And that commitment will pay off. The suggestions I've outlined will not only help employees but also will impact student success, as campus faculty and staff provide the networks of support that students need. Metaphorically, if student success is considered the fruit of our institutional efforts, employees are the sunshine, tools and soil that nurture a student's ability to flourish and thrive.