You have /5 articles left.
Sign up for a free account or log in.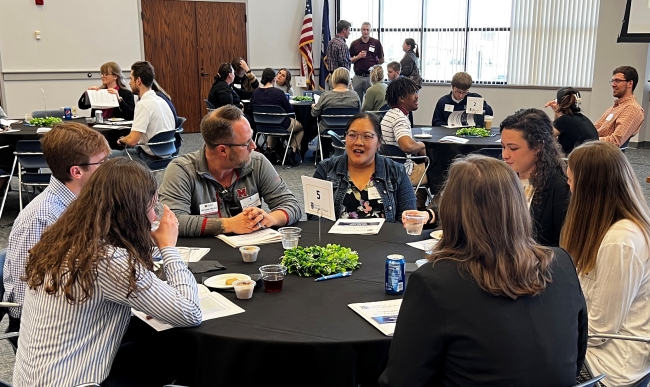 Mentorship provides college students with a variety of benefits, both personal and professional, but many lack a mentoring relationship because they don't know how to establish one on their own.
A fall 2021 survey from Inside Higher Ed and College Pulse found a majority of students without a mentor said the most common barriers to mentorship are not knowing how to find one and not knowing what to ask a mentor.
A faculty member at Thomas More University in Kentucky implemented the Biology Professional, Alumni, and Career Experiences (BIO PACE) initiative to connect students with university alumni who serve as industry professionals. The initiative promotes confidence among participants and provides insight into the tools for success in the field.
The backstory: Biology department chair Shannon Galbraith-Kent teaches the senior capstone course and has, over the years, brought in a variety of alumni to speak on panels to her students. As a Thomas More alumna herself, Galbraith-Kent recognized the alumni community's desire to give back and be involved with students as well as the need for students to build their professional networking skills.
In recent years, Galbraith-Kent has seen how the pandemic has detrimentally affected students' confidence and interpersonal skills and decided to implement alumni engagement for biology students.
"We've got an opportunity here to use our alums in a really, really transformational way," Galbraith-Kent says.
How it works: At Thomas More, there are around 160 students in the biology department and seven full-time faculty.
Galbraith-Kent worked with the department staff and alumni office to compile a list of alumni email addresses and gauge interest in contributing to a mentorship program. Around 30 percent of recipients responded, with a varying range of interests from in-person activities to email and Zoom interactions.
Among those local and willing to be in person, Galbraith-Kent set up a roundtable, speed dating–esque networking experience so students could engage with several alumni in a comfortable and controlled atmosphere.
Part of the goal was to expose students to the different careers available, Galbraith-Kent explains. Biology students are surprised to hear about the different roles alumni end up in, whether clinical, in the field or educational.
The event took place in April and had 21 alumni and 30 students, representing a swath of interests and industries and graduates ranging from the past three or four years to decades. For the first hour or so, students had a few minutes to chat with alumni at various stations around the room, and the final half hour of the event was free flowing, allowing participants to re-engage with connections or meet new people.
Galbraith-Kent put together a booklet of student and alumni contact information to share with those at the event to optimize time for interaction, rather than swapping emails or phone numbers.
The event proved success for some students who were able to set up job shadows with alumni for this summer, and others connected on their own time, Galbraith-Kent says.
Next steps: Following the success of the first event, Galbraith-Kent hopes to scale the program to involve more alumni in a variety of fashions, such as Zoom mentoring with nonlocal alums or one-on-one offerings.
Galbraith-Kent also aims to make the program more sustainable—looking into a funding structure and developing an advisory council for the department to receive alumni input on possible contributions.
A larger goal is to create a more formal, departmentwide process or database to connect alumni with mentees. As Galbraith-Kent explains, students are often looking for a specific industry professional, like an occupational therapist, for example, to shadow, and establishing a complete list of willing and interested alumni could aid that process.
Get more content like this directly to your inbox every morning. Subscribe here.