You have /5 articles left.
Sign up for a free account or log in.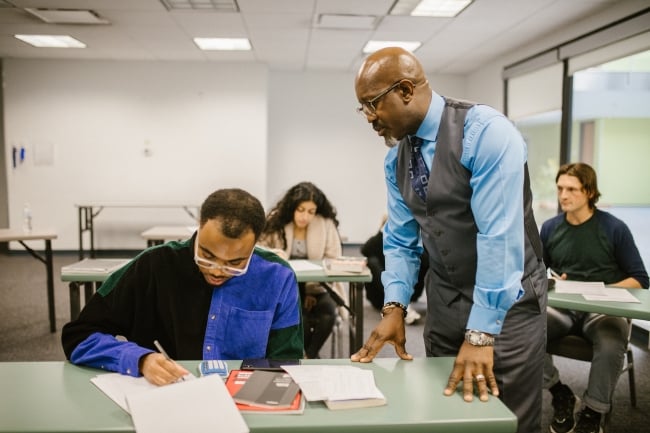 Photo by RDNE Stock project from Pexels
About 70 percent of Americans believe people with a college education have higher earnings and access to a livable wage compared to those with just a high school degree. However, far fewer Americans—53 percent—think accessing high-quality higher education is affordable. Those are some of the core findings of the latest "Varying Degrees" report from New America, which surveys Americans about their perceptions of the value of higher education.
The relationship between those findings—that higher education is perceived as valuable but increasingly unaffordable—remain consistent with the survey's conclusions in previous years, said Sophie Nguyen, lead author of the report and higher education policy analyst for New America, a left-leaning public policy think tank.
"The majority of Americans want to see state and federal governments invest more in higher ed," Nguyen said. "Financial help for students, and especially low-income students, hasn't been able to catch up with the significant increase in cost."
How much do you agree or disagree with the following statement: Americans can get a high-quality education after high school that is also affordable?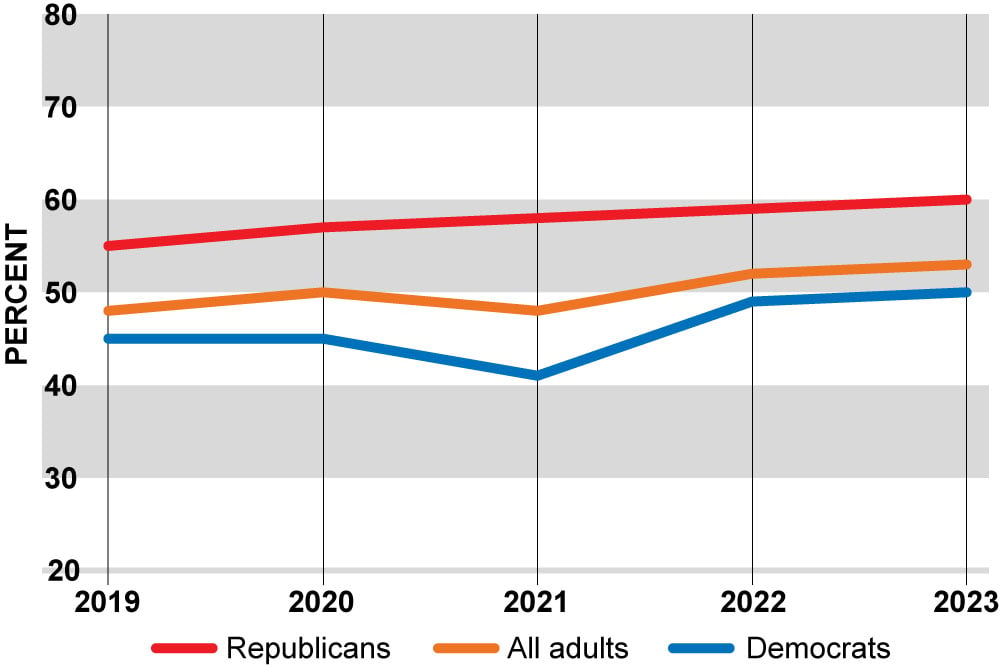 Nguyen said that while the federal government has recently made an effort to reduce student debt burdens and increase the amount of money Pell Grant recipients receive, it's not enough to alter public perception about the inflated costs of attending college. "Until monumental changes occur," she said, "perceptions about affordability won't change."
Those perception-altering changes, Nguyen added, would need to come on the front end of paying for college, like through widespread access to free community college, instead of addressing student debt balances postgraduation.
"The fact that states no longer invest as much in public higher education means that students and families in those states have to pick up the slack to pay for college," said Nguyen. "We have to directly relieve the burden of funding higher education from students and families, especially low-income students and families."
Transparency Wanted
Until that happens, 92 percent of the 1,497 American adults surveyed this year think it is important for colleges and universities to provide publicly available data on indicators of return on investment, including graduation rates and graduates' employment rates and earnings. That emphasis on the importance of accountability hasn't changed much over the past several years that New America has asked about it.
"Policy makers deserve to have that data to understand programmatic and institutional performance," said Rachel Fishman, director of the higher education program at New America and leader of the new report's section on accountability. "Students and families deserve to have that data because they're making one of the most expensive decisions of their lives."
Although there are ongoing efforts to provide more streamlined, accurate data about what a student could expect to get out of an education at a particular institution, like the proposed federal College Transparency Act, those data are not yet available for prospective students trying to make decisions about their education right now.
The layers of that frustration can be seen in the survey, which shows 74 percent of Americans agree that colleges and universities should lose some access to taxpayer dollars if many of their graduates don't earn a living wage. Further, 72 percent said institutions should be penalized if students and graduates have high student loan debt relative to their earnings.
"People see higher education as an investment. You have to take time out of the workforce, you have to pay for it and the hope is you get a return for the time you take out of the labor market," Fishman said. "People want to feel like their funds are being put to good use."
While the majority of respondents largely agreed on the financial benefits of higher education—and a need for institutional accountability to ensure those benefits—there was less agreement on the broader, social benefits of a college degree.
When compared to people who don't have an associate or bachelor's degree, half of respondents said they believed people who've earned an associate or bachelor's degree have better overall health than do people who don't have a degree. At the same time, 56 percent said college equates to higher satisfaction with the communities where they live.
Compared to those who have not completed an associate or bachelor's degree, or an undergraduate certificate, how do you rate the following for individuals who have completed these undergraduate credentials?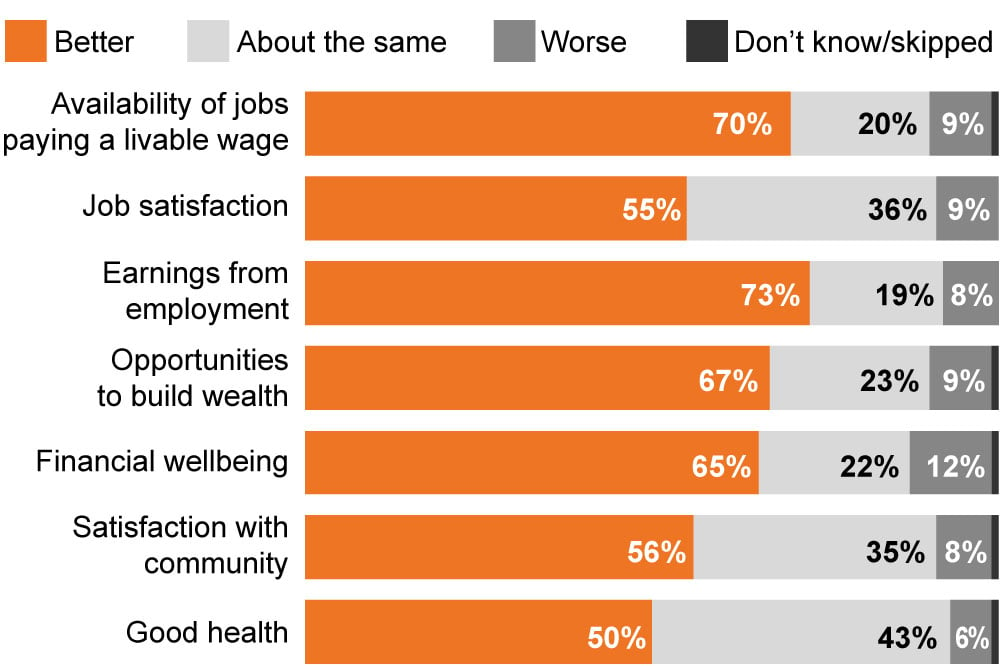 However, three-fourths of people surveyed (prior to the U.S. Supreme Court striking down race-conscious admissions) said higher learning institutions should prioritize making college accessible to students from historically underrepresented backgrounds.
College has become more accessible for marginalized students over the past 40 years, but that's happened in concert with continued decreased state investments in higher education, said Natasha Quadlin, an associate professor of sociology at the University of California, Los Angeles, who last year co-wrote a book called Who Should Pay? Higher Education, Responsibility, and the Public.
"My research has shown that people generally see a lot of value in higher education, but at the same time there's growing concern about whether they can afford it," Quadlin said, noting that it's still true that "the vast majority of degrees have positive returns over and above a high school diploma."
In her research, she asked people at which point unaffordability would push them to the point of opting out of higher education altogether. "Overwhelmingly, people say it's much easier to have a college degree to not have one, and that it's much easier to advance in your career [with a degree]."
It's not clear yet where the tipping point on the cost-benefit analysis of college is for the majority of people, but Quadlin said not all prospective students can afford to focus on the long-term benefit of a degree because "there's so many more costs you have to incur before you can get to that point."