You have /5 articles left.
Sign up for a free account or log in.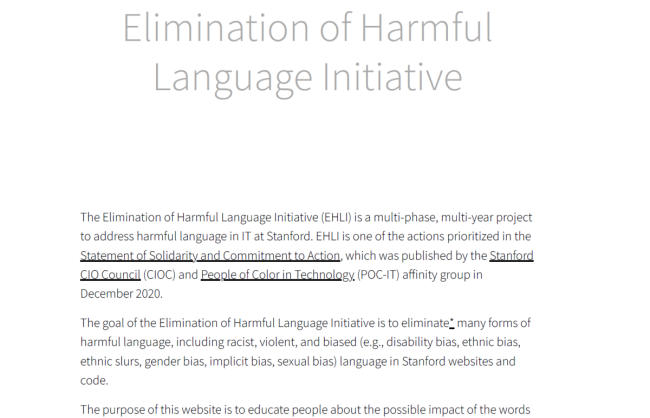 "This website contains language that is offensive or harmful," a Stanford University Elimination of Harmful Language Initiative website stated in December. "Please engage with this website at your own pace."
The initiative, published by the university's CIO Council and People of Color in Technology affinity group, sought to eliminate racist, violent and biased language in Stanford websites and code. The university was swiftly criticized for suggesting the elimination of words like "American," "immigrant" and "grandfather," prompting it first to remove the list from public view and then, weeks later, to pull it from its website entirely.
But Stanford is not alone in seeking to remove harmful language from its college communications. On the contrary—many colleges engage in such practices, though they are less transparent in their practices. Also, some acknowledge that their efforts, which have not engaged their communities, could be seen as performative.
"Parodists have it rough these days, since so much of modern life and culture resembles the Babylon Bee," the Wall Street Journal editorial board wrote on Dec. 19, referencing the satirical website that is sometimes referred to as a conservative version of The Onion.
Following the backlash, the university hid the website from public view on Dec. 20. Stanford chief information officer Steve Gallagher clarified in a statement that the website had been intended to guide discussions about inclusion within the university's information technology community and did not represent university policy. But the university pulled back more in January by removing the guide from its website.
The Elimination of Harmful Language Initiative "was created to address racist terms historically used in IT, such as 'master' and 'slave' to describe aspects of systems," Gallagher wrote in a statement. "The feedback that this work was broadly viewed as counter to inclusivity means we missed the intended mark. It is for this reason that we have taken down the EHLI site."
In a community letter, Stanford president Marc Tessier-Lavigne acknowledged the good intentions of the university staff who sought to promote inclusivity. But he also reiterated that "at no point did the website represent university policy" and affirmed that Stanford's "efforts to advance inclusion must remain consistent with our commitment to academic freedom and free expression."
The 13-page guide contained more than 150 words and phrases organized into 10 categories of harmful language: ableist, ageism, colonialism, culturally appropriative, gender-based, imprecise language, institutionalized racism, person-first, and violent words and phrases. Words and phrases such as "brave," "seminal," "American," "take a shot at," "no can do" and "submit" were deemed harmful.
"Brave," according to the guide, was deemed harmful for perpetuating stereotypes of the "noble courageous savage." (The guide did not recommend a replacement for this word.) Instead of "seminal," readers were encouraged to use "leading" or "groundbreaking," so as not to reinforce male-dominated language. Instead of "American," the guide recommended "U.S. citizen," to avoid insinuating that the U.S. dominates the Americas. The guide also recommended that "give it a go" take the place of "take a shot at" to avoid violent imagery. "No can do," per the guide, should be replaced by "I can't do it," since the former originated from stereotypes that mocked nonnative English speakers. The guide recommended replacing "submit" with "process," as the latter "can imply allowing others to have power over you."
Stanford's Initiative Versus Other Colleges'
Stanford's aborted—or, in the parlance of its retracted guidebook, canceled—effort shares elements with other colleges' attempts to eliminate harmful language in their communications. The difference appears to be that Stanford made public a robust list of words it sought to eliminate, including explanations for those decisions, while other colleges have been less transparent about practices that guide their efforts.
The University of Texas at Austin, for example, has a statement on harmful language and content on its website in which it acknowledges that "descriptive work is … done by people with their own backgrounds, experiences and biases." The webpage apologizes for "the pain [the institution] has caused" for harmful language, acknowledges that reviewing of such language requires ongoing work and invites feedback. But the institution does not list words or phrases it has sought to eliminate, if such a list exists.
"We don't have any sort of list of words" slated for elimination, Brian Davis, senior manager of issues and crisis communication at UT Austin, said. "We take and listen to feedback and go from there." But the university has not received much, if any, feedback from community members concerned about harmful language, Davis added. Requests to remove harmful language are vetted by the provost's office, he said.
Indiana University at Bloomington's Libraries also has a harmful language statement that seeks to find a balance between "upholding the description of archival materials and special collections in a respectful and accurate manner while maintaining the historical context of the collections we manage." Like UT, it does not list banned words but invites community members to report offensive material for review.
"We haven't gotten any [reports of harmful language] yet," Bri McLaughlin, visiting metadata services librarians at Indiana University, Bloomington, said, adding that they do not maintain a list of words to eliminate. If the institution were to receive feedback about potentially harmful language, McLaughlin's department, digital collection services, would receive it. If the reported language were in a specific collection, a staff member would bring it to the attention of the appropriate collection manager, who would then make a decision about how to proceed.
Given that the university's process for community feedback on harmful language has not received any reports, Inside Higher Ed asked McLaughlin whether  she thought the institution's website had no harmful language.
"Absolutely not," McLaughlin said. "It may not be easy to find this reporting form or the harmful language statement. It could be that folks don't feel comfortable reporting anything. I don't think that it's any secret that libraries, especially in academia, are not very diverse places. I don't think it's out of bounds for somebody to think that this is performative, especially in an age of performative activism. ... But I am not discouraged, as this is the beginning of an iterative project." The reporting form has been live for one and a half years.
The University of San Francisco also has a harmful language statement on its website that indicates its libraries are "engaged in ongoing reparative projects to identify harmful description, to remediate the harmful language when it is possible; and when remediation is not possible, to advocate for change." The University of San Francisco also did not reply to a request for comment.
Similarly, Brandeis University has a statement on potentially harmful language in collections, cataloging and description that stops short of identifying specific words and phrases but invites community feedback. The webpage acknowledges that "what constitutes appropriate description changes over time" and that the institution strives "to use terms that communities and individuals used to describe themselves." Brandeis did not reply to a request for comment.
Inside Higher Ed spoke with two individuals who commented on words or phrases on Stanford's list referring to communities with which they identify.
A Professor With a Disability Responds to Stanford
"Ultimately, the terms used to refer to a person should be up to that individual person," Deanna Haunsperger, professor of mathematics at Carleton College, wrote, noting a preference for person-first language. "For example, I am a paraplegic, and I don't mind being called a paraplegic if that level of information about my disability is necessary. Otherwise, I am a person with a disability."
Still, Haunsperger viewed Stanford's effort as well-intentioned and agreed that terms such as "crippled," which was included in the university's guide, should be eliminated.
"I detest the word 'crippled,' which connotes deformity. And I'm not 'confined to a wheelchair,' though I use a wheelchair to get around, [and] I do, of course, get out of it as well."
Haunsperger has lived experiences responding to the evolution of language surrounding this community with which she identifies. For example, in the past some have suggested that "other-abled" was an acceptable word when referencing those with disabilities.
"This phrase that many thought was the correct way to refer to people with disabilities was well-meant, but I categorized it with the old term 'special,' which I felt drew attention away from us just being people first," Haunsperger wrote.
As Stanford discovered, not everyone deemed the words on the now-retracted guide harmful. At the same time, Stanford's list may have omitted words that are widely considered offensive.
"In 1985-1986, I was Handicapped Woman of Iowa and worked with the Iowa Governor's Committee on Employment of the Handicapped," Haunsperger wrote. "At that time a list was created by the federal government of words that were inappropriate to use when referring to people with disabilities. However, the very offensive terms 'gimp,' which the Online Slang Dictionary defines as 'moron' or 'a person whose general manner likens them to one with a limp, injury, or handicap,' and 'gimpy,' [defined as] 'handicapped or deformed,' were not on the list. They don't appear on Stanford's IT list of harmful words either, and yet GIMP is the name of a cross-platform image editor that was, in part, named after 'the gimp' in Pulp Fiction."
A Rabbi Responds to Stanford
Stanford's attempt at eliminating harmful words sought to protect those who are sometimes marginalized. But not every member of a marginalized population agrees with the list it created.
"The inclusion of 'Jewed' as a verb is warranted because it clearly associates being Jewish with a negative stereotype," Josh Yuter, a rabbi who was ordained by Yeshiva University and was named a National Jewish Outreach Program top 10 Jewish influencer in 2012, said via email. "Including 'hip-hip hooray' as 'harmful language' towards Jews is less understandable. Until reading the initiative I had no idea that a variant of 'hip-hip hooray' was a German rallying cry during the Holocaust, and I suspect few others would as well. I cannot speak to traumas experienced by actual survivors, but I would be very surprised if 'hip-hip hooray' was passed down as intergenerational trauma to merit inclusion as being 'harmful' in any way."
The origins of this phase predated Nazi Germany, Yuter added. "Even if we accept language evolving such that innocuous idioms may turn into harmful speech, it stands to reason that harmful language can evolve further and resume being innocuous."
Yuter, reflecting on Stanford's public relations debacle, likened it to a recent controversy over a New York Times crossword puzzle that resembled a swastika.
"The design is common in crosswords and unnoticeable to many unless someone points it out," Yuter said. "However, people who want to be offended will always find their reasons if they look hard enough. I believe the same is true here."