You have /5 articles left.
Sign up for a free account or log in.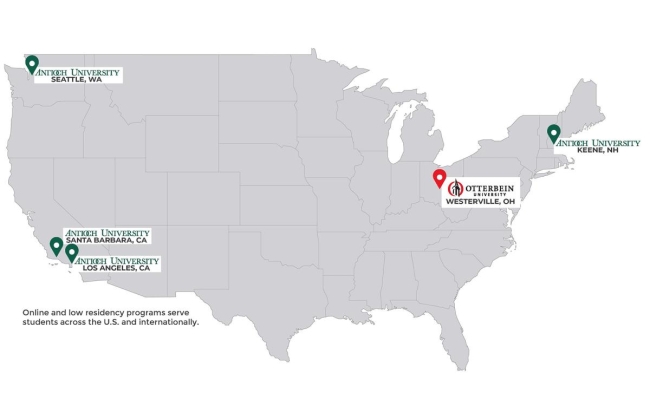 After a year of finessing the structure of and earning regulatory approval for a first-of-its kind higher education network, two higher learning institutions with very different student body demographics have officially joined forces to expand their students' access to more academic programs.
The Coalition for the Common Good is a nonprofit partnership—not a merger— between Otterbein University and Antioch University. On the surface, the two private institutions seem very different: Otterbein is a small liberal arts college in Ohio that mostly serves undergraduates, while Antioch is a private institution with multiple campuses in four states focused on adult learners and workforce development.
But through the creation of this new, nonprofit partnership announced Tuesday, leaders of both institutions say the coalition will be the "first national system of higher education of affiliated universities organized around a shared mission," according to a news release. Through this model, Otterbein, without abandoning its identity as an undergraduate-focused institution, will now be able to offer its students more pathways to graduate and professional degree programs via Antioch's existing programs.
Eventually, the coalition plans to bring in more partner institutions and expand its geographic reach and offerings even further.
William Groves, chancellor of Antioch and the newly appointed vice president of the coalition, said that in its conceptual stages, leadership looked at similar models between other private, nonprofit institutions. Those included the National University System, which absorbed one of its affiliates last summer, and the TCS Education System, and is aimed at providing its college partners efficiencies for back office services.
"We wanted to do something different, and a mission needed to be central to that. Our Antioch mission needed to be the same as the mission of the partner or affiliate institutions. It needed to be what we call 'the justice league,'" Groves said. "With a shared mission and a shared culture around that mission, there was a much greater opportunity for success for all the other things we wanted to accomplish."
The coalition's resulting shared mission involves "educating students not only to advance their careers but to promote our pluralistic democracy, social, racial, economic and environmental justice, and the common good," according to a news release.
A Game of 'Whack-a-Mole'
To make that a reality, Antioch and Otterbein spent approximately $2 million on consulting fees.
According to John Comerford, president of Otterbein and the newly appointed president of the coalition, ironing out the finer details of the plan—such as reaching affiliation and operating agreements—was like playing a game of "whack-a-mole." As soon as it resolved one potential problem or impediment, "another would emerge," he said. In fact, the team worked right up until the deal closed on June 30 negotiating agreements with insurance companies.
The coalition also spent months working with the Higher Learning Commission—both Otterbein and Antioch are already accredited by the HLC—to design a governance and operational structure that ensured that the innovative model would meet the accreditor's standards.
"HLC welcomes the opportunity to work with institutions seeking new paths to meet student needs and assure a healthy future," Barbara Gellman Danley, the accreditor's president, said in a statement. "Brainstorming with HLC allowed us to counsel the institutions on policies, while working through the opportunities and challenges. We support innovation and agility. It's safe to say they learned from us, and we also admire the creative ideas that might be replicable for others."
The commission has officially approved the creation of the new structure and the Ohio Department of Higher Education followed with its approval; post-closure approvals from the U.S. Department of Education are pending. The federal agency did not respond to requests for comment about the creation of the coalition.
How It Will Work
As the agreement stands now, a shared board, made up of four members from each institution and one independent member, will oversee all decisions that affect the coalition as a whole. Those decisions could include taking on new debt or launching new programs to prevent overlap, especially in the realm of adult education.
Under this agreement, according to the Ohio Department of Higher Education, "Antioch will then be a business unit of that shared entity, and Otterbein will become a subsidiary of this new parent entity." At the same time, "Otterbein will also remain a separate corporation and degree granting institution," maintaining its own board, its existing HLC accreditation, state authorization and federal post-secondary identification number.
The coalition is ready to move forward with realizing a vision that's been in the works since 2018.
"Our view was: 'Let's do something unique. Let's do something that allows both parties to have their own identities as partners, their own boards, their own academic programs," Groves said. The intent is to "work toward providing opportunities for students that together are beyond what we could do separately."
Students will have increased opportunities to pursue educational offerings at both institutions under the coalition model. The institutions will combine their graduate programs (overseen by Antioch) to offer students access to more programs.
For example, Antioch is in the process of creating a new Graduate School of Nursing and Health Sciences, that in turn will expand Otterbein's graduate programs in nursing, allied health and athletic training potentially as early as next fall. The coalition is also designing a master's degree program in nutrition and dietetics in addition to creating a joint master's in business administration program.
Otterbein and Antioch have already collaborated to bring a Clinical Mental Health Counseling graduate program to central Ohio, in an effort to reduce the region's shortage in mental health counselors. Central Ohio currently has more than 1,700 annual job openings for mental health counselors according to Lightcast, a market analytics company, and that number is expected to rise to 2,200 by 2031.
But Groves emphasized that all of the programs that may come out of the coalition will feature curriculums focused on social justice, with the view that higher education's role is about "more than just educating for careers," but rather "an important aspect in sustaining a democracy."
Future Partners
That's one attribute the coalition will be looking for in potential partner institutions. Both Groves and Comerford said they intend to bring more institutions into the coalition, though which ones and when aren't yet clear.
"We had a dozen or so schools reach out with some interest, but we've largely put those conversations on the backburner because it's complicated enough to get this done with two parties," Comerford said. "We couldn't add a third or fourth party—the regulatory environment doesn't encourage that."
Now that the coalition has launched, it's resuming those conversations.
"We don't have a formula for it but it certainly involves things like location. Are they in a place where there is an adult learning market to be accessed?," Comerford said. Other considerations include the existing graduate and adult education programs a potential partner already has, and if those are something "we don't currently have" and "could leverage nationally."
Financial stability is another important factor, as it was when Otterbein and Antioch first decided to collaborate. "This is not a way to save a school on the edge of closing its doors," Comerford said. "You have to be able to invest to make it happen." But the most important thing, said Comerford, who characterized prestige as "a rot" in higher education, is finding institutions that also have equity- and access-focused missions.
"This is not about rankings and prestige. This is not about closing the door on more deserving students," he said. "There's a lot of schools out there that share that alignment with us, but not every school will."