You have /5 articles left.
Sign up for a free account or log in.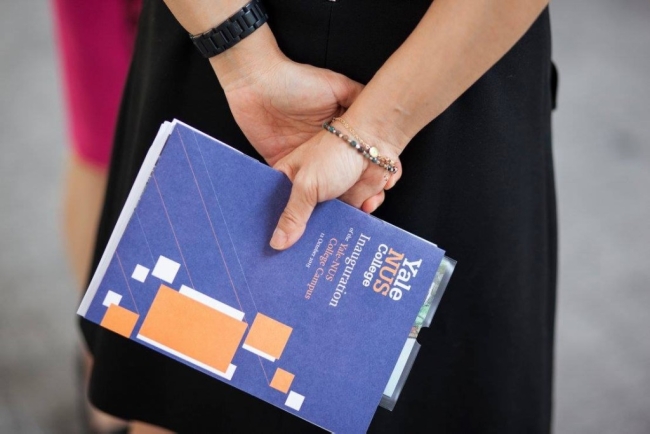 The last-minute cancellation of a proposed short course on dissent at Yale-NUS College in Singapore, partially due to concerns that course activities could put students at risk of arrest, renewed questions about academic freedom and whether the campus can flourish in an environment with considerably less political freedom than the United States.
On Sunday, Yale University, which founded the liberal arts college jointly with the National University of Singapore in 2012, issued a report on the course cancellation finding that the decision was made internally and with no government interference.
In an accompanying statement, Yale president Peter Salovey said he'd been reassured "of Yale-NUS's strong commitment to academic freedom" and described the campus as "a model of innovation in liberal arts education in Asia."
In previously announcing the cancellation of the weeklong course, which was to be taught by a part-time instructor and playwright, Alfian Sa'at, Yale-NUS president Tan Tai Yong said the course activities "were not in alignment with the concept and learning objectives that were earlier approved by the Curriculum Committee."
Tan also singled out two proposed course activities as ones that could put students at risk of breaking the law: "The itinerary proposed a workshop on designing protest signs, followed by a visit to Speakers' Corner at Hong Lim Park in Singapore to study the topography of protest."
"These elements," Tan said, "can easily be interpreted as the students taking part in a public assembly or procession without a police permit and falling foul of Singapore laws."
Human Rights Watch writes in its country report that the Singaporean government "maintains strict restrictions on the right to peaceful assembly through the Public Order Act, requiring a police permit for any 'cause-related' assembly if it is held in a public place, or in a private venue if members of the general public are invited."
The report from Yale on the course cancellation was written by Pericles Lewis, Yale's vice president and vice provost for global strategy and the founding president of Yale-NUS College from 2012 to 2017. Lewis documented what he described as administrative errors in the process of reviewing the proposed course but concluded that these errors "did not, in my view and the view of all the participants I met, infringe on the academic freedom of the proposed instructor or of anyone at the college."
Lewis said the college had legitimate academic and legal reasons for canceling the course. Indeed, he said it was an error to publicly announce the course in August when it had not received final approval from the Curriculum Committee. The Curriculum Committee granted contingent approval to the course in May pending "substantial" revisions. Lewis found both that the revisions were made in an untimely manner and that they were unsatisfactory in addressing the committee's concerns.
Lewis said the Curriculum Committee had concerns that the course "did not propose to study activism so much as to engage in it … The Curriculum Committee chair emphasizes that they did not think that engaging in activism or protest was a legitimate credit-bearing activity irrespective of whether the protests were legal or illegal."
As to the question of legality, Lewis wrote, "The proposed offering on Dialogue and Dissent invites a consideration of the relationship between principles of open inquiry and compliance with law. The risk to international students of some of the proposed off-campus activity was obviously connected to Singapore's laws on public assembly. Nonetheless, as a number of Yale-NUS faculty have pointed out, it is unlikely that a prudent college administrator in any country would encourage, let alone offer a course that required, students to attend an illegal protest, particularly if these were international students who in doing so might endanger their visa status."
"To my knowledge," Lewis wrote, "this is the first time that such laws have affected a decision on a curricular offering at Yale-NUS because it is the first time an instructor has proposed an activity that risked causing students to be arrested or deported."
The instructor of the course, Sa'at, could not be reached by Inside Higher Ed for comment. In a Sept. 15 post on his Facebook page, he shared the planned syllabus for the class for people to judge for themselves. "The program Dissent and Resistance is not designed to train students 'to stage protests in public,'" he said. "It is however designed to guide students to think about dissent in Singapore. What is a dissident? Why does the media persist in labelling certain individuals or groups as 'troublemakers'? Who are they making trouble for?"
"One of the best ways to get these insights is to meet some so-called dissidents face to face. To give the students unfiltered access. So that they can ask questions. Why is your art or cause so important to you? What do you consider acceptable risks? What are the creative tactics you have used to express dissent within the bounds of the law?"
Academic Freedom and the Law
Those who have questioned the wisdom of Yale's venture in semiauthoritarian Singapore said the cancellation of the course was an example of the kind of thing they have long worried about.
In a 2012 open letter about the then newly established Yale-NUS College, the American Association of University Professors cited an earlier statement warning that "as the U.S. and Canadian presence in higher education grows in countries marked by authoritarian rule, basic principles of academic freedom, collegial governance, and nondiscrimination are less likely to be observed. In a host environment where free speech is constrained, if not proscribed, faculty will censor themselves, and the cause of authentic liberal education, to the extent it can exist in such situations, will suffer."
The 2012 statement also said, "Some Yale administrators have argued that they have no choice but to obey the laws of another country, but if the laws are odious -- such as criminalizing sexual orientation -- the relevant choice is whether to collaborate with the country that espouses them."
"The issue isn't really the law versus academic freedom; the issue is the law in an authoritarian regime versus academic freedom," said Hans-Joerg Tiede, associate secretary of the Department of Academic Freedom, Tenure and Governance at the AAUP. "In the United States there are also laws that restrict certain kinds of activities that may legitimately be protected under academic freedom. such as, in the most general sense, the law with [institutional review boards]: you cannot conduct experiments on children without proper approval through this process. That limits academic freedom in some way. That's not the issue. The issue is these are laws of an authoritarian state and they fundamentally conflict with what is needed to actually have academic freedom."
"This is exactly the kind of trouble that some of us predicted for the Yale-NUS enterprise," Christopher L. Miller, the Frederick Clifford Ford Professor of African American Studies and French at Yale, who opposed the establishment of the Singapore campus, said via email. "Not to put too fine a point on it: we told them so."
"The only surprise is that it has taken this long for it to appear," Miller continued. "Actually, there is one other surprise: that Salovey and Lewis are 'shocked, shocked,' and expressing concern about the suppression of dissent. Why should they, when that very thing was known to be intrinsic to the Singaporean state, with which they contracted to sell the Yale name? President Tan of Yale-NUS (now) is merely repeating what Presidents Salovey and Lewis said when they set Yale-NUS up: we must 'of course' obey Singaporean law."
"Eventually," Miller said, "that had to mean suppressing dissent."
The issue of whether academic freedom is compatible with laws in authoritarian or semiauthoritarian states has come up again and again in relation to foreign campuses set up by U.S. universities in parts of Asia, most notably China, and the Gulf. The issue comes up in regards to visa restrictions that have kept out foreign scholars, as has happened in multiple cases involving New York University's campus in Abu Dhabi.
It has come up in regards to restrictions on the importation of textbooks or laws restricting internet freedoms: a 2016 review of 12 American branch campuses in China by the U.S. Government Accountability Office found that fewer than half had uncensored access to the internet.
"It comes up again and again because the issue has to do with the ideology around academic freedom and what people place on it without realizing all the ways in which limitations have to occur," said Kevin Kinser, an expert on international branch campuses and head of the department of education policy studies at Pennsylvania State University.
"It just seems obvious to me that there are going to be restrictions: Why are people surprised when restrictions emerge, and say, 'we told you so; you don't have academic freedom'? To me that's not really the point. The point is the kinds of academic freedom you do have are not being specified and articulated up front. You're hiding behind sort of a philosophy, an ideology of academic freedom, rather than what it really looks like on the ground."
Kevin W. Gray, an adjunct professor of philosophy at Humber College, in Toronto, is co-editing a forthcoming book on academic freedom in international higher education. He said the Yale-NUS course cancellation echoes themes he's seen elsewhere in his research, specifically "the fact that it was extramural activities which tend to cause problems. In this particular case, it's a class which has specific activities off-campus. It tends to [be] these sorts of situations that cause the problems."
Views From Yale-NUS
Lewis's report describes broad support from Yale-NUS faculty for the idea that academic freedom flourishes on the campus.
"I asked to meet 12 specific faculty members, deliberately including those of a variety of political views and those who had been critical of the present and past administrations of the college," he wrote in the report. "All 12 faculty members that I met asserted that the college actively values and provides the conditions for academic freedom. As more than one faculty member put it, 'Academic freedom is alive and well at Yale-NUS College.' The instructor who had proposed the Dissent module also said to me that he does not consider this an academic freedom issue. In support of the academic freedom of the college, faculty pointed to the presence of full-semester academic courses on such topics as Colonialism: Economic, Political and Social Effects; Culture and Violence; Housing and Social Inequality; Language, Culture and Power; Oppression and Injustice; and Queer Fiction, many of which address issues of dissent and resistance.
"Likewise, critical discussion of Singaporean politics takes place in required courses on Philosophy and Political Thought; Comparative Social Inquiry; and Modern Social Thought. Faculty also instance the many controversial speakers invited to campus by faculty, students and administration, including several speakers who were listed on the proposed syllabus for the Dissent module and who had visited the campus in the past. Recent informal discussions with students have covered controversial hot spots in Asia and the Middle East. Finally, faculty and students report that the atmosphere on campus is lively: conversations are 'no holds barred' and there has been 'no diminution of academic freedom or open inquiry.'"
Andrew M. Bailey, an associate professor of humanities and head of studies for philosophy, politics and economics at Yale-NUS, said in a blog post that this is not the first time critics have questioned whether liberal education can succeed in Singapore.
"It was once easy to speculate on the point and to offer theories for and against. But the time for speculation is over. For a good many of us have been engaged in the actual work of running a liberal arts college in Singapore for some years now. The facts are in. It is happening. The decision, furthermore, to cancel this particular module is no evidence against the obvious facts. No sound educational opportunities were impeded. Instead, an underdeveloped module was canceled."
Mira Seo, an associate professor of humanities and head of literature studies at Yale-NUS, said the report from Lewis "goes a long way toward assuring me that there was no government intervention [in the decision to cancel the course], which was what I was worried about."
More broadly, Seo said academic freedom, "works within an ecology of the larger political society, but does that mean if you do not have an identical political society with the same rights and protections as in the U.S., you can't have academic freedom? I think there are so many points along the spectrum. There's not one answer for that."
"The law [on public gatherings] is not OK: there's no doubt about [that]," Seo said. "But I don't know if it's our obligation or moral responsibility to challenge that on the backs of our students."