You have /5 articles left.
Sign up for a free account or log in.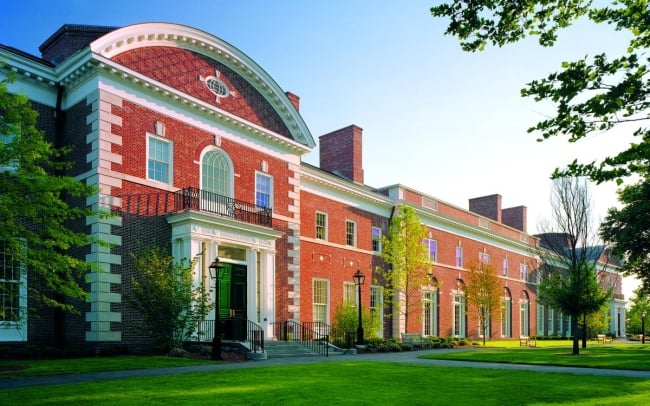 A Harvard University professor who was publicly scorned in 2014 over his reaction to being overcharged for Chinese takeout didn't earn tenure.
On Tuesday, that now former associate professor, Ben Edelman (at right), sued Harvard over that rejection. Now an economist at Microsoft, Edelman received four degrees, including a law degree, from Harvard; joined the faculty there at age 26; and went on to expose significant online misdeeds, his lawsuit says.
"He was the world's leading expert on the scourges of adware and pop-up ads, serving dozens of clients including eBay, New York Times, Verizon and the United States of America," the suit says. Edelman told Inside Higher Ed Wednesday that the situation was a "trauma," and he's suing now before the statute of limitations expires.
His suit says a Harvard Business School Faculty Review Board (FRB) opened a misconduct investigation of him in 2015 that, according to the FRB chair, focused on the Chinese takeout incident, Edelman's writing about Blinkx (the company's stock plummeted after his blog post) and a few other issues, including business cards and classroom projectors.
But—after he "acknowledged error" in both the Chinese restaurant and Blinkx incidents, after he took other steps to "demonstrate that he had learned from the 2014 incidents," and after his tenure case was delayed for two years—the FRB surprised him in 2017 with new concerns, the suit says.
"Suddenly, the FRB was examining, not plaintiff's 2014 activities or his subsequent learnings, but his outside activities," the suit says. "[FRB chair Amy] Edmondson asked for a list of all of his outside activities from the past two years and an accounting of when and where he thought about disclosures or seeking approval from the dean. In particular, she asked plaintiff to discuss class action litigation in which he was representing a class of passengers suing American Airlines about baggage overcharges, and the disclosure statement accompanying an article he had written addressing the implications of consolidation among online travel agencies. She gave him just one week to defend his past two years' worth of outside activities."
"The FRB's report presented 12 anonymous, context-free criticisms—totally abrogating the [procedural] requirement that the FRB report share its evidence both with its target and with its readers, and preventing plaintiff from meaningfully rebutting incorrect claims," the suit says.
"By the time the FRB shared its draft report with plaintiff, just days remained before the FRB was obliged to finalize and circulate its report to the Appointments Committee," the suit says. "By then, the FRB was manifestly disinclined to revisit its conclusions, making it needlessly difficult for plaintiff to convince the FRB of errors in its draft or the necessity of removing sections shown to be incorrect."
"The FRB criticized six work products that it said demonstrated plaintiff's 'inconsistent' disclosures, yet never mentioned the situations in which the policy applied, nor applied those tests to the work products at issue," the suit says. It also says the FRB report questioned whether his American Airlines lawsuit "should be intertwined with Harvard and Harvard Business School."
Edelman also alleges that one member of the FRB was "the same person with whom he had disagreed about a reduction in the size of classroom projection screens—one of the interactions that the FRB elected to examine in 2015." Edelman said he had gotten other leaders to reverse what that person said was a final decision.
"I got in a fight with some administrators who had gone to considerable expense, literally millions of dollars, to make the projector screens smaller in our M.B.A. classes," he told Inside Higher Ed Wednesday.
After 43 out of 73 faculty members—59 percent—voted to grant Edelman tenure, the suit says, Nitin Nohria, then dean of Harvard Business School, took the position "that he would advance plaintiff's case for tenure to the university's president only if two-thirds of the faculty voted in favor of tenure."
"This was not an established standard and not a position that Dean Nohria had articulated with respect to any prior tenure review," the suit says.
Nohria and Edmondson, the FRB chair, didn't return requests for comment Wednesday.
"We do not have a comment to provide," a Harvard spokesman said in an email.
Edelman is asking a Suffolk County Superior Court judge to force Harvard to redo the tenure application review without relying on or being "tainted by" the 2017 FRB report.
"I think I gave pretty good evidence in the complaint that the process was not followed," Edelman said Wednesday.
"I think I'm scarred by it," he said of the situation. He mentioned "personal attacks" after the Chinese takeout incident, backlash that ranged from a "bag of poop" at his front door to death threats, and then Harvard Business School treating him as his lawsuit alleges.
Online links to Boston.com's original story on the takeout incident aren't working. The Boston Globe, owned by the same company, reported that in December 2014, Edelman emailed "a celebrated local bartender who helps run the Sichuan Garden family business" over a $4 overcharge.
The "celebrated local bartender" said the website was simply out of date, while Edelman demanded triple the reimbursement and told the man "he contacted the 'applicable authorities' to compel the restaurant to identify all affected consumers and provide refunds to them," the newspaper reported.
"Collectively, it was a large amount of money," Edelman said Wednesday of the impact on customers as a whole.
"It's possible to prove using Yelp that this problem was continuing for four years," he said.
But the first "negative press" the suit notes Edelman received was in early 2014, over his Blinkx blog post. The Seattle Times published a profile on him in March of that year.
"Edelman embarks on paid crusades that raise questions about whether he can remain objective in his academic roles as scholar and teacher," the profile says. "In a move that elevated his profile in the stock market and prompted a dispute about his financial disclosures, he published a blog on Jan. 28 that accused internet video and advertising purveyor Blinkx of using hidden software to inflate traffic counts. His posting caused Blinkx shares to fall the most in the company's history."
"Harvard pressed Edelman to say more about his clients, prompting him to disclose that they included two U.S. investors. Their names still aren't known," the profile says. Edelman told Inside Higher Ed they were still confidential.
The profile goes on to say that Google said he was biased, and includes this: "Edelman is expected to come up for tenure, academia's guarantee of job security, at the end of 2015. While his credentials include a law degree and an economics doctorate, both from Harvard, his attacks on companies are unusual at the business school, an institution better known for case studies celebrating successes."