You have /5 articles left.
Sign up for a free account or log in.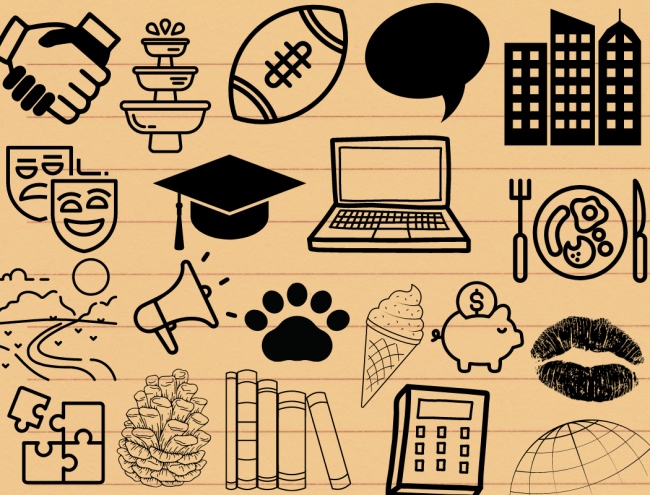 Ashley Mowreader | Inside Higher Ed
During the COVID-19 pandemic, many colleges and universities saw a gap in on-campus student engagement due to remote instruction or safety regulations that paused regular traditions.
To remind current students or teach incoming learners about the beloved traditions on campus, some institutions are creating bucket list guides of can't-miss opportunities and experiences (or high-impact practices for persistence, belonging and success after graduation). Colleges can also incentivize participation in completing the list through social media hashtags or prizes.
For higher ed professionals looking to make their own college's bucket list, Inside Higher Ed compiled five experiences that should be included.
Student Traditions
The most obvious inclusion to a student bucket list is the time-honored traditions that each graduate knows. Whether swimming in the campus fountain, sledding down a hill using a dining tray, trying to catch a virgin pinecone, kissing in front of the eternal flame or eating a midnight breakfast before finals, colleges and universities should promote participation and community-building on campus through fun and engaging traditions.
Some traditions, like spending all night at the library, can promote academic success, as well. For institutions with strong athletics traditions, a bucket list should also feature momentous sporting events, whether that's a themed night, tailgate, big rivalry or just an opportunity to learn the school's fight song and meet the mascot.
Clubs and Organizations
A campus bucket list should also point students to organizations and activities on campus. Outdoor recreation can direct students to local natural sites, while artistic groups and their annual performances can wow students and inspire creativity. Volunteer groups can foster a spirit of service among community members.
Highlighting popular or newer clubs can also encourage students to find a group they fit with, ideally resulting in long-term engagement. Similarly, identity groups or affinity organizations can foster belonging among minority or first-generation students.
Campus Sites
During their time as a student, learners will find their favorite places on campus to study, hang out or unwind. A campus bucket list can point out other sites on campus including historic figures or familiar statues, like at the University of Maryland, or the best spot to watch the sunset (the Memorial Library at SUNY Cortland).
Colleges can also encourage students to explore the surrounding area and local delights. Ohio State University has an "experience Columbus" section of its bucket list, offering a list of fun activities within the city and must-try dining options, and Ursinus College lists off-campus experiences in Philadelphia and beyond.
Student Services
Despite the plethora of resources available on campus, many students cannot identify services offered to them. A bucket list can inform students of ways the institution is there to support them and how it can be used to promote student success.
The University of Illinois's bucket list encourages students to join a study group, practice a mock interview, hone leadership skills, attend guest lectures, schedule an appointment at the writing workshop or attend a career fair. Western Michigan University's list features visiting a library, meeting with an academic adviser, setting goals and checking in on financial wellness.
Experiential Learning
Students can also gain awareness of work-based learning or experiential learning opportunities on campus with a bucket list. Winston-Salem State University highlighted research opportunities on its admitted-students bucket list, and Wayne State encourages its students to study abroad.
Do you have a success tip that might help others encourage student success? Tell us about it.