You have /5 articles left.
Sign up for a free account or log in.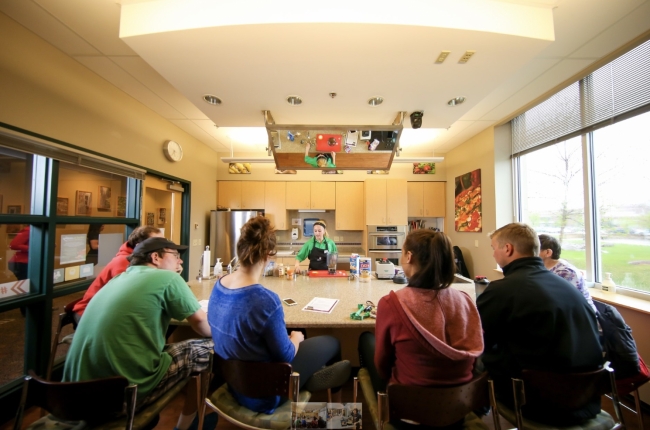 University of North Dakota
Cooking isn't necessarily something every student learns in college, but it's an important life skill. And cooking can be an effective way to follow a healthy diet, which is a goal for many students. In the spring Inside Higher Ed and College Pulse Student Voice survey of 3,000 two- and four-year college students, for instance, 60 percent of respondents say they'd like to eat a healthier diet, making this the second most popular health goal (selected among 13 options), after reducing stress. Adequate nutrition is also positively linked to academic achievement.
What's one way some colleges and universities are helping students build up their cooking skills and nutrition knowledge? Offering free or affordable classes in on-campus test or demonstration kitchens.
Demo kitchens 101: Case in point? The Culinary Corner demo kitchen within the University of North Dakota's Wellness Center has provided free and fee-based cooking classes since 2006. Sessions are led by student instructors, including students of nutrition science, and guest chefs.
Stephanie Hoffman, assistant director of wellness and health promotion programs at the university, says that the demo kitchen was always part of the Wellness Center vision, since "optimal nutrition is a large part of enhancing physical wellness."
Free classes are generally designed around students and the cooking equipment to which they have access in residence halls and apartments, Hoffman says. Affordability also matters, so featured meals are inexpensive. Students taking these classes get to sample what they're helping to cook. Session topics include "cheap, fast and healthy," kitchen basics, "fuel your fitness," meal prep, healthy desserts, and snacks.
Fee-based cooking classes, meanwhile, are available to faculty and staff members as well as students. Demonstrations are hands-on, with participants bringing home a meal to feed four to six people. Such classes include Crock-Pot Cooking and Cooking With Kiddos. An upcoming, $30 class called Happy Healthy Harvest sends participants home with all ingredients prepped and ready to cook.
Student feedback: The cooking space is available to rent in off times, as well. Sometimes student organizations rent the space to host team-building events or other kinds of gatherings, Hoffman notes.
Student feedback suggests cooking class attendees are learning about cooking and nutrition as well as benefiting socially. A student attendee wrote in a survey, for example, "The class got me out of my dorm room and provided me with nutrition knowledge." Another commented, "I learned how to make an easy healthy meal which will help fuel my body." And yet another said, "It was nice to meet new people on campus."
Hoffman says many students also report improved well-being from attending classes. Nearly three in four students surveyed after participation last year say their stress management improved from attending classes, and the same share say their life balance improved. Nearly all attendees report that cooking classes impacted at least one dimension of their personal wellness.
Supporting student well-being: The University of Nebraska at Lincoln's Kitchen Table demo space, located in the campus health center's main lobby, is home to Big Red Resilience and Well-Being student affairs events. Brenna Schmader, nutrition education coordinator with campus recreation, says one popular Kitchen Table program is Meal Kit Mondays. For $25, students and employees can pick up a four-serving, balanced meal kit and recipe card to whip up at home.
Another popular program: CookWell classes, offered monthly. These $10 sessions introduce students to new foods, recipes and cooking methods and impart some nutrition knowledge. Classes focus on country-specific or regional cuisines. The Kitchen Table also offers private cooking classes for $25 per person, as well as one-on-one nutrition consultations.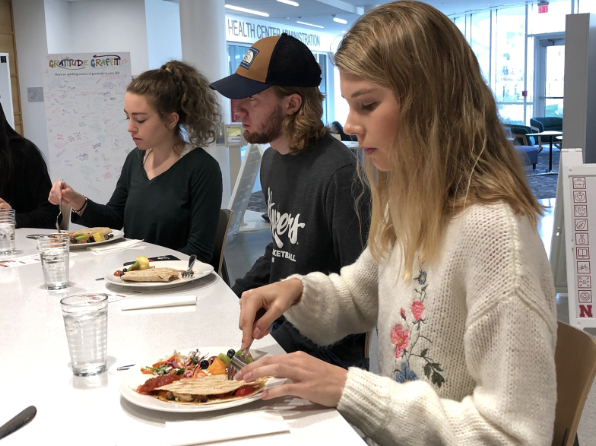 New this fall is the Meal Prep 101 program. Schmader says it's similar to Meal Kit Monday and CookWell, but attendees get an hour-long lesson on meal prep basics while preparing four servings or a meal to enjoy throughout the week. The cost is $30.
Focus on sustainability: The Teaching Kitchen at the University of California, Davis, launched in 2014 as part of the UC Global Food Initiative, which seeks to address the critical issues around sustainably and nutritiously feeding a growing world population.
Raeann Bowlds, director of health education and promotion for UC Davis's student health and counseling services, says the kitchen is student-run, with minimal staff oversight. Free cooking demonstrations emphasize nutrition, skill-building and culturally relevant recipes. There are hands-on classes for students who want to prepare full meals and eat them, as well as hands-off experiences for students who prefer to watch food being prepared.
Bowlds says students "enjoy the emphasis on affordability and time management." And because it's a student-driven initiative, instructors "are best able to tailor each demonstration to the unique needs of the student population. The nutrition education and meal suggestions aim to inspire even the busiest student to cook."
Regarding sustainability, Bowlds says the Teaching Kitchen program uses seasonal and local ingredients when able. The university's basic needs center and the Kitchen Table also recently partnered to help students who may be experiencing food insecurity.
Based on recent feedback, nearly all Teaching Kitchen participants agree that they are likely to prepare some of the items featured in the demonstration, and most say they are more confident about cooking on their own after attending a hands-on demonstration.
"The Teaching Kitchen helps students be successful by helping them to incorporate affordable and fast nutrition into their lives as a student," Bowlds says.
Other Demo Kitchen Examples
Southern Adventist University's test kitchen, open since 2008, is mostly used for a popular three-credit cooking class, but it occasionally offers cooking demonstrations for community health classes. Leslie Evanson, assistant professor of health and kinesiology, says students enjoy "a hands-on, interactive class that teaches them an essential life skill with lots of eating and tasting involved."
Purdue University's Recreation and Wellness demonstration kitchen offers cooking demonstrations for $13 per person, several times a month, with private demonstrations and kitchen rentals available. The facility also offers children's cooking classes for 5 to 12-year-olds. Recent examples of children's programs include healthy lunchbox and Greek-inspired cooking.
Quinnipiac University opened a demo kitchen inside its new Recreation and Wellness Center in March. Mike Medina, director of recreation on campus, says that the facility's nutritionist has used thus far used the space to work with varsity athletes and to hold more general cooking and nutrition classes. "Students have loved the ability to learn how to cook quick and easy meals that they can do in their on-campus living space or off-campus apartments," Medina says. The center "really focuses on bringing the eight dimensions of wellness to our students' lives so they can be prepared for life after Quinnipiac."
At the University of Houston–Downtown, the new Wellness and Success Center has a demo kitchen that is open to students as well as local residents. Rhonda Scherer, associate director for sports and fitness, says the demo kitchen was built to promote healthy lifestyles for students and others on and around campus. Upcoming classes include one-on-one nutrition for active individuals. Scherer says the facility will work with the campus food pantry to highlight recipes involving available ingredients. Due to permitting issues, the kitchen is currently working without an oven, so it's focusing on healthy snack preparation.
Tell us about an effort at your institution to promote student wellness. Share here.