You have /5 articles left.
Sign up for a free account or log in.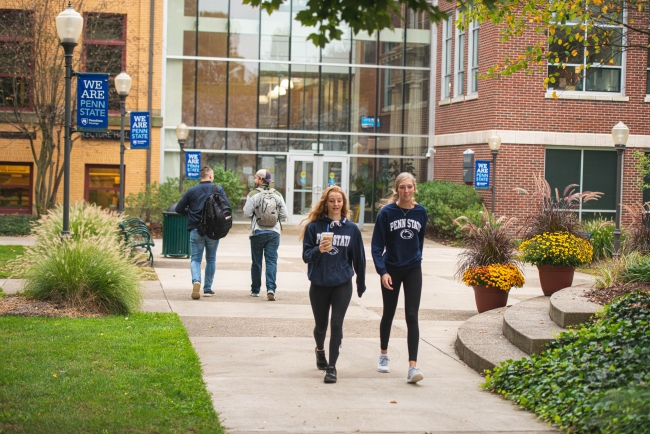 Leaders of Butler County Community College and Pennsylvania State University at Shenango are considering moving one of the community college's campuses to the university as a cost-saving measure after steep enrollment declines at both institutions.
Administrators at both institutions are conducting a feasibility study to assess the idea, which they expect to finish by the end of December, according to a news release from Butler County Community College, known as BC3. Community college students at the LindenPointe campus would take classes in Penn State Shenango buildings, but the two institutions would remain academically separate. The LindenPointe campus would be sold, The Pittsburgh Post-Gazette reported.
"These are two strong institutions that are looking into joining forces to sustain the delivery of affordable and accessible higher education in the Shenango Valley," Nick Neupauer, president of BC3, said in the release. "That's incredibly important. In this day and age, it is not about being in silos. It's about the synergy involved with collaborations and partnerships."
Jo Anne Carrick, Penn State Shenango's campus director, said if the two institutions move forward with the plan, community college students could potentially take advantage of campus resources, such as the dining hall, labs for health and science courses, and academic counseling. She added that, if community college students are already on campus, they might transfer to Penn State Shenango at higher rates and help shore up enrollment.
Enrollment at both campuses, located within five miles of each other in Mercer County, has significantly declined over the last decade, the release notes. Penn State Shenango expects to enroll about 325 students this fall, compared to about 570 students a decade ago. Shenango is the second-smallest campus, in terms of student head count, among the 19 undergraduate Pennsylvania State University Commonwealth Campuses, according to the system's fall 2022 enrollment data. LindenPointe administrators project the college, the smallest of BC3's six campuses, will have about 55 students this term, down from about 270 students a decade ago.
Meanwhile, the number of traditional college-age residents in nearby counties is expected to drop precipitously. Almost 45,000 students attended public K-12 schools in Crawford, Lawrence and Mercer Counties in the 2004–05 academic year, according to data from the Pennsylvania Department of Education. That number is expected to decrease to roughly 28,500 students by 2032–33, a nearly 37 percent plunge.
William Foley, coordinator of news and media content at BC3, said in an email that the goal of the feasibility study is to "consider opportunities that exist to both grow enrollments and to meet the state's workforce needs in the region."
"Among advantages envisioned by the institutions could be sharing student support resources, instructional resources and space; strengthening curricular and co-curricular opportunities for students; building pathways for the seamless transfer of BC3 credits toward bachelor's degrees at select Penn State campuses; developing academic programs to benefit local workforce needs and studying degree offerings to avoid duplication," he wrote. "Challenges, if any, would be identified at the conclusion of the feasibility study."
Carrick said there are a wide range of questions to consider, including what resources make sense to share and to what degree community college students would be included in university programming, such as alternative spring break trips.
"Right now … it's just a frame," she said of the colocation idea. "We're building the foundation, and we haven't put the drywall yet. We haven't said what color will we paint that room." But the feasibility study will help the institutions hash out the details and uncover potential obstacles and solutions.
"Is it a template for transition?" Carrick said. "I don't know that. Could it be? Possibly. But we want to give it a try. We want to look at it and see what can be done."
A Statewide and Regional Challenge
The two campuses aren't alone in their struggles to stay viable. The state's nearly 250 higher education institutions are facing a confluence of headwinds: a rapidly approaching demographic cliff and an overabundance of institutions vying for the same shrinking pool of prospective students. Pennsylvania has the fourth most colleges and universities of any state, after California, Texas and New York.
The state is "saturated with higher education institutions," said Brian Prescott, president of the National Center for Higher Education Management Systems, a higher education consulting organization. "The demographic outlook for traditionally college-aged students is not great. Two-year sectors in most places … have suffered some particularly stark enrollment declines in recent years, even extending before the pandemic. I think it's natural for folks to be looking for creative ways to reduce the overhead costs of operating these institutions."
State lawmakers have taken notice of the challenges too. Pennsylvania governor Josh Shapiro said in his 2023 budget address in March that higher education in the state needs a revamp and that a "comprehensive and meaningful reform plan" for higher ed would be forthcoming.
"It's on us to rethink our system of higher education—because what we're doing isn't working," he said then. "Colleges competing with one another for a limited dollar—duplicating degree programs, driving up costs and actually reducing access. As enrollment declines and questions about the value of a college degree persist, it's on us to once and for all have an honest dialogue about higher education in Pennsylvania."
Carrick said Shapiro's stated concerns are partly why the two institutions are mulling over the colocation idea.
"Our governor is asking us to think differently," she said.
Foley noted that the partnership would be the first time a Penn State University Commonwealth campus housed a community college.
BC3 and Penn State Shenango wouldn't be the first higher ed institutions in the state to restructure in response to enrollment woes and budgetary constraints. Pennsylvania's State System of Higher Education, or PASSHE, merged six of its universities into two multicampus regional institutions last summer. The system's student head count was 84,567 in fall 2022, down from 114,690 in fall 2012, according to system enrollment data.
Kevin Hensil, a spokesperson for PASSHE, said in an email that the integrated campuses now offer students a wider variety of academic programs. He added that system administrators continue to address some of the state's challenges by freezing tuition for a sixth consecutive year and focusing on aligning programs to local employers' needs, which has led to an increase in students earning degrees in high-demand fields over the last decade, including health care, STEM, education and business, despite enrollment declines.
PASSHE hired the National Center for Higher Education Management Systems to review its resources, access to students and affordability six years ago. Prescott said the system was responding to some similar questions as BC3 and Penn State Shenango and institutions in other states, including what to do with underutilized campus spaces.
He cited Vermont State University, a public university formed by the merger of three financially strained public colleges and universities, as another example of how higher ed leaders have embraced innovative restructuring to fend off closures. The university's new model focuses on offering a mix of in-person, hybrid and virtual courses so students across the state can enroll.
Prescott said discussions of mergers are on the rise.
"And I do think that we are headed into a phase where colocation and other kinds of collaboration across institutional boundaries is going to be a necessity … This seems like an obvious solution."
Michael B. Horn, co-founder of the Clayton Christensen Institute for Disruptive Innovation, a nonpartisan think tank, agreed the plan BC3 and Penn State Shenango are considering could be a "case study" for higher ed leaders across Pennsylvania, and the broader Northeast and Midwest, as populations change in these regions.
"College presidents and the associated systems around them are waking up at least to the reality that things are not going to go back to the way they were," Horn said. He noted that colleges and universities are not only competing with each other for scant students in places like Pennsylvania but also with nonacademic providers, such as boot camps, that increasingly offer workforce training.
These various pressure points are forcing college leaders to think outside traditional boxes.
"I think it's the sort of creativity that colleges and universities need to have right now, to be able to rethink the use of resources, how they collaborate, sharing and so forth," he said. "I guess the question is, will it be enough, given just how far enrollment has fallen at these two campuses?"
He said all higher ed institutions teetering on the edge of demographic cliffs will have to consider this question.
"Do we need to see a lot more urgency, and should we have been seeing it sooner?" he said. "Or, given that the big decline starts in a couple more years, writ large, if we see a bunch of presidents and campuses really acting this year, maybe that'll be enough time."