You have /5 articles left.
Sign up for a free account or log in.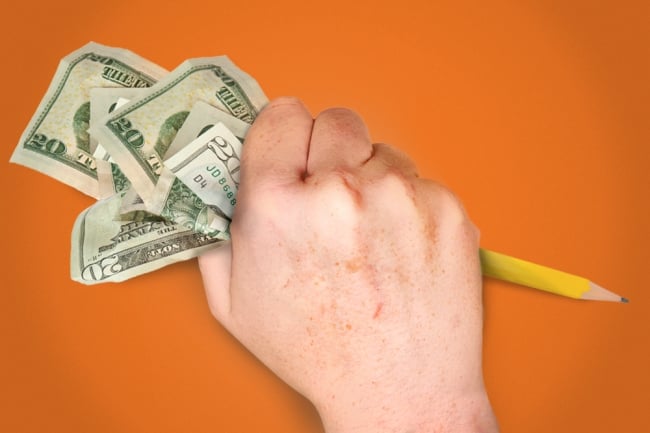 Photo illustration by Justin Morrison/Inside Higher Ed | Getty Images | Rawpixel
A new working paper published by the National Bureau of Economic Research found that community colleges lose students when a state's minimum wage increases, but that degree attainment rates at these institutions remain mostly unchanged.
The paper, released Monday, notes that there have been almost 400 state-level minimum wage changes between 1986 and 2019. Of those changes, 239 were minimum wage increases of at least 6 percent, and 96 were increases of at least 10 percent.
Meanwhile, large shares of community college students work for pay and stand to be affected by such changes. More than half, 58 percent, of community college students ages 18 to 24 have jobs, compared to about 46 percent of students in that age range at four-year institutions. Almost two-thirds of students ages 25 to 35 at both types of institutions are employed, working an average of about 23.5 hours per week, according to the paper. More than a quarter of working community college students, 27 percent, earn $10 an hour or less, and 59 percent earn $12 or less, compared to 19 percent and 42 percent of working four-year university students, respectively.
The paper's authors, scholars at Northwestern University and University of Virginia, conducted a study using data from the Integrated Postsecondary Education Data System, or IPEDS, from 1986 to 2019. The study found that enrollment at two-year institutions dropped a little over 4 percent in the year after a state-level minimum wage increase of 8 percent or more. Enrollment at these colleges stayed at that lower level for five years after the change.
Diane Whitmore Schanzenbach, an author of the paper and the Margaret Walker Alexander Professor in the School of Education and Social Policy at Northwestern, said that dynamic is consistent with the countercyclical nature of community college enrollments. When there's a dearth of well-paying jobs in the local economy, students attend community colleges to learn new skills and improve their job prospects. But when there are jobs with decent wages available, those paychecks are hard to pass up and college plans are put on the back burner.
Part-time students at community colleges, who make up 60 percent of students at two-year institutions, were the most affected by changes in state minimum wages. Enrollment among these students fell 6 percent the year after a minimum wage increase and stayed at that level five years later, according to the paper. Four-year colleges and universities, meanwhile, were unaffected by minimum wage increases. Their enrollments didn't significantly shift, though their part-time enrollment rose 3 percent a couple years after a rise in the minimum wage.
Meanwhile, minimum wage increases had little impact on degree or certificate attainment rates, the study found. Only women's associate degree attainment fell to an extent that was statistically significant, about 3 percent three years after a minimum wage increase.
"The big takeaway is that there's a large negative impact on community college enrollment, especially part-time enrollment, but that doesn't translate into large or even, for some groups, significant declines in completions," Schanzenbach said.
The findings suggest that minimum wage increases don't seem to divert students who would have otherwise stayed in college and earned their degrees, she noted. Learners swayed by these changes were already "more marginal students" and "more likely to not complete."
While steady degree and certificate attainment rates seem like "pretty good news," the minor negative effect of minimum wage increases on women's associate degree attainment makes the picture "more complicated" and warrants further exploration, she added.
Davis Jenkins, senior research scholar at the Community College Research Center at Columbia University's Teachers College, said he was surprised that a shift in state-level minimum wages, which he described as paltry even at their highest, could compel students to leave college and contribute to falling enrollments.
The federal minimum wage stands at $7.25 per hour, and the highest state-level minimum wage, in Washington, D.C., is $16 per hour, according to 2023 data from the U.S. Department of Labor. A data tool released by the Massachusetts Institute of Technology shows that living wages, the amount needed for workers to cover their families' basic needs where they live, tend to be considerably higher than federal and state minimum wages.
The paper's findings about community college enrollments are "telling of how fragile working poor people are in this country, how fragile their lives are" that "a small increase in wages dramatically increases the opportunity cost" of going to college, Jenkins said.
Kate Kinder, state strategies director at the National Skills Coalition, a research and advocacy organization focused on workforce training, emphasized that the negative effect of state minimum wage increases on enrollment isn't because these learners don't value higher ed credentials, but they're disproportionately low-income, first-generation, parenting and working students who experience food and housing insecurity at high rates and sometimes struggle to stay enrolled and work at the same time.
The research points to "the need to have policies that support community college enrollment and completion alongside policies that improve job quality, wages and opportunities for workers," she said. She said minimum wage increases are a positive thing, and she believes state lawmakers should provide more funding to community colleges to offer apprenticeships, earn-and-learn programs and various supports to help students work while staying enrolled. That way they can "get on a pathway to have better wages and better economic mobility" in the long run.
Schanzenbach said colleges should prioritize offering academic programs that have a high economic return for workers, and the research suggests it's worth taking into account local labor market factors, including state minimum wage increases.
"It gives us another piece of the puzzle to help advise community colleges a little more strongly in terms of how to make sure that they're imparting the skills that will be useful for folks in the labor market," she said.