You have /5 articles left.
Sign up for a free account or log in.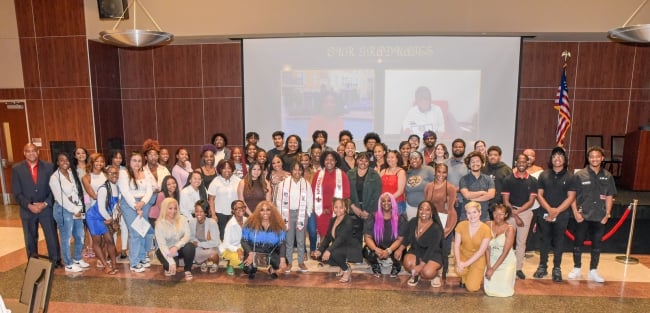 The University of Louisiana at Lafayette took a page out of its athletics' strategy book to better support low-income students.
The Louisiana Educate Program, for high-achieving students who face financial barriers to completion, models best practices in student success geared toward student athletes. The program removes all out-of-pocket expenses for participants and allocates dedicated staff and facility space to promote retention and engagement.
The inspiration: Student athletes who are Pell-eligible at UL Lafayette had a retention rate that was three-times higher than their peers who did not participate in athletics. In general, student athletes had a 20-percentage point higher six-year graduation rate compared to their peers, as well.
DeWayne Bowie, vice president of enrollment management, hypothesized that students who had the same access to wraparound support that student athletes received would retain and graduate at similar rates to athletes, inspiring LEP.
How it works: LEP, established in 2018, is a four-year residential scholarship program. Each fall, a new cohort of around 45 students join LEP, with an average of around 130 students enrolled each year. To be considered for the program, a student must be an eligible high school graduate from a state merit program, Louisiana Taylor Opportunity Program for Students (TOPS), or eligible for a Federal Pell Grant.
Students admitted into the program receive a financial aid package that ensures they pay nothing out of pocket for housing or books, supported by a supplementary grant, university and donor funding.
Scholars' promise: Once admitted, students agree to six conditions:
On-campus living. Students live on ULL's campus with other LEP participants in nonprivate residence halls every year, providing academic and social support to each other.
Success coaching. Students meet one-on-one with an Academic Success Coach every week.
Event participation. Students attend professional and personal development workshops led by LEP staff and guests covering topics such as community engagement, wellness support and leadership opportunities.
Study hall. Students meet a weekly study hall requirement, between six to 10 hours, in the LEP center, a dedicated study and tutoring space.
Work-study. Students hold a work study job on campus, provided by the program, to provide money for personal expenses and gain work experience (with participant work capped at 12 hours per week).
Campus involvement. Students must be involved in at least one social or academic organization on campus.
Students also participate in a special orientation prior to the start of their first semester and in a freshman seminar that covers college-readiness themes such as time management, career choices, studying and test-taking and note-taking strategies.
"By combining these innovative elements, the Louisiana Educate Program aims to provide a comprehensive and supportive college experience, empowering academically exceptional students from diverse backgrounds to thrive and succeed," says Jorden Melton, an academic success coach at LEP.
LEP is supported by an associate director, four academic success coaches, an administrative assistant and three graduate teaching assistants. Participants can also serve as student ambassadors who provide programming for their peers.
The impact: Since launching, the program remains largely the same, but feedback from participants has helped staff better understand and meet student needs. For example, high-performing students who demonstrate responsibility and independence have less staff supervision as they advance through the program, Melton says.
Since 2018, 216 students have participated in LEP and 18 have graduated.
Program staff track the effectiveness of the program, including retention and graduation rates, to compare to the general student population.
This story was submitted to us from a reader just like you! Share your student success initiatives with us here.