You have /5 articles left.
Sign up for a free account or log in.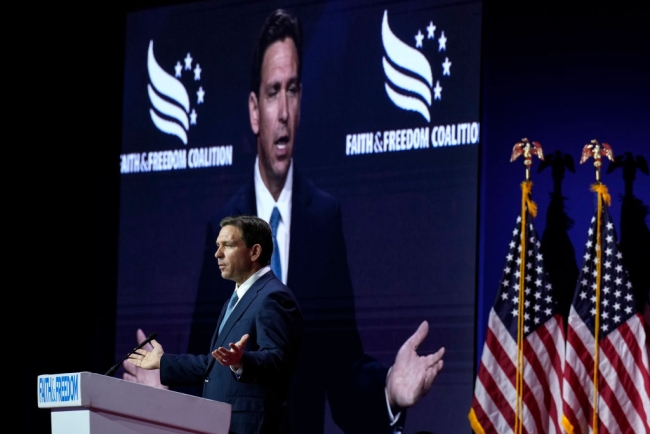 Drew Angerer/Getty Images News
For 58 years, the accreditation system of higher education has stood, enshrined in federal law and reaffirmed with each reauthorization of the Higher Education Act of 1965.
Now, a federal lawsuit from the state of Florida is looking to upend that entire system, which is a key part of the federal accountability system that helps to determine which colleges and universities receive access to federal financial aid.
Florida governor Ron DeSantis, a Republican, and other state officials argue in the lawsuit filed last week that Congress has "ceded unchecked power" to the private accrediting agencies, violating the U.S. Constitution. They want a federal judge to permanently block the Education Department from enforcing accreditation-related provisions of the Higher Education Act. Currently, federal law requires that colleges and universities be accredited by an Education Department–recognized accreditor in order to receive federal student aid such as Pell Grants.
"The result is that private accrediting agencies enjoy near limitless power over state institutions," Florida officials wrote in the initial complaint. "Accrediting agencies have the power to hold billions of federal education dollars hostage based on the formulation and application of substantive education standards that are immune from meaningful government supervision."
The White House has promised to fight the lawsuit, calling it part of DeSantis's culture wars. Others said the lawsuit showed a lack of understanding about accreditation and failed to provide an alternative vision of federal accountability.
Cynthia Jackson Hammond, president of the Council for Higher Education Accreditation, said in a statement that there's no precedent for questioning accreditation in this way. She's hoping the lawsuit will not set such a precedent.
"There is no end 'win' by discrediting the work of professional experts who work with institutions to ensure quality at all levels," Hammond said. "The win occurs when students, their families and the public are assured that higher education is providing the best collegiate preparation possible. Accreditation is quality assurance and has been a part of American culture for centuries. To wage a cultural war on higher education and accreditation is a disservice to the American public."
Several higher education and legal experts said the lawsuit seemed more about politics than the law and was unlikely to be successful.
"I'm not aware that we've ever seen these sorts of arguments made, essentially that the department doesn't have the authority under the HEA to have the regulatory triad include accreditors," said John Przypyszny, a partner at Faegre Drinker Biddle & Reath who works with institutions and accreditors. "That's a unique argument … It's interesting, it's creative, it's novel, but that doesn't mean it would be successful."
One of the driving forces behind the lawsuit seems to be the Biden administration's response to two Florida universities' requests for permission to change accreditors. Florida lawmakers last year passed a law requiring public universities and colleges in the state to change accreditors every 10 years. The Education Department did warn the state about possible conflicts with federal law. That law was amended this year so that institutions only have to switch once in 10 years and then no more.
After the law was passed, the department issued guidance that the lawsuit says makes it more difficult for a Florida college or university to switch accreditors. The state wants a federal judge to at least toss out the guidance.
So far, Florida Polytechnic University and the University of Central Florida have requested permission to leave their current accreditor, the Southern Association of Colleges and Schools Commission on Colleges, for the Higher Learning Commission. The department must find that they have reasonable cause to make the switch and responded to the request with a list of questions.
Department officials wanted to know why the university wanted to make a switch and how much a new state law was driving that decision as well as copies of the universities' communications with state officials and accreditors. Both universities are working on their response to that request, The Tampa Bay Times reported. Neither university nor state officials responded to a request for more information.
Przypyszny said the lawsuit is an extreme way for the state to deal with the Biden administration's response.
"They think it's important that the school should only be accountable to the state," he said. "They're bristling at the fact that in order to get the federal student aid, they have to go through the private accreditation process."
Przypyszny took issue with the lawsuit's argument that there's no accountability or oversight, adding that the laws and regulations governing accreditors do give the department oversight. The filing, he noted, does not mention the National Advisory Committee on Institutional Quality and Integrity, which provides recommendations to the department regarding accrediting agencies.
"There is accountability," he said. "Ask a former [Accrediting Council for Independent Colleges and Schools] school if they don't think that the accreditors are held accountable to the department."
The department ended federal recognition of the Accrediting Council for Independent Colleges and Schools last year, forcing the institutions under its purview to find another accreditor within 18 months.
He added that accreditation and receiving Title IV funds is voluntary.
Przypyszny questioned what would happen if the lawsuit prevailed, who would be responsible for academic quality and determining that institutions are legitimate.
"You never know what could happen," he said.
Ramping Up Attacks on Accreditation
The lawsuit highlights and expands on the growing criticism from Republicans about accreditation—an historically niche higher education issue that has started to attract more attention from conservative presidential candidates and policy makers who have grown frustrated with the agencies.
DeSantis himself has long targeted accreditation. In the last few months, congressional Republicans have introduced bills in the House and Senate to restrict an accreditor from considering an institution's diversity, equity and inclusion policies as part of the accreditation process, among other changes. The Heritage Foundation, a prominent conservative think tank, released a report last week outlining ways to dismantle the "accreditation cartel."
Adam Kissel, a co-author of that report and visiting fellow at the Heritage Foundation's Center for Education Policy, said the increased attention is related to an effort in Congress to reauthorize the Higher Education Act, the student loan crisis and what he called abuses of power by accreditors against state systems of higher education such as Florida.
"If it's just one institution, that's different, but when a state system is being challenged over governance, the forces of governance fight back," he said.
Kissel said that Florida's lawsuit makes a compelling case that the current system of accreditation is unconstitutional.
"There has been a concern that if accreditors are not vouching for institutions, who else would?" he said. "But there are the other two parts of the triad. The states authorize colleges and universities to operate in their states, and the Education Department still determines its financial and administrative capability."
The Heritage Foundation has also advocated for getting rid of the Education Department.
Kissel said accreditors have moved away from their traditional role of quality improvement and assurance. He took issue with the agencies weighing in on matters of governance.
"Accreditors have no legitimate role in university governance," Kissel said. "They're supposed to be determining whether a college is legitimate or not, for the sake of federal aid, and from the voluntary side to help institutions improve."
The accreditation system has frustrated advocates and lawmakers across the political spectrum for years for its level of involvement in institutions.
"I find it a little frustrating the suggestion that the accreditors get involved too much when the reality is the criticism we should be leveling is the accreditors don't get involved often when they should be getting involved," said Edward Conroy, a senior adviser with the education policy program at New America, a left-leaning think tank.
Conroy, who has been critical of accreditors, said accreditation is important to ensure students receive a high-quality education and that tax dollars go to programs that leave students better off.
"I'm critical of accreditation and accreditors, with a goal of wanting to make the system better, so that we protect students so that we spend taxpayer dollars wisely," he said.
Conroy said accreditors are a "convenient foil" for politicians because the system is not well understood.
"This is the most attention accreditation has gotten in years," he said. "It seems broadly at the moment that there is an agenda to damage accreditation in ways that would weaken accountability and oversight of higher education broadly, and I think that that is harmful."