You have /5 articles left.
Sign up for a free account or log in.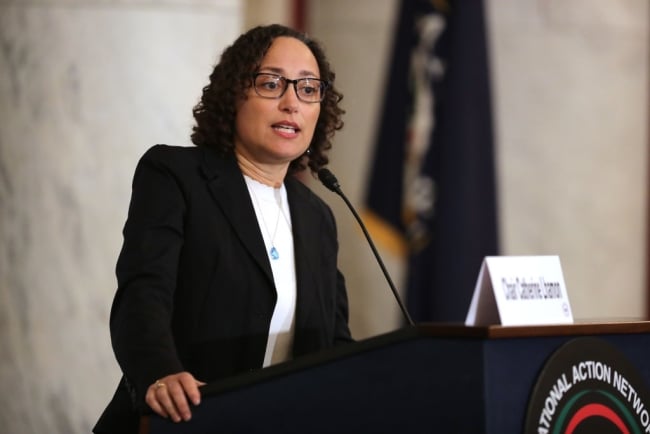 Chip Somodevilla/Getty Images
WASHINGTON, D.C.—Speaking at an affirmative action summit hosted by the Department of Education Wednesday, Catherine Lhamon, assistant secretary in the department's Office for Civil Rights, urged college leaders to continue pushing for racial equity in admissions through lawful means, asserting that the Supreme Court's recent decision striking down affirmative action "did not question the educational value of diverse student bodies."
And in a sly but unmistakable reference to a letter sent by Students for Fair Admissions, the group that brought the lawsuits to the highest court, Lhamon encouraged institutions to sit tight, await official federal guidance and disregard third-party advice.
"I have heard of groups who are not the Department of Education sending messages saying what institutions can do and what the law says," Lhamon said. "I will just say this: when you hear from us, you will know … for now, focus on admissions."
Laughter and applause followed, along with a collective sigh of relief that the OCR appeared to interpret the ruling as confined to the realm of admissions.
But there remained a sense of uncertainty, if not frustration. After weeks of reading into the implications of the decision, consulting with legal counselors and trying to plot a course into the darkness, higher education leaders had been hoping for guidance from the OCR; Lhamon had just informed them it would not be coming until next month.
There were other eyebrow-raising moments: Pomona College president Gabrielle Starr evinced a mix of puzzled murmurs and nods of agreement when she criticized a recent, highly publicized Opportunity Insights report on the role of applicants' wealth in admissions decisions, which she said could not be trusted at face value, as it had not been peer reviewed. A few college leaders, especially those advocating for minority-serving institutions and community colleges, called out elite universities for "not wanting" students of color enough to recruit them after affirmative action's demise.
Secretary of Education Miguel Cardona called the ruling "a new low point" for higher education at the meeting. He warned of the potential for a large dip in diverse enrollment nationwide, as happened in states like California and Texas when they banned affirmative action in public colleges in the 1990s. But he expressed hope that new diversity efforts could garner renewed resources and attention.
"Many of you adapted and innovated during the pandemic. We're asking the same of you now," he said. "We didn't sign up for this, but we must lead through it."
101 (Lawful) Ways to Increase Diversity
Over all, speakers and panelists agreed that the end of affirmative action was an urgent clarion call requiring—in the words of education under secretary James Kvaal, who opened the summit—"all hands on deck."
Presenters proposed a range of alternative approaches to building a diverse class, including direct admissions policies, improved community college transfer pipelines and more targeted recruitment of underrepresented communities.
Angel Pérez, CEO of the National Association for College Admission Counseling, said he expects a variety of new, creatively worded essay questions to appear on college applications once the Common App launches Aug. 1; Sarah Lawrence College has already added a prompt incorporating the Supreme Court decision itself.
But he added that there are non-essay-related avenues available in the actual admissions process for colleges to uphold diversity and inclusivity while obeying the new law of the land.
"Don't let a crisis go to waste," he said. "The admissions process wasn't perfect already, so there's opportunity here, too."
Colorado College president Song Richardson, who began her tenure last year, decried what she called a "broken" higher education system and called on leaders to do more than "tinker around the edges" by adopting race-neutral admissions policies and doing away with legacy admissions. (Colorado governor Jared Polis banned legacy preferences in the state's public colleges in 2021, though not for private institutions like Richardson's.)
"Affirmative action made us complacent," she said. "Now that tool is gone, and I'm optimistic that all of us can work together to fix our broken system."
'A Tremendous Lack of Courage'
Shaun Harper, executive director for the University of Southern California's Race and Equity Center, said that the affirmative action decision was just one piece of a larger, politicized agenda against diversity and equity in higher education, and he called for an equal and opposite movement to protect those values.
"Things will turn around if college and university leaders, policy makers, and the rest of us who purport to care about equity actually fight back," he said. "It is very clear to me that there is a well-organized and funded mis- and disinformation campaign on DEI and diversity. Where is our movement?"
Harper was echoing a general frustration among many attendees who fear that institutional leaders are bending too easily to proponents' interpretations of the Supreme Court ruling, changing policies and language in order to avoid litigation before the fight even really begins.
"The biggest fear I have as a result of this decision is that we in general in higher ed will become too cautious," said Richardson.
Walter Kimbrough, director of Morehouse College's Black Men's Research Institute and until recently the longtime president of Dillard University, was more accusatory, criticizing college and university leaders for demonstrating a "tremendous lack of courage" in responding to the affirmative action decision and right-wing political attacks on diversity in higher education.
"We are watching people start to cut off their arms before anybody tells them you need to cut off your arms … They're volunteering to do it," Kimbrough said. "We need people to speak out, and it has to be collective. If we don't come together and speak forcefully, this is just the beginning of a tipping point."