You have /5 articles left.
Sign up for a free account or log in.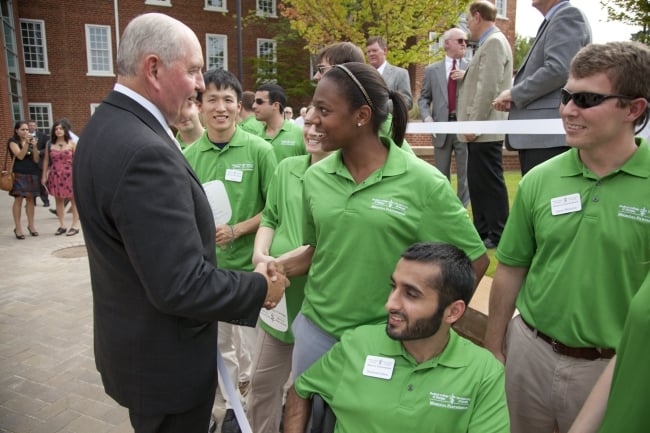 The University of Georgia
Sonny Perdue, the University System of Georgia chancellor, recently delivered a report on diversity, equity and inclusion (DEI) expenses with an unexpected introduction for someone who was a Republican governor of Georgia turned Trump agriculture secretary.
He defended the DEI expenses.
Like Florida Republicans did this year in their state, Burt Jones, Georgia's lieutenant governor, had requested this information for the whole Georgia system, according to Perdue's letter. Georgia's system comprises all 26 public, four-year universities statewide.
Perdue responded June 30 with nearly 200 pages, showing expenses separated by institution, and a two-page cover letter, including this:
We continue to attract and retain more than 334,000 students from diverse backgrounds and work with industry in communities across the state to develop academic programs and research that grow the state's workforce and economy. As stewards of taxpayer dollars, we take this responsibility seriously.
As you'll see, that work targets a wide variety of populations included under the DEI umbrella. Veterans from all five branches of the Armed Services, people with disabilities, adult learners, rural and urban residents, STEM students, first-generation college students as well as international students, those from different faiths and those of varying socio-economic backgrounds are all included. Expenditures also consist of staffing, equipment and programming to provide students with the support and services required for success. Many programs included in the attached report fulfill federal legal obligations that our institutions must adhere to, such as Title IX and policies under the Equal Employment Opportunity Act. This broad array is much more inclusive than what some may view as controversial about DEI.
The University System of Georgia said it had no comment Monday beyond Perdue's letter.
In Georgia, the lieutenant governor leads the State Senate. The Atlanta Journal-Constitution reported in April that Jones requested the DEI information after Perdue publicly criticized state lawmakers' $66 million higher education funding cut for next fiscal year.
Jones's request letter, which his office provided to Inside Higher Ed, directly references Perdue's criticism.
"I and other state leaders fully expect the university system will find the ability to live within its considerable means," Jones told Perdue, before asking for the DEI costs.
But in an emailed statement Monday to Inside Higher Ed, Jones didn't criticize Perdue's response letter or the reported expenses.
"I am committed to ensuring taxpayer dollars are spent wisely to support a higher education system that equips our students with critical skills needed for future success—not on advancing divisive concepts and political agendas," Jones said. "I know Chancellor Perdue shares in that commitment, and I commend him and our entire university system for their thorough review of existing policies. Working together, we can continue to advance higher education in our state, protect taxpayer funds and give everyone an equal opportunity to achieve their dreams right here in Georgia—and I look forward to doing just that."
In early 2022, when Perdue was named the sole finalist for the chancellor position, he faced student and faculty opposition. While governor, he decreased public education funding, was sued for underfunding historically Black colleges and universities, and supported reinstating a state flag with a large Confederate symbol.
Perdue's letter said the listed expenses aren't just funded by state money, but by federal, private and other dollars as well. The data are from the colleges and universities themselves.
"We encouraged them to be expansive in their search to make sure all areas are covered," he wrote. "For example, the University of Georgia submission includes over $13 million in need-based aid for students in fiscal year 2022."
The University of Georgia reported 39 full-time and one part-time DEI employee.
"Of those, 21 devote 100 percent of their time to diversity efforts while the other 19 average roughly 61 percent of their time," a University of Georgia spokesman wrote in an email. "The diversity positions represented in our response total 0.18 percent (or less than one-fifth of 1 percent) of the institution's workforce, and the portion of their salaries pertaining to diversity duties accounts for 0.12 percent (barely over one-tenth of 1 percent) of our total budget. The state-appropriated funds devoted to the diversity efforts of these positions amount to 0.03 percent (or three one-hundredths of 1 percent) of the University of Georgia's total budget."
Georgia Tech reported 66 full-timers plus six federally mandated full-timers and seven part-timers. It didn't respond to requests for comment Monday.
Perdue's letter did stress the importance of free speech and academic freedom, which conservatives have argued are threatened by required DEI statements.
"Institutions are also reviewing their campus recruitment practices and ensuring no applicants or new hires are asked or required to sign affirmations, ideological statements and/or oaths as a requirement of employment, including DEI statements," Perdue wrote.
"No USG (University System of Georgia) community member, including faculty and staff, can use their position to harass, indoctrinate or discriminate against any student or another member of the community," he wrote. "Faculty maintains their First Amendment rights and academic freedom privileges. This includes within the educational contexts of teaching, learning and research, to ensure faculty can teach on unpopular subjects or subjects that could be criticized. These are important principles in higher education, and they remain intact."