You have /5 articles left.
Sign up for a free account or log in.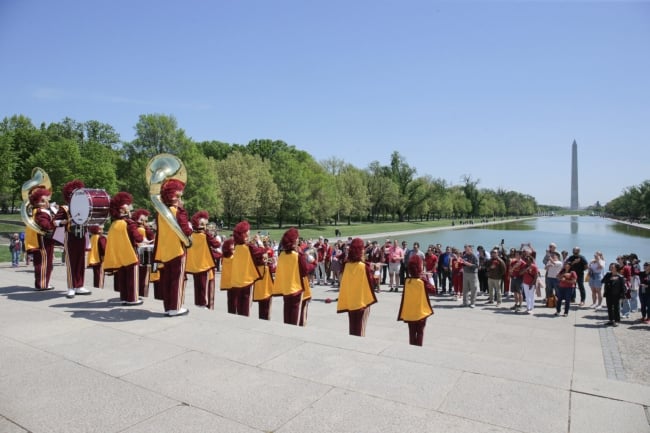 Mbkphoto/University of Southern California
The University of Southern California celebrated the opening of its new campus in Washington, D.C., last month with the kind of fanfare usually reserved for a Trojan football victory.
The Spirit of Troy marching band played on the steps of the Lincoln Memorial, after which dignitaries and university leaders gathered with hundreds of supporters at the $50 million, 60,000-square-foot Capital Campus in Dupont Circle, just two Metro stops away from Congress and the White House.
The "Trojan Embassy," as USC president Carol Folt has called it, represents the latest in a growing list of higher education institutions expanding their presence in D.C. Over 40 U.S. colleges and universities have a physical presence in the nation's capital, ranging from Johns Hopkins University—which lies just an hour north in Baltimore—to Pepperdine University, a small Christian institution across the continent in Malibu, Calif.
According to the D.C.-based real estate company Jones Lang LaSalle, 17 of those institutions have full satellite campuses in D.C., complete with classrooms and dorms as well as office space and conference rooms for meetings with policy makers and researchers. In total, nonlocal colleges and universities own about a million square feet of real estate in the city, a little more than one-third of the total aboveground exhibit space occupied by the Smithsonian museums.
Much of this real estate is used to house or provide meeting spaces for student interns, who flock to the city in droves every semester to gain experience in politics, policy making, research and journalism. But higher ed leaders told Inside Higher Ed that they are increasingly looking to establish or fortify bases for developing relationships with policy makers and grant-writing government offices.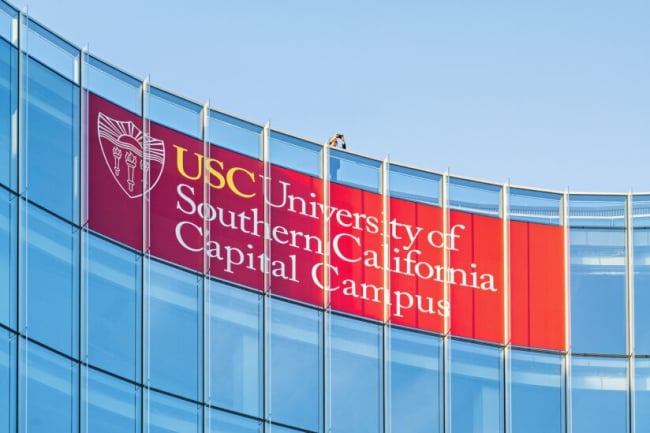 Folt told Inside Higher Ed that expanding USC's presence in D.C. would benefit its research institutes and professional schools, which she hopes will play a larger role in shaping federal policy on issues such as technological development and public health.
"It's always been an aspiration of universities to be prominent and influential players in national policy matters," she said. "A lot is in flux in the federal government right now, and universities have to be a part of these critical debates about immigration, Pell Grants, free speech—about everything that we do. But I think we're all realizing this means more than calling or Zooming in; it means showing up, and that means being there in the room where decisions are made."
Lander Medlin, the president of APPA, a national association of higher education facilities administrators, said that in recent years she's seen a surge in interest from higher ed institutions looking to establish a physical presence in D.C., largely to facilitate their growing involvement in policy making and access to federal research dollars.
"Between what's going on in the political realm and what's going on in the grant-making world, it is becoming more competitive to get this federal funding. And these are huge parts of these campuses' revenue streams," she said. "They believe if they're only planted in one spot, they'll have less of a voice."
Martine Combal, a senior vice president at Jones Lang LaSalle in charge of the government and education markets, said she's seen an explosion in interest from colleges and universities in recent years—especially as developers look to fill prime downtown office spaces that were vacated during the pandemic.
"The number of universities buying space in D.C. has definitely been increasing," she said. "There's a lot of benefits to filling up those downtown spaces for the city itself … and being right near the 'room where it happens,' to make a very D.C. reference to Hamilton, is important."
From K Street to Campus Corridor
Most D.C. satellite campuses are concentrated in the downtown web of government agencies, lobbying firms and think tanks between Dupont Circle and the Capitol Building, forming a kind of Embassy Row for nonlocal higher ed institutions.
The University of California system's D.C. center is located on Rhode Island Avenue near Scott Circle; New York University's is on L Street, one letter away from the lobbyist and think tank nexus of K Street; and Arizona State University established its Washington campus in 2018 at the corner of 18th and Eye, a few blocks from the White House. This fall, Johns Hopkins will begin holding classes for the School of Advanced International Studies at its new 420,000-square-foot Pennsylvania Avenue location, for which it paid over $300 million in 2020.
Syracuse University plans to plant its flag along that campus corridor this year. Michael Haynie, Syracuse's vice chancellor for strategic initiatives and innovation, said the upstate New York–based university, which sold a much smaller D.C. property two years ago, is set to sign a lease for a building just a few blocks from USC's Capital Campus within days. He hopes the facility—which will serve as a lecture hall, conference space and administrative center—will be open for business by next spring.
Haynie, who commutes from Syracuse to D.C. about once a week, said he's been advocating for the university to expand its presence in the capital for years—and not just because it would make his life easier.
"The ability to engage directly and routinely with the federal agencies that are funding faculty research, with the National Science Foundation, the Department of Defense and others, is heightened there," he said. "It's one thing to fly in and fly out; it's another thing to have that full-time stewardship of relationships. And it's also great symbolically to be able to invite people into your home, so to speak, as neighbors."
Syracuse had been contemplating expanding its D.C. presence for years, Haynie said, but the pandemic provided the perfect opportunity to do so. In 2020, the university sold its decades-old Greenberg House, a multipurpose classroom and conference space, and began searching for a bigger piece of real estate at record-low prices. He added that he wouldn't be surprised if other institutions that recently moved into a D.C. property, such as USC, had jumped on similar opportunities.
"Downtown D.C. is absolutely an opportunity market right now … when we first toured facilities we were considering, people rolled out the red carpet for us," Haynie said. "I think that's another reason you're seeing a lot of schools that have maybe been thinking about this finally pulling the trigger."
Medlin thinks there's also an element of peer pressure at play.
"There is a kind of arms race mentality in higher ed, especially between some of the bigger research institutions that compete for funding and graduate students," she said. "There are a few institutions whose actions will drive others to at least put their toes in the water. And with USC and ASU in D.C., I think more are likely to come."
Studying 'Abroad' in the Capital
Students see major benefits of their institutions establishing satellite campuses in D.C.—especially if they include residential space. For some, living and studying in a community of their peers in D.C. is just as important as getting an internship on Capitol Hill or at a federal agency.
"A lot of our students really care about being a part of our democracy and want to work one day to make it even better," Folt said. "Being right there where the sausage gets made is really important and can be a transformational experience."
Mary Caulfield just finished a "semester abroad" at Pepperdine's D.C. center, an eight-story building with both residential and class space located on Pennsylvania Avenue, a few blocks from the White House. She had an internship at a magazine but said that having housing resources, night classes and community in one place helped make her experience more comfortable and kept her tied to her institution on the other side of the country.
"I was raised on the West Coast and lived there my whole life. So jumping to the East Coast was kind of a big transition," Caulfield said. "Living with the community of Pepperdine, people in the program and having advisers there really helped foster a support system and made it more comfortable."
One of the first full-fledged campuses to open in D.C. was New York University's, which celebrated its 10th anniversary in the fall. Initially envisioned as an expansion of its study abroad offerings—NYU has over a dozen campuses around the world, from Berlin to Buenos Aires—the D.C. campus attracts around 120 students each semester.
"In 2012 we looked at where we were positioning our multiplying international centers and degree-conferring campuses around the globe, and we thought, maybe it was time to look a little closer to home," said Josh Taylor, NYU's associate vice chancellor of global programs and mobility services. "It certainly proved to be a very attractive location for our students, not just from New York but also from Abu Dhabi and Shanghai."
Medlin said that as the predicted demographic cliff approaches and threatens enrollment numbers, institutions that can afford it are looking to expand their networks as a way of differentiating themselves. Providing a physical hub for resources, community and classes in Washington, where coveted internships abound, could help box out the competition.
"Even for those few hundred institutions that won't have to beg for students, they will still have to compete to get the best and the brightest," she said. "For a lot of areas of study, not just politics but also STEM fields like public health or engineering, really being rooted [in D.C.] is a huge boon for recruitment."