You have /5 articles left.
Sign up for a free account or log in.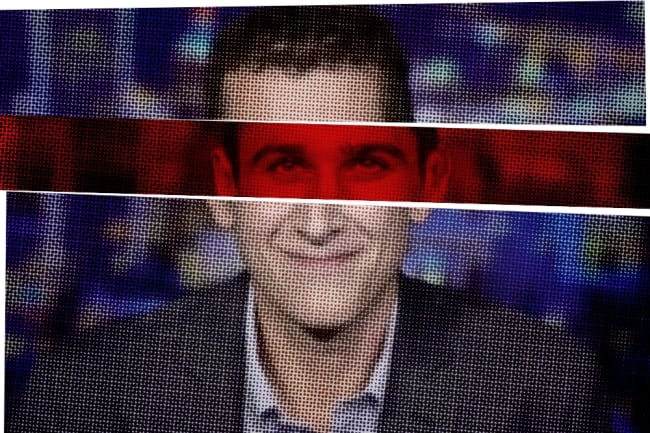 Photo illustration by Justin Morrison/Inside Higher Ed | Photo: Salem Center for Policy
Richard Hanania, a Ph.D. and J.D. who's been associated with the University of Texas at Austin, previously used a pseudonym to make racist statements online, according to a Huffington Post investigation that used a data breach to connect him to a former alias.
Hanania has written in response to that report, criticizing it but also saying, "My posts and blog comments in my early twenties encouraged racism, misogyny, misanthropy, trolling and overall bad faith."
HuffPost's article, which was published Friday and updated Monday, described him as a visiting scholar at the Salem Center for Policy at UT Austin's McCombs School of Business. Hanania's HarperCollins author bio—it's publishing his The Origins of Woke—describes him as a research fellow at the university.
A screen shot from the Internet Archive's Wayback Machine showed him still on the Salem Center's website Saturday, but now he's gone. Neither University of Texas at Austin spokespeople, nor Carlos Carvalho, the Salem Center's executive director, responded to requests for comment Tuesday or Wednesday.
Hanania tweeted Tuesday, "Of all the cancellation attempts, the best one is University of Texas, where my fellowship already ends before fall (i.e. this month) and I've already received my last pay check [sic]. So … good luck I guess."
The University of Austin—a "freedom of inquiry"–focused nonprofit that says it seeks to become an accredited institution—also lists Hanania among its "Forbidden Courses" speakers this year, though the website doesn't make clear when he's speaking or spoke, and on what topic. The University of Austin didn't return requests for comment Wednesday.
A Richard Hanania is also scheduled for an Oct. 5 speech at the Stanford University Graduate School of Business as part of its Classical Liberalism seminar series. Stanford also didn't respond to requests for comment Wednesday.
Hanania's connection to UT Austin's Salem Center isn't the first time that center has faced controversy. And it comes as Texas A&M University and, more recently, the University of Texas Medical Branch have become embroiled in controversies over their treatment of professors who faced conservative opposition—all in a state where the Legislature has banned diversity, equity and inclusion activities at public colleges and universities, effective in 2024.
Last year, The Austin-American Statesman wrote that the Salem Center hosted Dr. Scott Atlas, a former COVID-19 adviser to former president Trump. At the Salem Center event, Atlas "falsely told a small crowd that COVID-19 vaccines present serious safety concerns and advocated against inoculating children," the paper reported.
And Richard Lowery, a tenured associate professor of finance at the McCombs School of Business and a senior fellow at the Salem Center, is currently suing business school leaders. Lowery alleges they threatened his career because he denounced the university's funding and support of "left-wing" causes and tried to draw state lawmakers' attention, and he alleges university administrators hijacked the conservative Liberty Institute that he and Carvalho tried to create.
Hanania's Writings
In 2010, according to HuffPost, Hanania's alter ego wrote that "If the races are equal, why do whites always end up near the top and blacks at the bottom, everywhere and always?"
"For the white gene pool to be created millions had to die. Race mixing is like destroying a unique species or piece of art. It's shameful," Hanania additionally wrote, per HuffPost.
It also reported that, in 2010, he wrote for white supremacist Richard Spencer's AlternativeRight.com that "individuals differ in their inherent capabilities. The races do, too, with whites and Asians on the top and blacks at the bottom."
And, in 2010, he wrote in Counter-Currents, a "pro-white" outlet, that Hispanics "don't have the requisite IQ to be a productive part of a first world nation," HuffPost reported.
The outlet also noted more recent comments from Hanania, under his own name, including a May tweet in which he said, "I don't have much hope that we'll solve crime in any meaningful way. It would require a revolution in our culture or form of government. We need more policing, incarceration and surveillance of black people. Blacks won't appreciate it, whites don't have the stomach for it."
Hanania, who didn't return requests for comment Wednesday, wrote a response to the HuffPost article Sunday on his Substack.
"Recently, it's been revealed that over a decade ago I held many beliefs that, as my current writing makes clear, I now find repulsive," Hanania wrote.
"My posts and blog comments in my early twenties encouraged racism, misogyny, misanthropy, trolling and overall bad faith," he wrote. "Phrases like 'racism' and 'misogyny' get thrown around too easily, but I don't believe there's any doubt many of my previous comments crossed the line, regardless of where one thinks that line should be. Below, I'll offer an explanation for why I wrote such things, and why I no longer hold such views."
But Hanania's response goes on to include this:
Other writers have shifted my views on specific issues. Bryan Caplan and Alex Nowrasteh have convincingly argued that even if groups differ in skills or cognitive abilities, we can all still benefit from the division of labor. If the worry is that migrants might vote for socialism or commit crimes, then the answer is not to exclude people from society or otherwise discriminate against them based on group averages, but to attack socialism and crime directly.
Hanania also wrote, "The reason I'm the target of a cancellation effort is because left-wing journalists dislike anyone acknowledging statistical differences between races. My mistake in a previous life was assigning collective guilt based on certain undeniable facts."
He also notes that he had recently "argued against anonymity in writing about political and social issues. Again, this was a veiled form of self-criticism."
Hanania, who was also a research fellow at Columbia University's Arnold A. Saltzman Institute of War and Peace Studies, remains president and a board member of the Center for the Study of Partisanship and Ideology.
"His research interests include the relationship between wokeness and civil rights law, psychological differences between liberals and conservatives and how to improve public discourse and policymaking by holding experts accountable through prediction markets," his bio there says.
"CSPI is basically his outfit, so he's the only one who's employed there; he runs it, so he's it, really," said Eric Kaufmann, one of two other board members. Kaufmann said he gets paid per report he produces for CSPI.
"I probably haven't had a communication on it for months and months and months," Kaufmann said, though he said he's not leaving the organization.
Kaufmann—who said he researches a wide area including nationalism, ethnicity and political demography (he wrote Whiteshift: Populism, Immigration and the Future of White Majorities)—left his professor of politics position at Birkbeck College, University of London, on Aug. 1. He said he's joining another university but can't announce it yet.
Of the HuffPost story on Hanania, Kaufmann said, "I've certainly seen it. You know, I'm sort of inclined to give him the benefit of the doubt."
"Nothing I've seen would suggest he holds those views anymore," Kaufmann said. "Obviously, he had some pretty crazy views, but I think he's grown out of those."
In May, after a white man, Daniel Penny, reportedly choked a Black man, Jordan Neely, to death on a New York City subway train, Hanania posted from his own X account, "Daniel Penny getting charged. These people are animals, whether they're harassing people in subways or walking around in suits."