You have /5 articles left.
Sign up for a free account or log in.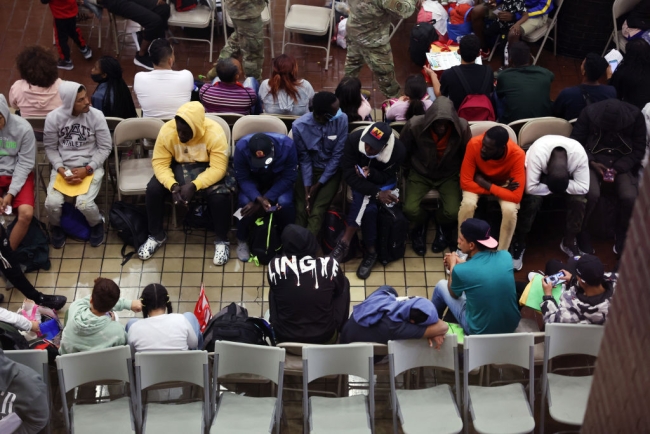 Spencer Platt/Getty Images
As the spring semester comes to an end and students depart from college campuses, officials in at least two states—New York and Maine—are looking to campus residence halls to provide temporary housing for another population: migrants seeking asylum in the U.S.
Over 65,000 asylum seekers have arrived in New York over the past year, according to officials, in some cases bused from Texas and Arizona by officials seeking to protest President Biden's immigration policies and ease the burden on border communities. The move has forced state leaders to find creative housing solutions for the migrants, many of whom are staying in hotels that have been converted into shelters. In New York City, officials have also proposed transforming parks, recreation facilities, parking lots and "a retrofitted airplane hangar at John F. Kennedy Airport" into shelters, CNN reported.
Now officials are also looking into providing temporary shelter at the state's universities. Two congressmen who represent New York, Representative Dan Goldman and Representative Jamaal Bowman, wrote to the leaders of the State University of New York, the City University of New York, New York University and the National Association of Independent Colleges and Universities, of which many N.Y.C. institutions are members, and asked them to work with government officials to offer asylum seekers housing this summer.
"During the summer, many of your institutions have empty dorm rooms, student apartments, and other potentially appropriate places for shelter that can serve as much needed temporary housing for migrants," they wrote.
New York governor Kathy Hochul said that the state is currently investigating which campuses might provide suitable residences for migrants.
"We're looking at many SUNY campuses right now, and again, there's a sense of urgency, so we'll be announcing very soon an offering to the mayor which sites," she said last week during a press conference, according to transcript provided by spokesperson Avi Small, referring to New York City mayor Eric Adams. "We have to make sure that they'll work, the timing works, the students are gone. And then we'll be able to talk to the mayor and his team about what use they want to have."
In an article published by Spectrum News last week, an anonymous source claimed that the state had selected the University at Buffalo, Stony Brook University and the University at Albany to provide beds for about 1,500 migrants.
Spokespeople for SUNY and CUNY both redirected Inside Higher Ed to Hochul's office to answer questions about the plan. Hochul's office pointed to the press conference and did not respond to a request for more details.
Other institutions have said they will not be able to offer any temporary shelter given that they do, in fact, have students living on campus during the summer months. Spokespeople for Fordham University, Pace University and NYU all said their dorms were full this summer.
"NYU understands the urgency of the challenges facing New York City from an influx of asylum seekers. However, NYU's student residences are full, not empty, during the summer; they were reserved months ago and are filled with students taking summer classes or doing summer internships and projects," NYU spokesperson John Beckman said in an email.
Spokespeople for several other private NYC universities did not respond to requests for comment.
Migrants in Maine
Similar discussions are underway in Maine. According to The Portland Press-Herald, the Emergency Shelter Assessment Committee, a Portland government committee dedicated to finding housing for the city's homeless population, is also considering using the state's college housing as shelter for migrants.
Tory Ryden, a spokesperson for the University of Maine system, said in an email to Inside Higher Ed that one vacant building at the center of the discussion—the Dickey-Wood dormitory, located on the University of Southern Maine's Gorham campus—is not safe to occupy due to asbestos and would cost tens of millions to renovate.
Other residence halls are already in use; at the University of Maine at Orono, dorms house campers attending summer programs, for example. Another dormitory is undergoing construction over the summer.
Regardless, no one has reached out to the system's Board of Trustees yet to try to make use of any of the other spaces at its eight institutions, Ryden said. The system does have a history of offering space to those in need; during the COVID-19 pandemic, the University of Southern Maine's Sullivan gym was turned into emergency housing for homeless Mainers.
"The Board would be open to discussing possibilities," she said.
There are currently 1,300 asylum seekers staying in shelters or hotels in Portland, the Press-Herald reported. Though that number is a fraction of the number of migrants bused to NYC, it's significant in a city of about 68,400 residents. Many of the asylum seekers hail not from Central or South America, like the influx of migrants who trekked to the southern U.S. border in recent weeks, but from the Democratic Republic of the Congo and its southwestern neighbor, Angola. They traveled to Portland because of its reputation for being especially welcoming to migrants.
As in New York, Portland's leaders have repurposed city buildings to create emergency shelters for the migrants, including a local arena—the Portland Exposition Building, where the minor-league baseball team plays—which can sleep 300, the Associated Press reported. Recent arrivals are also taking up about 80 percent of beds in the city's homeless shelters, according to Cullen Ryan, a member of the Emergency Shelter Assessment Committee and the executive director of Community Housing of Maine, an affordable housing nonprofit.
A spokesperson for the University of New England, a private institution with a campus in Portland, told Inside Higher Ed in an email that it has no room to house migrants because it rents its dorms out over the summer to "various groups." Bowdoin College, a selective liberal arts college in nearby Brunswick, does the same, but a spokesperson added that it is "working with town officials and others to donate needed furniture to those in the area who are able to house asylum seekers."
Representatives of seven other private colleges in Maine did not respond to a request for comment.
A New Solution
Edward Cuccia, a New York City immigration attorney, said he has never before heard of asylum seekers being housed on university campuses —or in airplane hangars, for that matter.
"This seems to be unique to now. Housing all willy-nilly seems to be new," he said. "'Willy-nilly' seems to be the operative word. There's no coordination."
He appreciated that college students and the resources available on college campuses—especially law schools with an abundance of legal practitioners—could benefit migrants. But he said that the two- to three-month period that the dorms would be usable would almost certainly not be long enough for them to get situated.
"I've got cases that drag on for years and years and years," he said, noting that he only recently closed one case he had been working on for a decade. "Summer? Two months? Yeah, no. That's a joke."
Some higher ed institutions have prior experience hosting refugees. The nonprofit Every Campus a Refuge was started in 2015 at Guilford College in North Carolina and currently has 16 active chapters hosting refugees in campus housing, including at Old Dominion University in Virginia, Washington State University and Siena College in upstate New York. The refugees typically live in campus-owned apartments, faculty housing or graduate student housing—facilities that include kitchens and bathrooms—rather than traditional undergraduate dorms.
Walid Mosarsaa, a senior program coordinator for the nonprofit, said that colleges make good residences for refugees because they provide resources within walking distance, such as dining and transportation, and come with a built-in community. At some chapters of ECAR, students and university offices have provided refugees with career coaching, English language courses and transit to appointments. Mosarsaa said he even knows of one refugee who got a job on the campus where they lived.
The letter from Congressmen Goldman and Bowman to university leaders called for students at New York's universities to take similar steps to support asylum seekers.
"Many of your institutions also have prestigious law schools, medical facilities, and admit students who are committed to public service," the letter said. "We encourage you to develop programs that incentivize and support faculty and students to volunteer their time and talent to serve asylum seekers and their children."