You have /5 articles left.
Sign up for a free account or log in.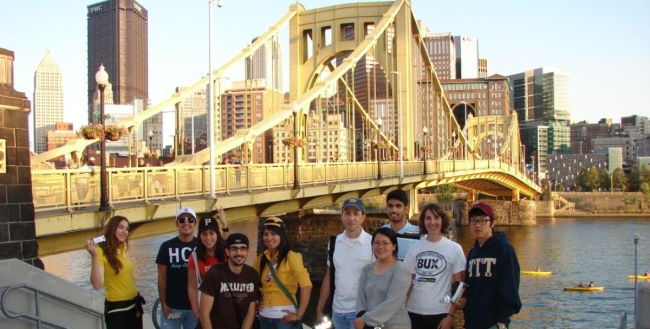 ELI at the University of Pittsburgh
Citing dwindling enrollment, the University of Pittsburgh plans to close its nearly 60-year-old English Language Institute on June 30.
Alongside other offerings for nonnative English speakers, the English Language Institute provides a 20-hour-per-week intensive English program that lasts 13 weeks.
"Enrollments in English Language Institute programs have declined over the last several years as part of a larger trend of declining enrollments in intensive English programs nationally," wrote Kathleen Blee, the dean of the Dietrich School of Arts and Sciences at Pitt. "This decreasing demand has impacted the ELI's ability to sustain itself financially."
She wrote in December that "the university has made several attempts to bolster enrollment numbers, however, after much consideration, the Dietrich School has made the difficult decision to close the unit."
Pitt declined further comment, beyond that "conversations are ongoing between the chair of the Linguistics Department and the Office of the Provost."
That chairman, Scott Kiesling, said he is meeting today with Ann E. Cudd, Pitt's provost and senior vice chancellor.
The meeting follows multiple news reports on the planned closure. The ELI is in Kiesling's department.
"The conversation is— That's the first one I've actually had with the provost. I've sent her a lot of materials, but I don't really know what the status is," he said Wednesday.
"Closing this closes us down from the world," he said. "It makes us smaller, and the ELI had this wonderful outreach."
He also said Pitt is an R-1 research university, and closing the ELI would reduce his department's research capacity regarding how people learn English.
He didn't provide financial figures Wednesday on ELI.
"Were they taking in tuition that covers their labor costs and their rent costs? They haven't been doing that since the pandemic started," he said. "And, to some extent, the school has covered them and they did have a bit of a rainy-day fund, which they drained."
As for how far the ELI is in the red, he said, "Let me put it this way: it's not millions of dollars."
The ELI enrollments have always varied but were around 150 to 160 in the fall semesters before the COVID-19 pandemic, Kiesling said. Enrollment dropped to 41 but had recovered to 84 as of this past fall, he said. These numbers represent total enrollment, including the intensive English program and less extensive classes.
Kiesling said the ELI wasn't unfamiliar with "boom and bust" cycles in enrollment due to world events.
"The only difference this time is this cost model and the length and depth of the downturn, and the fact that it is worldwide," he said.
A decade ago, he said, a previous dean changed the ELI's finances by directly charging it certain expenses—most onerously, rent. He said that, around 2012, ELI was moved out of Pitt's Cathedral of Learning building.
Beyond the intensive English program, Kiesling said, "There's a lot of other things that have to happen that ELI does that the university needs them to do." Among other things, he said Pennsylvania law requires international teaching assistants to be assessed for English proficiency in the classroom, something the ELI does.
Blee, in her letter, said eight faculty members and one staff member would be "impacted" by the closure, but the university didn't say whether positions would be available for them to transfer into.
"Even after ELI is closed, the Department of Linguistics will continue to teach English as a second language (ESL) courses as part of their regular offerings," she wrote.