You have /5 articles left.
Sign up for a free account or log in.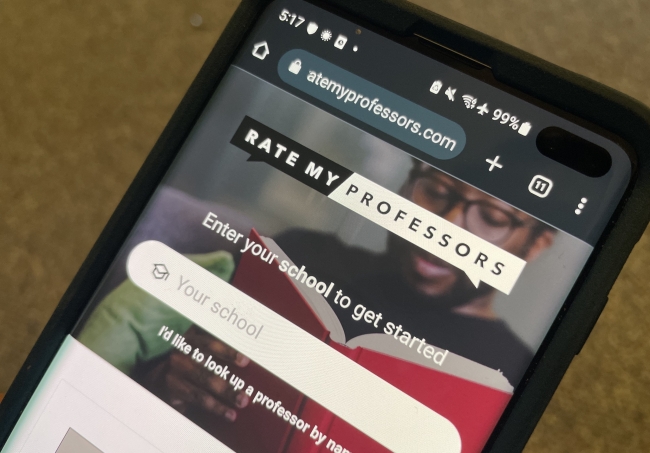 David Ho/Inside Higher Ed
Negative Rate My Professors reviews are common. But two highly rated Jewish professors say they received some uncommonly negative reviews: ones calling them racist.
They said they found the timing curious. The day before, as reflected in emails provided to Inside Higher Ed, they had asked their college's president and several of its Social Justice and Equity Centers employees to "sponsor a program on Jewish indigeneity and Zionism," they wrote.
This was after their college—the Borough of Manhattan Community College, of the City University of New York—hosted a display that, according to photos provided to Inside Higher Ed, said, "What's happening in Palestine is settler colonialism, military occupation, land theft and ethnic cleansing."
Jenna Hirsch, a tenured associate professor of math, said her sister called her March 22, the morning after the request for matching Zionist programming, to tell her to go on Rate My Professors.
There were two reviews, each with a rating of 1 on a scale of 5 for quality and a 5 out of 5 for difficulty, according to a screenshot provided to Inside Higher Ed. The professors say Rate My Professors took down the reviews after the complaints; their quality scores are now both above 4.5.
"This professor was extremely racist towards me and another Palestinian friend," one rating said. "It was difficult to focus when she could not find a way to separate her views even in a classroom, and constantly made me uncomfortable."
For good measure, that anonymous reviewer added the label "TOUGH GRADER" at the bottom.
The next review added that label, plus "LOTS OF HOMEWORK" and "BEWARE OF POP QUIZZES."
"This professor is extremely rude and it's clear she discriminates against her Muslim and Palestinian students, including myself," the second review said. "She makes lots of side microaggressions but she knows she controls our grades so she knows we won't say anything. It's truly uncomfortable and made me feel so unsafe."
A spokesperson for the parent company of Rate My Professors issued the following statement: "Rate My Professors has zero tolerance for offensive behavior. Once alerted to the issue, we promptly took action and removed the posts. We have a review process in place to detect for offensive content, and we will continue to enhance that process to ensure appropriate usage on the site. The posts are no longer available."
Hirsch said, "I was curious—I checked Avi's, they were on Avi's as well: parallel reviews calling us racist. I mean, it was just horrible."
Avraham "Avi" Goldstein, a tenured assistant math professor at the same college, also received two reviews, each with a 1 for quality and 5 for difficulty.
"It was very difficult to learn in an environment from somebody as racist as him," says a screenshot of one review of him.
"This professor clearly discriminates against Muslim and Palestinian students," the other said. "It's disgusting and sad to see someone so close-minded, unable to distinguish their beliefs, and as an adult not act on them."
"I have never mentioned any Israel/Palestine/Zionism issues in my classes," Goldstein told Inside Higher Ed. "In general, I avoid any political, ethnical, religious issues in my classes. I teach math, and I refuse to bring these topics into my classes."
Hirsch said, "The great thing about teaching mathematics is that it tends to be apolitical. My students don't know my religious affiliation, my political affiliation, etc. I never speak and have never spoken about any type of politics (Israel/Palestine/Zionism issues) at all. I speak math."
Hirsch and Goldstein, according to more emails provided to Inside Higher Ed, asked the university on March 26 to investigate.
"It is clear that these malicious posts were made as retaliation for us expressing our Jewish identity and quite possibly as a result of our requesting the SJEC [Social Justice and Equity Centers] provide programming on Jewish indigeneity and Zionism," wrote.
And in mid-May, Goldstein noted another development.
Borough of Manhattan Community College, or BMCC, had released a statement online saying, "We offer our deepest and sincerest apologies to anyone who was offended and felt unsafe" due to the pro-Palestine display.
"The exhibit presenting a perspective of the Israeli-Palestinian conflict did not come from any student or academic club, was not part of an academic course and did not offer credit," the statement said.
CUNY for Palestine had responded with a petition, saying, in part,
"In coalition between all CUNY Students for Justice in Palestine groups and CUNY for Palestine, we stand in solidarity with the Borough of Manhattan Community College Social Justice and Equity Centers who have faced censorship and a series of online attacks after uplifting the Palestinian struggle through an educational event series."
And:
"BMCC's response to this malicious and completely baseless campaign, was to tell the SJEC to remove the posters without first informing the project coordinator. Since then, several BMCC faculty members have made complaints about SJEC's educational events around Palestine (including a screening of film 'Farha' and a discussion with a Palestinian student activist) and a virulent media campaign, both in the press and in online spaces, has not only revolved around smearing the event, but focused on denying the ongoing genocide of Palestinians overall."
And the petition included, as a signatory, the "Multi-cultural Center," one of the college's Social Justice and Equity Centers.
Goldstein wrote to the college that the petition "provides evidence that SJEC or someone else within the CUNY administration ... leaked" both his and Hirsch's request for programming on Zionism and their or other faculty members' subsequent complaints.
"The petition claims that 'Zionist groups on and off campus are now calling to host their own series of events on Zionism as part of an intimidation tactic,'" Goldstein wrote.
Social Justice and Equity Centers representatives didn't provide comment Wednesday.
But, in an email, CUNY for Palestine said, "These allegations are false. The information in our petition was publicly available." The group pointed to, among other posts, a March 16 tweet from Goldstein, preceding his March 21 request for Zionist programming, in which he complains about the display:
"As a Religious Jewish & a Zionist professor in the Mathematics Department of @bmcc_cuny, I find it repugnant & offensive!" he tweeted. "This display is just a small part of a major anti-Israel campaign, organized and ran by the Social Justice & Equity Centers at BMCC."
BMCC declined to discuss the investigation Wednesday.
"BMCC has ongoing investigations regarding the allegations referenced in your email," a spokeswoman wrote in an email. "We are unable to comment on open investigations."
She wrote, "BMCC takes very seriously our responsibility to keep its campus free of antisemitic messages and actions as well as bigotry and discrimination in all its forms. BMCC supports, believes in, and implements programming and initiatives designed to create an inclusive community for all students, staff, and faculty."
But Hirsch says this investigation has dragged on.
"We just wanted the correct thing to do be done, and we've gone through every possible pipeline of doing things in a kosher manner, and we've been ignored," she said.
Sara Coodin, academic affairs director for the American Jewish Committee, said in an April statement, "We at AJC are deeply concerned about the message this sends that at CUNY, Jews are excluded from the protections afforded to other minority groups; or that they are simply expected to endure bias, discrimination and persecution without recourse."
On Wednesday, Coodin said, "It's incredibly disheartening to see a center that is committed to inclusion and equity and justice turn these kinds of complaints away or, even worse, weaponize them."
In an email, the communications director for the CUNY system said, "CUNY has very seriously confronted the need to condemn and combat antisemitism on its campuses, and has taken steps this academic year to ensure that all students, faculty and staff feel welcomed, safe and valued as members of the university community."
"Earlier this month," the spokeswoman continued, "CUNY joined a national campaign to oppose anti-Jewish hate and announced the creation of an Advisory Council on Jewish Life, a university-wide body of prominent Jewish leaders who will recommend steps to improve communication and dialogue between campus religious communities. These were the latest steps in an ongoing effort to address bigotry, discrimination and hate on campus. This year, CUNY distributed $750,000 systemwide for programming to fight against antisemitism, bigotry and hate of all kinds."