You have /5 articles left.
Sign up for a free account or log in.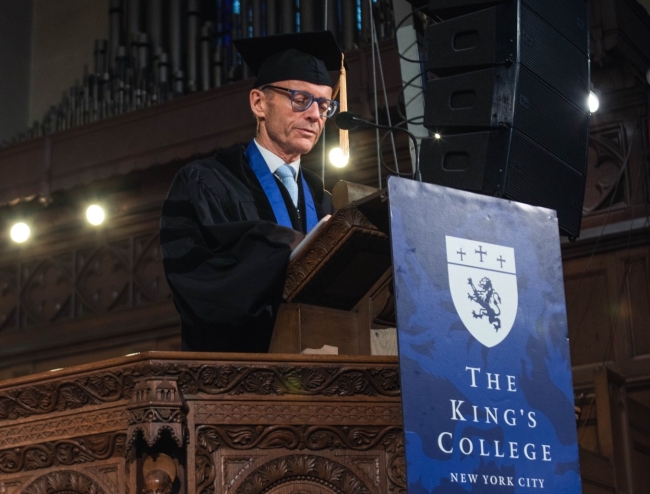 The King's College/Facebook
The King's College will not hold classes this fall, but leaders say that decision, along with layoffs announced Monday, does not mean permanent closure.
The decision to forgo the fall semester comes amid months of existential struggles for the small Christian college in New York City. In January the college indicated it needed $2.6 million to meet immediate needs and make it through the spring semester. But the evangelical megadonors who have lent generous support in the past failed to come through this time.
Severe financial issues, coupled with the loss of accreditation—which the college is appealing—have led to months of speculation about TKC's future. College officials have released only limited updates since February, noting efforts to secure a strategic partnership to keep King's alive. The latest update, like the ones before it, leaves many questions unanswered about the college's fate.
The Announcement
Since spring, TKC has been under new leadership at both the board and presidential levels. Those new leaders have offered little more than their predecessors in terms of concrete details about a potential partnership to keep the college afloat. An announcement on Monday night offered the most substantive update in months.
"Following months of diligently exploring numerous avenues to enable the College to continue its mission, the Board of Trustees has determined that King's will not be offering classes for the fall 2023 semester. Further, it is with regret that we share that our faculty and staff positions will be reduced or eliminated, as was addressed in respective faculty and staff meetings earlier today," read an updated statement from the board.
The announcement emphasized, "this is not a decision to close The King's College permanently," noting that the college will continue to seek "strategic alliance opportunities" as it appeals its loss of accreditation.
Board officials did not respond to a request for comment from Inside Higher Ed.
Faculty members, speaking anonymously, told Inside Higher Ed that they had few insights about the fate of the college beyond what was in the public announcement but were awaiting further details about potential layoffs, which they expected to begin July 31.
The announcement comes as the college appeals a decision by the Middle States Commission on Higher Education to withdraw TKC's accreditation. In a statement posted to its website, MSCHE noted the college—which had already received a show cause order—did not meet its accreditation standards. MSCHE cited a failure "to demonstrate the capacity to make required improvements" and an inability "to demonstrate that it can sustain itself in the short or long term." The accreditor's announcement concluded that the college "is in imminent danger of closing."
The Recent Struggles
In January the King's College announced that it needed $2.6 million to meet its "immediate needs" to finish out the academic year. A fundraising campaign with a deadline of Feb. 15 brought in only $178,000, sparking serious concerns about the college's future. The college later secured a $2 million loan from Peter Chung, a wealthy Canadian benefactor who likely played a crucial role in tanking the college through a failed partnership with his for-profit education company, Primacorp Ventures, which had struck a deal with TKC in April 2021.
Through Primacorp, Chung had promised to expand online enrollment dramatically. Various sources, speaking on the condition of anonymity, told Inside Higher Ed in March that Chung claimed he would bring 10,000 students into a nascent online program within three years. Public statements from college officials put the enrollment goal at 6,000. Regardless of the target, the number of students delivered was closer to 150, leading to an abrupt shutdown of King's online program.
According to tax documents, it cost TKC at least $470,000 in "various personnel and other expenses" related to the online program, which shuttered almost as quickly as it started. And one anonymous source with inside knowledge of the deal told Inside Higher Ed that Primacorp was set to receive 95 percent of the revenue from online enrollments, with just 5 percent going to King's.
"That's absolutely unheard-of in the [online program management] world," he said at the time.
The deal gave Chung the ability to stock the TKC board with Primacorp appointees, who eventually pushed then president Tim Gibson out and installed one of their own Stockwell Day. Day, a former Canadian politician with business ties to Chung and Primacorp, resigned in May.
Tax documents also show a $10 million line of credit provided by Burnaby Investments, a company affiliated with Primacorp. That line of credit is "secured by college property," according to tax documents, which appears to refer to the lone building the King's College owns in New York City's financial district. It was not clear on Wednesday what would become of the building, which is named after Amway co-founder Richard DeVos, who donated millions to the college.
The death of DeVos in 2018 and of his wife shortly thereafter likely played a role in King's financial woes, considering the years of support the family had extended to the college. Another megadonor, Bill Hwang, also contributed millions before his arrest on fraud charges in 2022.
As its donor pipeline dried up, the college faced declining enrollment. TKC enrolled 384 students in fall 2021, according to the most recent data available in the Department of Education's Integrated Postsecondary Education Data System. That number is down from 544 students reported in fall 2019, the last admissions cycle before the coronavirus pandemic hit the U.S., prompting an enrollment slowdown from which the higher ed sector has not yet recovered.
Beyond the business issues that led King's to the brink of collapse, the loss of accreditation also raises serious questions about the college's ability to continue. Though classes will not take place this fall, it seems for now that TKC will avoid the fate of other private Christian colleges that have announced closures this year, including Cardinal Stritch University, Presentation College, Holy Names University, Iowa Wesleyan University, Finlandia University and Cabrini University.