You have /5 articles left.
Sign up for a free account or log in.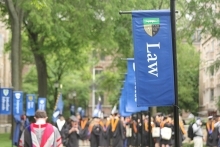 Law schools may soon be required to adopt written free speech policies under a proposal being considered by the American Bar Association.
The potential changes come after, but are not a direct consequence of, multiple high-profile incidents of student disruptions of speakers at law schools prompted widespread debates about free speech, academic freedom and students' right to protest.
The decision to review freedom of expression policies for law schools dates back to 2021. The association's Council of the Section of Legal Education and Admissions to the Bar, which the U.S. Department of Education recognizes as the sole and independent accreditor of law schools, voted Friday to accept the proposal, produced by its Strategic Review Committee, or SRC, and put it out for public notice and comment.
The council will revisit the proposal at its next meeting in November. If it passes at that meeting, the ABA's House of Delegates could review it at its meeting in February 2024. Under ABA rules, the delegates can accept or reject the proposal, but the council has the final say on implementing it.
What the Policy Would Do
According to a memo from the SRC, the proposal "seeks to ensure that law schools properly protect academic freedom for teachers and freedom of expression more broadly."
Each law school would draft its own policy, but under the proposal, those policies must include the following aspects:
Protect the rights of faculty, students and staff to communicate ideas that may be controversial or unpopular, including through robust debate, demonstrations or protests; and
Proscribe disruptive conduct that hinders free expression by preventing or substantially interfering with the carrying out of law school functions or approved activities, such as classes, meetings, interviews, ceremonies and public events;
If passed, the policies would apply broadly to ABA-accredited law schools, including full- and part-time faculty and all others teaching law school courses, as well as anyone conducting research, publishing scholarship, engaging in law school governance or participating in law-related public service activities. Anyone with teaching responsibilities, including those related to client representation in clinical programs, would also be held to the policy.
Law schools would be required to provide people who are accused of violating the policy "due process, such as notice, hearing and appeal rights, to assess any claim of a violation of the academic freedom policies," according to the memo.
A law school's policy may also allow for some restrictions, which include unlawful expressions, false defamation of a specific individual, genuine threats or harassment and substantial, unjustifiable invasions of privacy or confidentiality interests. Policies would also be allowed to "reasonably" regulate "the time, place and manner of expression," according to the memo.
Academic freedom and freedom of expression policies would also be permitted to reflect the law school's mission, including a religious mission, "so long as such policies are not in violation of the law and are clearly disclosed in writing to all faculty, students and staff prior to their affiliation with the law school."
Disruptions at Law Schools
The policy proposal would give law schools clearer, more uniform guidelines for addressing free speech concerns that have played out—especially over the past two years—with student protesters shutting down talks by guest speakers, including at Yale Law School, the University of California Hastings College of the Law (now called the University of California College of the Law, San Francisco) and most recently at Stanford University.
The incident at Stanford occurred in March when Judge Kyle Duncan of the U.S. Court of Appeals for the Fifth Circuit, who had previously argued against the constitutionality of same-sex marriage, attempted to speak at an event organized by Stanford Law School's chapter of the Federalist Society. Groups of law students repeatedly heckled Duncan and interrupted his talk.
About 30 minutes into his talk, according to The Stanford Daily, "Duncan stopped his remarks to ask for an administrator to help handle the commentary and heckling from the protesters," and eventually turned the event over to Tirien Steinbach, the law school's associate dean for diversity, equity and inclusion. Steinbach, who then told Duncan that his "work has caused harm," has since resigned from her post.
Days later, Stanford University's president, Marc Tessier-Lavigne, and the dean of its law school, Jenny Martinez, issued an apology to Duncan, noting that "what happened was inconsistent with our policies on free speech" and that administrators were "taking steps to ensure that something like this does not happen again."
Stanford's and Yale's law schools did not respond to requests for comment on the free speech requirement proposal.
Jenny Kwon, assistant chancellor and dean/chief of staff at UC College of Law, San Francisco, said in an email that the law school "has not adopted a position on the proposed rule." But she forwarded a message from the school's chancellor and dean, David Faigman, which said the school is "deeply committed" to both "creating an inclusive environment for our richly diverse community" and "to doing so in a manner that is consistent with the values of academic freedom and free speech, which are at the heart of our mission as a center of higher learning."
The law school passed a policy barring the silencing of speakers at public events in 2022.
Bill Adams, the ABA's managing director for accreditation and legal education, said in an email that the recent controversies about law school speakers were not the direct catalyst for potentially requiring all law schools to "adopt, publish and adhere to written policies that encourage and support the free expression of ideas."
He said the council's strategic review process was announced "prior to any of the highly publicized speaker incidents at law schools" and that the academic freedom standard was identified as needing "to be reviewed and revised."
"The development of the law and effective legal education require free and robust inquiry, exposition and the exchange of ideas," he wrote.
Daniel Thies, a member of the council, told Reuters that the origins of the proposal are rooted in both concerns about the shouting down of controversial speakers on college campuses as well as legislative efforts to place restrictions on whether and how certain subjects are taught.
"Both of these trends reflect an urgent threat to the training of lawyers," Thies told Reuters.
Experts, Advocates Support Plan
Josh Blackman, a law professor at the South Texas College of Law Houston who is an expert on constitutional law, said the proposal is "very well-timed" given the increased frequency of speaker disruptions at law schools. He noted that most institutions, including Stanford, already have free speech policies, but they aren't always enforced. If the proposed policy from the ABA's accrediting arm is adopted, it could make law schools, who have to answer to the accreditor, "more proactive with enforcing these policies," Blackman said.
The American Association of Law Schools did not respond to requests for comment about the council's proposal, but Erwin Chemerinsky, the association's now former president, weighed in on the free speech issue in the organization's spring 2022 newsletter, when he still led the group. He characterized past speech disruptions at law schools as "powerful reminders of the importance of law schools as places for expression as well as the role of law schools as essential leaders in articulating and explaining freedom of speech and academic freedom."
Chemerinsky said in an interview Tuesday that he supports the council's proposal.
"It's a clear statement that will further free speech in law schools," he said.
Eugene Volokh, a law professor at the University of California, Los Angeles, and a First Amendment expert, agreed a policy was needed, but "a lot depends on how it's implemented."
Volokh said the proposed requirement is "critical to legal education."
"Students need experience dealing with views they disagree with," he said. "If those views are banned from the classroom or public discussions by speakers brought in by student groups, or if those speakers are shouted down and as a result students don't get to hear those views, that's an interference with the quality of education students are getting—and the quality of lawyering future clients are getting."
The ABA council's current standard on academic freedom and freedom of expression is coupled with its policies regarding tenure. If the council decides to put the proposed policy into effect, it would disentangle it from the tenure policy and "add a new discussion of freedom of expression modeled on policies adopted by law schools and universities nationwide," according to the SRC memo.
Laura Beltz, director of policy reform for the Foundation for Individual Rights and Expression, said in an email that "in light of this trend" of law students disrupting speakers, the organization agrees with the tenets of the proposal and looks "forward to submitting a comment in support."
PEN America, a left-of-center free expression advocacy organization, also supports the proposal for law schools to require free speech policies.
Suzanne Trimel, PEN America's spokesperson, said in an email that the proposal "could help foster the open inquiry and principled engagement so critical to the campus experience."