You have /5 articles left.
Sign up for a free account or log in.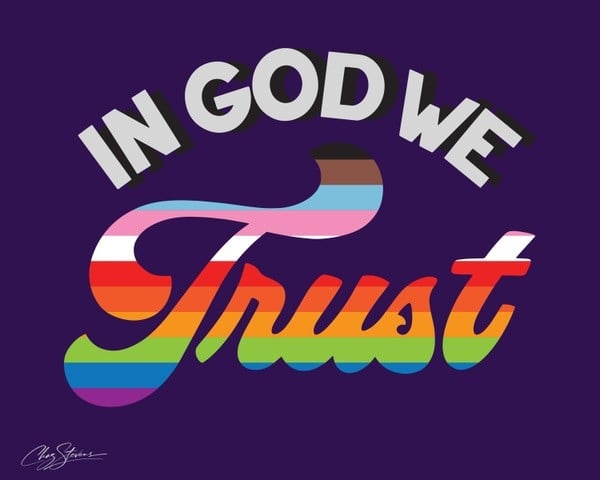 Public colleges and universities and K-12 schools in Louisiana will be required to display signs that read "In God We Trust" in all classrooms starting in August, according to a new law signed by Governor John Bel Edwards earlier this month.
The law specifies "a minimum requirement of a paper sign." Any other specific rules related to the posters will be determined by the State Board of Elementary and Secondary Education and postsecondary education management boards. The legislation builds on an earlier Louisiana law, passed in 2018, that mandates the motto be displayed in public school buildings but not individual classrooms or at public colleges and universities. Institutions don't have to spend public dollars on the posters and can instead accept donated signs.
The legislation is part of a flurry of similar laws across the country in recent years, though most focus on K-12 education. Texas lawmakers also passed a bill requiring public schools and higher ed institutions to display the motto in a "conspicuous place in each building" in 2021. Florida mandated in 2018 that district school boards have the signs in every building they use. South Dakota followed suit in 2019 with a law requiring the signs in a "prominent location." A similar law was enacted in Arkansas in 2017.
"We are currently in the process of reviewing this recently passed legislation," said Abbi Rocha Laymoun, a spokesperson at Louisiana State University. "With nearly a thousand classrooms at the LSU Baton Rouge campus alone, and seven other campuses statewide, we will look at the most efficient way of implementing House Bill No. 8."
Charles J. Russo, Joseph Panzer Chair in Education and research professor of law at the University of Dayton, a Catholic institution, said about a dozen states have these laws and at least a handful of others have laws that explicitly allow education institutions to put "In God We Trust" signs up but don't mandate them.
He speculates that laws like Louisiana's may stem from rising anxieties among some Christian lawmakers that young Americans are less religious. A Pew Research Center study found that 64 percent of Americans identified as Christian in 2020 but, based on trends, predicted that only 46 percent would identify as such by 2070.
"I want to know their rationale," he said of lawmakers promoting such legislation. "Are they afraid of losing God in the marketplace?"
Some state policy makers pushing these laws argue the signs are an innocent, traditional acknowledgment of a higher power and note that the motto appears on the U.S. dollar. President Dwight D. Eisenhower signed a law in 1956 making the phrase the country's official motto and putting it on American currency.
"I'm not asking you to accept my God or pushing religion on anyone," Debbie Horton, the state representative who authored the Louisiana legislation, told The Lafayette Daily Advertiser when she introduced the bill earlier this year. "I just want children to see that there is a creator. I don't see it as a controversial bill."
But some people, in and outside Louisiana, have criticized the legislation and worry these laws inappropriately bring a Christian-tinged message into K-12 and college classrooms.
Matthew Pellittieri, a rising sophomore at Louisiana State University, said he was "disappointed" to see so little pushback from state lawmakers. House representatives voted unanimously in the bill's favor.
"It creates this idea that what it means to be an American is to be a Christian, that the core aspect of the national identity is religion," he said. "And that if you don't fall into that, you're sort of alienated and you don't feel like you can be an American, because the phrase basically does not apply to you."
Pellittieri wrote an op-ed for the campus newspaper, The Reveille, in April about his concerns about the bill and other state legislation that he believes advance an explicitly Christian American identity. He said the bill wasn't really a topic of discussion on campus before the summer break. But he's worried the signs will alienate students who are atheists or from non-monotheistic religions, or whose political perspectives differ from the bill's proponents on topics such as LGBTQ inclusion.
"If I was in a class at LSU, looking at the sign on the wall, I would just be sort of taken aback, just uncomfortable with the idea of what that means in a broader sense," he said.
J. Cody Nielsen, director of the Center for Spirituality and Social Justice at Dickinson College in Pennsylvania, said the argument that the motto isn't "inherently Christian" is a "false narrative" that's been around since the 1950s.
He noted that American colleges and universities enroll "millions" of students of other faiths who stand to feel alienated, especially as more international students from countries that aren't predominantly Christian attend these institutions.
Nielsen sees the push for "In God We Trust" displays as part of the same movement as the increase in state laws seeking to limit diversity, equity and inclusion efforts and the teaching of American racial history, transgender issues and other related topics in public higher education cropping up in states such as Texas and Florida. He said the laws seek to "double down" on a white, Christian American identity and history, which he believes is a backlash to diversity initiatives.
"These two arenas—this move toward anti-DEI and, in certain places, this move toward a reinforced Christian narrative—are really in so many ways one and the same discussion," he said. He noted that while many higher ed administrators see their institutions as secular, the widespread passage of these laws demands these leaders reflect on how religious diversity fits into wider diversity and inclusion efforts on campuses and the ways institutions might be Christian-centric, such as their holiday schedules.
A Legal Question
Ken Levy, Holt B. Harrison Distinguished Professor of Law at Louisiana State University, said he wouldn't personally be offended by a sign in his classroom, but "legally and constitutionally," he's against them. He said he was "shocked" that Bel Edwards, a Democrat, signed the legislation.
He noted that the U.S. Supreme Court has traditionally interpreted the establishment clause of the First Amendment, which prevents Congress from establishing an official religion, as a guard against "federal favoritism of one religion over another and a religion over nonreligion."
"This, arguably, at least intuitively, is seemingly a violation of both of those propositions," he said.
However, he believes if the law was challenged in court, it would be upheld, based on past cases. For example, the U.S. Supreme Court ruled last year in Kennedy v. Bremerton School District that a public high school football coach praying on the field with students was constitutional. In 2013's Town of Greece v. Galloway, the Supreme ruled that prayer at a town board meeting didn't violate the Establishment Clause in part because legislative prayer is a tradition, an argument Levy believes the court would make in favor of laws like Louisiana's.
Russo agreed that the Supreme Court wouldn't conclude "In God We Trust" signs in educational settings are an Establishment Clause violation, given past decisions. Notably, previous legal challenges to the inclusion of "one nation under God" in the Pledge of Allegiance have failed. When a case came before the U.S. Circuit Court of Appeals in 1970 challenging "In God We Trust" on currency, the court concluded the phrase "has nothing whatsoever to do with the establishment of religion" and is "of a patriotic or ceremonial character."
"What the court is saying is that it's really just a kind of tradition" and a "recognition" of how religion influenced the country's founding fathers and others, Russo said. "I think it's improper to say, 'We're just a Christian nation.' We're multicultural … but certainly, over a large part history of our history, Christianity, however imperfectly, was a dominant religion, and I think this is a bit of a … residue that's now almost more tradition than religion."
He added that putting these signs in colleges and universities tends to be less controversial because college students are older and less likely to be influenced by them, but the issue "presents greater constitutional questions" in the case of K-12 schools because students are younger and attendance is mandatory. He cited two different circuit court decisions that concluded prayer is allowed at college graduations because college students are less easily coerced.
Levy believes policy makers' claims that "In God We Trust" is neutral, not specifically Christian, is disingenuous.
"How would Republicans feel if now Muslims wanted to put up a sign saying, 'In Allah We Trust' also?" he said.
That's exactly what Chaz Stevens, a Florida activist and artist, is doing to protest the laws. He's printed at least 150 "In God We Trust" posters that he plans to send to Louisiana schools, but his signs display the motto in Arabic, Hindi, Hebrew and Klingon, among other languages real and imaginary, and some of the posters have letters and backgrounds in rainbow colors to show support for LGBTQ students. Stevens already sent at least 1,100 posters to Texas public schools. The self-described atheist said he's currently thinking up new poster designs specifically for Louisiana colleges and universities.
State Senator Bryan Hughes, who authored the legislation in Texas, responded to Stevens's posters by sending a letter to the Texas Education Agency clarifying that the signs should be in English but institutions are also allowed to include additional posters with the motto in other languages, The Texas Tribune reported.
The goal of the donated posters is to take advantage of loopholes in the legislation to "point out the ludicrousness of law," Stevens said. "My job isn't to fix it. My job is on the front end saying, 'Look what the hell you all did. Did you really think this through?'"
"They're trying to put [forward] their beliefs, indoctrinating all of our children," he added. "And what about that 10 or 20 percent who are not Christians?"
Levy isn't sure how controversial the signs will ultimately be on his campus if they're put up in August, given that the state has a heavily religious population.
"People here, they assume God exists like they assume LSU football exists," he said. But he believes the law was intended to be "divisive" and the issue will in one way or another eventually make its way to court.
Pellittieri, the Louisiana State student, said the signs also worry him because he sees them as counter to the educational goals of institutions.
"These kinds of efforts to present the United States as a Christian country for Christians is a gross oversimplification of American history," he said. "It's dangerous to teach people the wrong thing, to give an implication about the past that does not line up with sources and what we know about the past. I just think that's really dangerous to do, especially with young people."