You have /5 articles left.
Sign up for a free account or log in.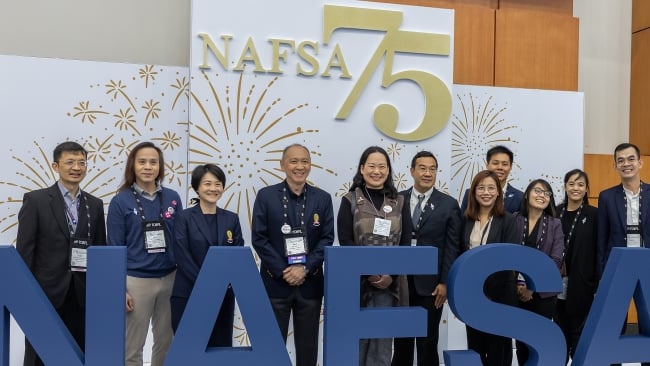 WASHINGTON, D.C.—This week's conference of NAFSA, an association of international educators, marked the 75th anniversary of the organization, and the mood was celebratory.
Attendance was much higher than last year's conference in Denver—the first since the start of the COVID-19 pandemic—jumping from about 6,000 to over 8,500. Many countries that had been unable to send a delegation last year due to travel restrictions, including China, showed out in force. Scores of attendees packed into Nationals Park on the first night for fireworks, drinks and music from legendary D.C. funk group the Chuck Brown Band. In the exposition hall, few wore masks.
Fanta Aw, NAFSA's executive director since March, had been looking forward to the conference as a barometer of higher ed's internationalization efforts after the disruption of the pandemic. She was not disappointed.
"I've come to so many of these [conferences] that I can't even count them. But the energy in this one, I have to tell you, there is something special going on here," she said. "It's clear COVID took a real toll, but there's a hunger now and a sense of urgency from folks that we haven't seen before. I'm not going to put that all on the pandemic, but I think we all realize what is at stake in our world right now, and we don't want to be bystanders. We want to act."
But during frank conversations at exhibition booths, food court tables and breakout rooms, attendees expressed more skepticism about recovering from the plunge international student exchanges suffered during the pandemic.
Some told Inside Higher Ed they were frustrated by underfunding for international programs and recruitment at U.S. institutions; others voiced concerns about rising geopolitical tensions, or fears that COVID-19 may have permanently altered the international higher ed landscape.
Nikita Kotelnikov, sales manager for the U.S. and Canada at Keystone Academic Group, an international student recruitment agency, said it was maddening that U.S. institutions seemed to be looking to compensate for enrollment declines while at the same time cutting budgets for international recruitment.
"They are not adapting fast enough to the way this field is changing," he said, comparing U.S. institutions to Canadian ones, which were thriving post-pandemic. "At this point, my fear is that without investing more [in international student recruitment], many of the smaller schools may not survive."
Sarah Ilchman, co-president of the Institute for International Education (IIE), told Inside Higher Ed that the pandemic had substantially changed international student recruitment, and she acknowledged that things weren't likely to return to business as usual. But she expressed optimism that international student exchanges would continue to recover steadily, if slowly.
"When you invest in education, it takes a long time to reap the benefits … People in this field are not here for quick wins," she said. "But we are seeing pent-up demand. People are eager to continue on with their studies and to have international experiences, partly because through the pandemic they learned even more intimately how interconnected we are."
A 'National Strategy'
The conference was held in D.C. because NAFSA stages every milestone anniversary meeting there, where it is headquartered, according to Aw. But there could be another reason: NAFSA is making a concerted push for a national strategy on international education, lobbying for changes to immigration laws and support from the White House and various federal departments.
"What keeps me up at night is that governments, and particularly here in the U.S., don't seem to understand the urgency of the moment," Aw said. "The national strategy is something NAFSA has been working on for some time, but it's more important now than ever."
Marty Bennett, director of global recruitment at the University of Nevada at Las Vegas, said achieving a unified national strategy is increasingly urgent as other countries—including Canada—become popular destinations for international students, in part because they have easier immigration laws and less stigma around issues like gun violence.
"The landscape has shifted, and we haven't even thought about what our national strategy looks like. We need the building blocks in place that allow us to compete," he said. "When you're approaching how you want to recruit internationally as a university, you not only have to understand your strengths as an institution, but your country's strengths compared to all the other nations of the world that are going after the same students—and its weaknesses."
Those weaknesses include what Bennett says is a stunted immigration policy that requires student visa seekers to promise they won't pursue resident or immigrant status after graduating—an issue that became politically fraught under the Trump administration, when anti-immigrant sentiment swelled.
Changing that requirement "should really be a bipartisan issue," he said. "There just has to be some willingness to spend political capital."
Some top officials showed they were ready to engage on the matter this week. Secretary of State Antony Blinken delivered a short video address at the start of the conference; Senator Dick Durbin, a Democrat from Illinois, spoke to attendees at a private breakout event; and a representative from the Department of Commerce met with Aw on the expo hall floor to sign an official strategic partnership agreement.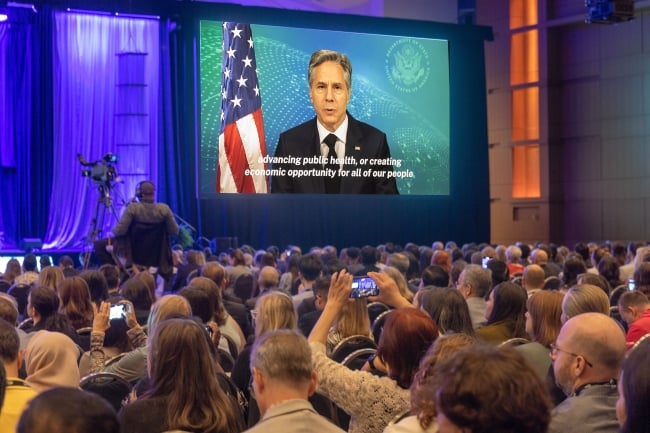 "It was a very important signal and a good first step. I think the next step is for us to work in partnership on a national strategy toward specifically outlined action steps," Aw said, whether that means meeting targets for student mobility, making international education more accessible, securing more funding for internationalization efforts or getting state and federal government agencies on board with the mission.
Despite the show of official support for a national strategy, Bennett said meaningful progress is still a long way off. Getting the various federal departments—let alone the country's diverse array of higher ed institutions—on the same page is "years away."
"It's like Sisyphus pushing the boulder up the hill … right now everything is disjointed, and there is no coordination whatsoever toward a common goal," he said. "NAFSA has been pushing hard for this, Fanta [Aw] especially since she got in, and you have to give them credit. But Blinken can talk all he wants, that's his job; he can't change the law. And so far, it's still just talk."
New Players Emerge to Take China's Place
For most of the past decade, China has been at the center of the conversation about the internationalization of U.S. higher ed. That's changing.
Chinese student enrollment in the U.S. fell 15 percent in the 2020–21 academic year. And while other countries' student rates recovered slightly the next year, enrollment of Chinese students dropped another 9 percent in 2021–22, according to a November report from IIE. China remains the No. 1 source country of U.S. international students, but other countries are quickly closing what was once a formidable gap.
As if to emphasize that shift, China's booth was tucked in a remote corner of the exhibit hall, far from the center of the action. But it's an improvement over last year's conference, when no Chinese representatives were present; the country's zero-tolerance COVID policy prevented travel overseas.
Song Qianqian, director of external exchange and cooperation for Guangxi Electrical Polytechnic Institute, said she and her colleagues from partner institutions across China were looking to attract more students from Western countries—not revive a lopsided exchange.
"So many Chinese students leave to go to America," she said. "We think, why not the other way around?"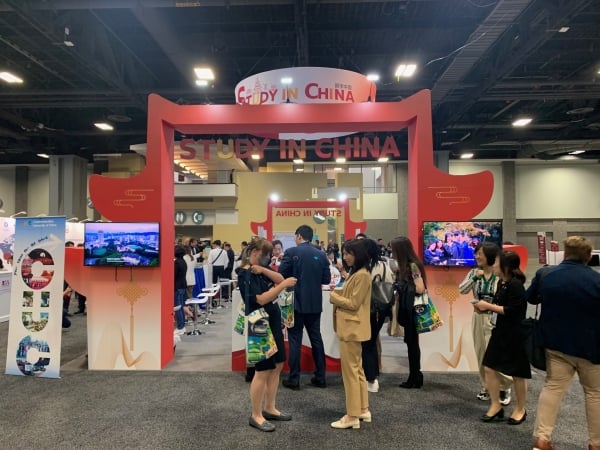 With China receding in the American strategy for international student recruitment, a jumble of other nations is vying to fill the gap.
"I do think we are going to get more diversity of source countries," Ilchman said. "Does that mean a shift in strategy for U.S. institutions? Absolutely. But I think we can get there, and I think ultimately it's a good thing."
Bennett said that while he was glad to see the Chinese contingent return this year, he noticed a marked shift to a diverse array of other countries offering a growing market of prospective international students. They include Nigeria, Kazakhstan, Thailand, Vietnam and especially India, which saw a 19 percent jump in U.S.-bound students in the 2021–22 academic year, according to the IIE report.
"Seeing countries return from the pandemic but also seeing so many expand their presence here, that's been perhaps the most exciting part of this conference," Bennett said. "It's like a United Nations for international higher ed."
The transition is daunting for some; international recruiters and university evaluators and admissions officers alike expressed concerns about their ability to quickly replicate the pipelines built over time in China. But for Aw, the opportunity presents a chance to reorient the international higher ed community around increasingly potent shared missions: promoting cross-cultural understanding, serving refugees and other vulnerable populations, and spreading the gospel of the transformative power of higher education.
"It's true: we are at an inflection point. But that can bring exciting opportunities for bold new directions," she said. "The way to get there is to uplift each other and bring the energy and creativity to solutions. And there's no better place to see that in action than here at NAFSA."