You have /5 articles left.
Sign up for a free account or log in.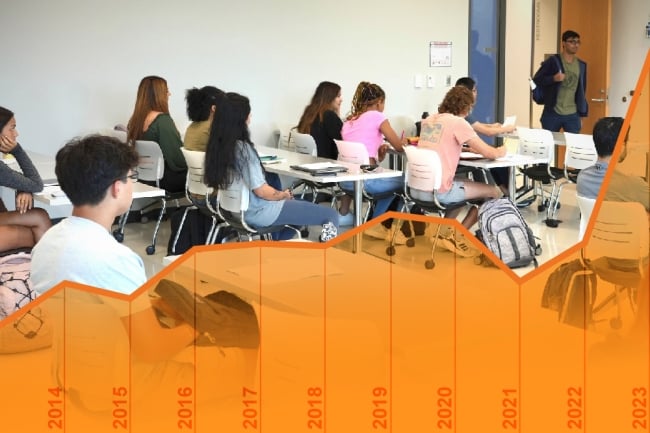 Photo illustration by Justin Morrison/Inside Higher Ed | Wake Technical Community College
Wake Technical Community College welcomed its largest ever cohort of fall enrollees last Monday and celebrated the historic tally of just over 24,000 students with a free giveaway of Krispy Kreme doughnuts.
"That first week of classes, the first week of anything, can always be a little anxiety-provoking," said the college's president, Scott Ralls, who handed out the doughnuts at one of the college's six campuses each morning. "That's just to make sure students know we appreciate them, that we valued them choosing our college and we really welcome them here."
Enrollment is up by 10 percent from the 22,313 students who were enrolled last fall, representing a turning point following the disruptions experienced by Wake Tech and community colleges nationwide during the pandemic.
Ralls noted that the enrollment dip at the college "wasn't nearly as bad" as declines experienced by so many colleges across the country. Wake Tech's rolls fell by just 4 percent from 2019 to 2021, but he said the growth this year provides "reason for optimism" and "hopefully" serves as an indicator of "steady growth" moving forward.
The latest data from the National Student Clearinghouse Research Center, released in May, suggest community colleges are starting to make a modest comeback from their pandemic enrollment woes. Community college enrollment rose 0.5 percent this spring, a gain of about 22,000 students nationally. That's compared to spring 2022 and following a plunge of 10.1 percent in 2021 and 8.2 percent in 2022. (Enrollment fell especially steeply among traditional-age students, and long-term declines among older adult learners continued, according to an analysis of federal enrollment data by the Community College Research Center at Columbia University's Teachers College.)
The uptick in enrollment is occurring as the U.S. job market begins to slow, and there may be a link given the historical connection between community college enrollment and the strength or weakness of the job market. The enrollment drop in the last couple of years has been linked in large part to the white-hot nature of the job market in 2021 and 2022.
Community college leaders have been waiting – and undoubtedly hoping – to see if enrollments would rise with unemployment rates.
Wake Tech isn't alone in its optimism that community college enrollments are starting to recover. Other institutions are reporting preliminary increases, and their leaders credit a handful of factors, including more high school students participating in dual-enrollment programs, enrollment surges from new free college programs and a focus by the colleges on industry-specific pipelines to draw workers looking to upskill.
"Students don't come to us because of fraternities or football or traditional college life … Students come through a college like ours because they know that they can get to where they're going in an economical, value-added way," Ralls said.
He attributed some of the enrollment increase to local population growth (Raleigh, N.C., is among the fastest growing metro areas in the country), but he said that increasing focus on student retention and expanding dual-enrollment programs also made a difference.
So far this fall, the college has seen a 9 percent growth rate in the number of returning students, a target population Ralls said the institution "deliberately focused on."
The college has introduced what it calls "care teams." Rather than walking into the academic advisement or career services office and seeing whichever staff member is available, every student now gets an assigned team that works with them from the time they start at the college until graduation.
"We're really trying to provide those services in an organized coherent fashion so students can access them and can and have that support going from one semester to the next."
Along with returning students, high school students participating in Wake Tech's Career and College Promise program also accounted for a significant portion of the growth this year. Dual enrollment rose to 3,700 students this fall from about 3,000 in fall 2022, and they are 15 percent of the college's overall population, Ralls said.
"It's not just about growing enrollment, but growing opportunity," he added. "We've changed our outreach strategies a great deal, particularly trying to reach into areas of our overall community to try to reach more students, particularly those who may not be as exposed to the opportunities of higher ed."
Shifting Enrollment Tides
Neil Scott, vice chancellor for student success at the Alabama Community College System, said a new customer relationship management system, or CRM, has helped boost enrollment. It was introduced in 2021 and streamlines communication between staff members and students; it can send messages to nudge students when they have impending deadlines for registration and other processes.
The Alabama system encompasses 24 colleges, and enrollment has been increasing since fall 2021 and was up by 7 percent as of last Thursday, compared to last year. Total enrollment now stands at 74,516 students, though Scott said that number could still significantly fluctuate.
Community colleges in Ohio are focusing on growth through industry-specific education and training programs as major employers seek graduates equipped with particular technical skills.
"In terms of specifically where we're seeing growth, the biggest is in areas that line up with emerging and growing industry sectors in the region," said Allen Kraus, vice president of enrollment management and marketing communications at Columbus State Community College.
The state's capital and its surrounding central region are home to four major hospital systems, as well as the first U.S.-based auto production plant for Honda. The Silicon Valley tech giant Intel is spending $20 billion to build two factories in Ohio and has pledged $100 million toward partnerships with local higher ed institutions, according to The Columbus Dispatch.
Kraus said although total enrollment numbers for this fall aren't finalized, college administrators anticipate 6 percent growth from 25,272 students last year, and they expect double-digit growth rates in specific programs such as IT, manufacturing and health care. Clark State Community College, located about 45 minutes west of Columbus, has a similar focus on industry-specific programming and anticipates about 7 percent enrollment growth.
Columbus State is introducing new programs, such as a semiconductor chip manufacturing certificate, which debuts next spring, and altering its admissions staff to include more industry-specific recruiters, called career educators.
"People are drawing a line between a possible future working at Intel or Honda … and the kind of preparation they can get, in many cases in as little as a year, at a two-year school," Kraus said. "It's a faster, more direct line to a career."
Free college programs have also been a saving grace for some institutions.
While fall numbers aren't yet finalized or publicly available, all 15 community colleges in Massachusetts are experiencing enrollment increases so far, said Nate Mackinnon, executive director of the Massachusetts Community College Association. Both MassBay Community College and Cape Cod Community College reported a more than 20 percent increase in applications compared to this time last year, he said, and adult learners seem to be enrolling in larger numbers.
The colleges launched an "aggressive" re-enrollment campaign this summer, reaching out to at least 25,000 former students who dropped out in the last five to seven years. But Mackinnon believes the main driver is MassReconnect, a new free college program starting this fall for residents ages 25 and older who don't have college degrees.
He originally had "tempered expectations" for fall because there hasn't been much time to advertise the program, but "we're actually doing much better than we anticipated," Mackinnon said.
Other free college programs, such as Michigan Reconnect, Columbus Promise and Tennessee Promise, prompted similar floods of applications when they launched in the last three years.
The upward enrollment trend is a relief to leaders of the Massachusetts colleges. Enrollment at the institutions has been hurt by a rapidly dwindling population of traditional college-age residents, a tight local labor market and the pandemic. Each college lost at least a third of its enrollment over the last decade, the equivalent of tens of thousands of students, according to data from the Massachusetts Department of Higher Education.
"We're excited about what we're seeing, but we have a long way to go," Mackinnon said.
Ricky Shabazz, president of San Diego City College, said his college's enrollment growth is partly due to shifts in the economy, as the pay for popular "new economy" jobs, like food delivery and Uber or Lyft driving, stabilizes and students are less likely to choose those jobs over going to college. But he also credits the college's outreach strategies. The college used federal and state COVID-19 relief funds to ramp up marketing ahead of the fall, including mail campaigns and advertisements on billboards and buses. The college also increased its dual-enrollment offerings.
San Diego City College lost at least 2,000 students at the height of the pandemic. Student head count hovered around 15,000 prior to COVID-19 but fluctuated between about 11,000 and 13,000 during the pandemic, he said. But the college enrolled a little over 11,000 students this fall, about 2,000 more students than it had at this time last year. Student head count for the San Diego Community College District over all, including its noncredit college, increased 13 percent over last year, as of last Monday, a week before classes began.
Now San Diego City College is preparing for a larger incoming student body by holding more orientation and information sessions. A new coordinator was also hired for the college's promise program, which covers tuition for first-time, full-time students, and COVID-19 relief funds were used to hire more students to work in the college's welcome center.
"We threw a lot of things at the wall," Shabazz said. "And we're just now seeing what things stick. We don't have this figured out, but we definitely are seeing some trends that will allow us to build, and they largely are concurrent enrollment or focusing in on working adults and the promise program."
Brandon Moore, vice president of institutional effectiveness and enrollment management at Mt. San Jacinto College, also in California, wrote in an email that having more students enrolled has changed the campus atmosphere. The college opened new buildings in the last few years, but they've gone unused because of lower enrollments and the shift to more online learning.
At the start of the pandemic, from fall 2019 to fall 2020, enrollment at Mt. San Jacinto dropped 10.8 percent, from 15,808 to 14,094 students. As of Thursday, 17,150 students had enrolled in credit-bearing courses, a 15 percent increase over last year and the largest fall head count the college has ever had.
"There is a 'buzz' about campus as we have more and more students either attending classes or coming to campus to take advantage of our additional support services," Moore wrote. "Getting back to serving students in-person has been like riding a bike. We didn't forget how to do it but we certainly missed it during the time we weren't allowed to."
Moore said the enrollment boost at his college was unexpected. He noted that enrollment usually rises at community colleges at times of economic uncertainty and high unemployment but that employment had been relatively stable.
"If the job market shrinks and the economy slows, as some predict, it could add an even larger boost to the demand for community colleges across the state," he said.
Exceptions to the Rule
Some colleges are among the outliers that didn't experience major pandemic declines and continue to hold steady. For example, Dyersburg State Community College, a small rural community college in Tennessee, experienced only a modest dip of almost 4 percent between fall 2019 and fall 2022. Fall head count stands at 2,333 students so far, up from 2,264 at the same time last year.
Scott Cook, president of the college, said the growth unexpectedly comes at a time when the population in the region is dwindling. He believes the college's approach to COVID-19 is partly responsible. The campus only closed from late March to early May 2020, when full-time staff members returned to campus and met with students one-on-one or virtually. Professors and students came back in August with pandemic precautions in place. As Ford prepares to build an electric car manufacturing facility in the area, he expects growth to continue.
But as havoc wreaked by the pandemic lingers and enrollment cliffs await, some community colleges, including the 15 in Pennsylvania, are still struggling. Estimated enrollment numbers for the fall weren't yet available, and while campus officials say declines haven't necessarily reversed, they're getting less steep.
"Enrollment in Pennsylvania has showed signs of recovering and stabilizing," said Jason Kirsch, a spokesperson for the Pennsylvania Commission for Community Colleges. "There are early indications that the rate of decrease will continue to slow in fall 2023, suggesting that we might be nearing the bottom of the curve."
John Fink, a senior research associate at the Community College Research Center, said that while he hasn't yet looked at fall enrollment numbers, he's heartened to hear colleges are experiencing growth—even if modest.
He noted that, following sharp pandemic declines, "these community colleges are already in a pretty deep hole." Even if the growth is "pretty small," it's "hard fought and hard won" and "we have to be hopeful."
"I think it's encouraging that it's moving in the upward direction," Fink said.