You have /5 articles left.
Sign up for a free account or log in.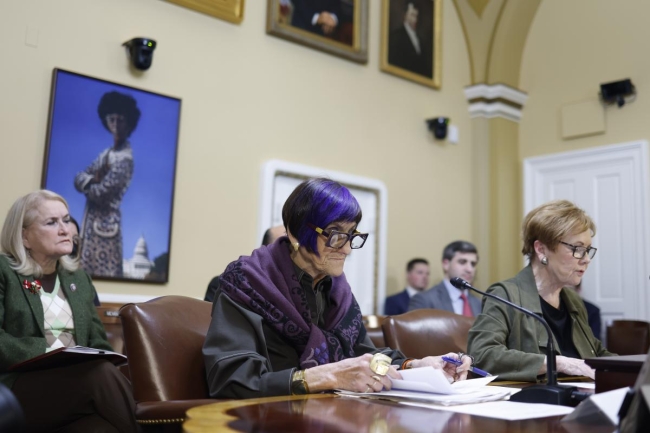 Anna Moneymaker/Getty Images
Congress is sending more than $1.5 billion to colleges and universities thanks to earmarks and pouring millions more into student success grant programs as part of the $1.7 trillion spending package for fiscal year 2023 that lawmakers approved late last month.
The bill signed into law by President Biden increases the maximum annual Pell Grant award to $7,395—a $500 increase that will begin in the 2023–24 award year. It's the second increase in as many fiscal years and the largest in a decade. Advocates and higher education groups said the $500 bump is significant and will help more students afford a college education.
The U.S. Department of Education is receiving nearly $4 billion more in discretionary funds, although the Biden administration had requested $13 billion more. The adopted budget does increase funding for a range of federal higher education programs, including $137 million more for historically underresourced institutions, but it keeps funding flat for the Office of Federal Student Aid.
"We hoped for more support than that," said David Baime, senior vice president for government relations for the American Association of Community Colleges. "Our students and our colleges are facing increased costs and challenges with enrollment in most places, and they rely upon the federal government for support."
Higher education groups praised the Pell Grant increase and other provisions in the spending bill. However, the Biden administration, advocates and interest groups had hoped to see higher increases across the board.
"This is not a budget in which they were doing extraordinary things," said Jon Fansmith, assistant vice president for government relations at the American Council on Education. "This budget was a lot about making the kind of compromises necessary to get spending wrapped up for the year. They weren't making big, bold strokes in this budget."
Science Funding
Higher education groups wanted to see additional funding for science programs to support the CHIPS and Science Act of 2022, which was signed into law in August and called for investments in research and technology.
In the end, Congress gave $2.5 billion more to the National Institutes of Health and an additional $1 billion to the National Science Foundation, which will help with implementation of the CHIPS and Science Act. A Democratic summary of the bill noted that the increase for NSF is the "largest dollar increase for NSF of all time and the largest percentage increase for the foundation in more than two decades."
The CHIPS and Science Act authorized increasing the foundation's budget by about $36 billion over the next five years.
"The bill also makes critical increased investments in federal research at agencies such as the National Science Foundation and the National Institutes of Health," said Mark Becker, president of the Association of Public and Land-grant Universities. "The more than $1 billion increase for NSF includes the first round of funding to begin the implementation of the historic CHIPS and Science Act that was enacted earlier this year to vault game-changing discoveries made in the lab into life-changing innovations in the marketplace."
Becker noted in his statement that the investments in the fiscal year 2023 budget need to grow and be sustained in future budgets in order to have their intended impact.
"U.S. economic leadership remains fiercely contested on a global stage, and we must redouble investments in our future to maintain our competitive edge," Becker said.
Earmarks
Lawmakers did direct millions to colleges and universities to fund construction projects or faculty endowments, among other things, thanks to the return of earmarks, which have been renamed "congressionally directed spending" in the Senate and "community project funding" in the House of Representatives. Democrats removed a ban on earmarks in 2021. In the first budget with earmarks, more than $700 million went to colleges and universities, according to one analysis.
For fiscal year 2023, the spending bill for the Labor, Health and Human Services, and Education agencies includes more than $1 billion for higher education for more than 545 projects.
Retiring senators sent millions to the colleges and universities in their home states.
For example, Alabama senator Richard Shelby, the ranking Republican on the appropriations committee, secured $76 million for the construction of a new biomedical research building at the University of Alabama at Birmingham's Heersink School of Medicine. This is the second round of $76 million for the project in as many fiscal years.
Shelby also requested $50 million for an endowment at the University of Alabama at Tuscaloosa to recruit and retain science and engineering faculty.
Spring Hill College in Mobile, Ala., is receiving $35 million for the construction of a nursing and health sciences building.
"Throughout my career, I have done everything in my power to bring success to my home state," Shelby said in a statement. "The funding for Alabama in this package is significant in terms of the impact it will have on communities and the overall state-wide economy for generations to come."
Vermont senator Patrick Leahy, the Democrat who chaired the appropriations committee, sent $30 million to the University of Vermont to fund an endowment that will support its honors college.
Missouri senator Roy Blunt, a Republican, secured $61 million for the University of Missouri's NextGen Precision Health Institute and $30 million for construction of a health and life sciences center at Missouri State University. In total, Blunt is sending more than $186 million home to Missouri colleges and universities.
"The resources included in this bill reflect several top priorities for our state, from keeping Missouri colleges and universities on the cutting edge of research and innovation to strengthening critical infrastructure and supporting defense installations," Blunt said in a statement.
Loan Forgiveness
The fight over student debt relief continued with this budget bill. Lawmakers voted to keep the Office of Federal Student Aid's administrative budget at about $2 billion. The Biden administration had requested $800 million more.
Republicans touted the level of funding for the Office of Federal Student Aid in their bill summary, noting that the bill "provides no new funding for the implementation of the Biden administration's student loan forgiveness plan."
The legislation doesn't restrict the office from carrying out the debt-relief plan if the Supreme Court allows it to move forward.
Still, Fansmith of ACE expects that the office will need more money to keep up with the different projects it is tackling and to restart student loan repayments.
"There's going to be a lot of frustration for borrowers and difficulty for servicers," Fansmith said. "But [the bill] also preserves their ability to do it … It could've been worse."
In addition to student loan forgiveness, Federal Student Aid is working to simplify the Free Application for Federal Student Aid before October, to overhaul a number of debt-relief programs, to resume payments at some point in the next year and to modernize the loan servicing system by December, among other projects.
Michele Shepard, senior director of college affordability for the Institute for College Access and Success, said the budget for student aid administration is concerning.
"All of those pieces that we really want to see implemented and we're concerned that they won't have enough funding to do that," Shepard said.
Mike Pierce, executive director of the Student Borrower Protection Center, applauded the bill's passage in a statement.
"Despite claims by some Republican lawmakers, this funding bill is clean and simple—a bipartisan show of financial support for the President's promise to help all borrowers as they recover from the COVID-19 pandemic and navigate our badly broken student loan system," Pierce said.
Shepard said she was pleased to see $45 million included for the Postsecondary Student Success Program. The fiscal year 2022 budget allocated $5 million for the competitive grant program that's aimed at helping students complete a college program by providing wraparound services and other supports such as tutoring.
Shepard said the initial $5 million was a recognition of the importance in investing in college completion.
"It was a down payment, but it wasn't necessarily going to move a ton of needles," she said. "I think the $45 million is a recognition of the importance of actually putting some resources behind it."
Other provisions in the spending plan:
$1 billion, or $137 million more, for historically Black colleges and universities, minority-serving institutions and other historically underresourced institutions that serve low-income students. Congress also is planning to provide $50 million as part of a new program to support research infrastructure investments at HBCUS, MSIs and tribal colleges. The Biden administration has requested $450 million to expand the research capacity of these institutions.
$54 million more for TRIO, a federal student services program for low-income students, bringing the total to $1.191 billion.
$10 million more for GEAR UP, a grant program that aims to help prepare low-income students for college, bringing the total to $388 million.
$10 million more for the Child Care Access Means Parents in School program, which now totals $75 million, subsidized childcare for low-income parents enrolled in a postsecondary program.