You have /5 articles left.
Sign up for a free account or log in.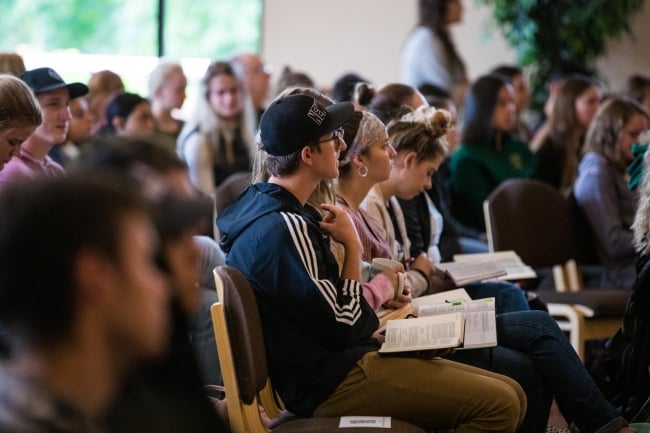 Multnomah University, a Christian institution in Oregon, announced it will no longer require incoming students to sign a faith statement starting this fall. The university's leaders hope the move inspires prospective students who aren't Christian but are perhaps curious about the faith to attend.
Multnomah administrators are reassuring students, professors and staff members that the Christian identity of the university remains unchanged after the news was greeted with a mix of enthusiasm and trepidation. The university's Board of Trustees voted unanimously in favor of the decision in June.
As a first step in the process of changing the admission requirement, the university is restructuring its academic offerings into several distinct schools: the university's seminary; its School of the Bible, Theology & Ministry; and the Multnomah School of Professional Studies. Students in the School of Professional Studies, which encompasses programs ranging from English to accounting, will be exempt from signing the once-mandatory statements. Students in the other schools will continue to sign required faith statements. All students, however, will still have to attend chapel, take 18 credits' worth of Bible courses and adhere to the student handbook, which asks students to adhere to certain religious principles, including celibacy before marriage. Faculty members must still sign faith statements.
Jessica Taylor, president of the university, said the idea to waive faith statements for some students has been discussed at length on campus for years, but this was the first time the issue was brought before the board.
"There are pockets of students and faculty and staff that are really excited and pockets that are really nervous about what the changes could mean," she said. "We're welcoming those differing opinions, and we're listening really closely to where people have fears about things that are important to us that we might lose, and we're making sure to shore up and protect those things."
Joyce Schroeder, vice chair of the board and an alum of the university, said in a video message that she initially resisted the idea of changing the faith-statement policy. But she came around after the board engaged in "healthy wrestling about hard questions."
"I heard others respectfully and passionately say that Multnomah would lose ground and not be who God called us to be if we willingly chose to educate not yet believers," she said of the board discussions. "All admitted we have those students in our midst now. All agreed they need to know Jesus and his word."
"Even up to that day, I did not know what my vote would be," she said. But ultimately, "I believe that at this time in Multnomah's history we are being directed to extend our welcome to extend our witness. I have fears, and I shared those as well, but I also have hope, and I voted yes."
Taylor described the shift as a "faith decision" to "expand our mission and our vision to share and spread the gospel," not an effort to raise enrollment or bring in additional tuition dollars. (The number of incoming undergraduate, graduate and seminary students actually grew 27 percent, from 216 to 275 students, from fall 2021 to fall 2022. The total enrollment in 2022 was 584.) But she does expect the decision to attract students who might not have otherwise considered the institution, mainly students who are interested in exploring faith and spirituality but might not describe themselves as Christians.
"It wouldn't be a great environment if you're an adversary of the faith, but I think that if you are curious and you are wanting to engage, you don't have to come in already convinced," she said. "That's a new model."
Taylor said students who still want to be in programs that only enroll those who signed faith statements will have that option at the seminary and in the undergraduate Bible program. That model has put some of the people concerned about the change more at ease. Meanwhile, faculty members who teach in other programs are thinking through how to adjust to a wider swath of viewpoints in the classroom, particularly professors who teach mandatory Bible courses for undergraduates.
She believes Christian students will ultimately benefit from the new spectrum of ideological diversity on campus.
"It's important as well that as Christians, we learn how to engage across difference and we model for our students how they will be engaging in a world that is not tailored to their theological way of thinking," she said. Students will have a "biblical foundation and a biblical core and a Christian community, unapologetically, for their education" but simultaneously be prepared "to engage in a changing world. And that won't be so scary because they've had experience doing it on our campus."
Shifting Trends
Amanda Staggenborg, chief communications officer at the Council for Christian Colleges and Universities, sees the shift at Multnomah as part of a broader trend among Christian colleges and universities toward welcoming a wider range of students.
She highlighted a 2018 study by the Barna Group, a research firm focused on faith issues, which found that after the Great Recession in 2008, students were increasingly coming to Christian institutions focused on their job prospects and seeking degrees in secular fields such as STEM, health sciences, business and education, as opposed to religious subjects. In line with this trend, programs such as psychology and business have grown at Multnomah.
This shift in who attends Christian colleges and why is "providing opportunities for Christian colleges to offer education to students who might not have traditionally enrolled in their institutions, while still holding to those historical Christian values and institutional saga, if you will," Staggenborg said.
Staggenborg noted that enrollment declines have driven some Christian institutions to accommodate students with a broader range of religious beliefs. Enrollment in higher education institutions nationally started falling in 2011, and Christian colleges and universities represented by her organization started to experience similar declines in 2015. Enrollment at CCCU institutions fell by 8.7 percent since then and is expected to continue to decrease this fall.
Jonathan S. Coley, associate professor of sociology and graduate program director at Oklahoma State University, noted that many Christian colleges and universities are facing the same headwinds as other higher ed institutions, including budget challenges, competition with online programs and the declining number of traditional college-age students.
"I do think that as the percentage of 18-year-olds nationwide drops more and more over the next few years that a lot of colleges and universities are going to have a harder and harder time attracting students," he said. "Trying to position yourself as a Christian university that exclusively serves Christian students from a very particular Christian background is going to make less and less financial sense." Survival for some colleges could depend on becoming "inclusive of a broader range of students."
Coley, who has written extensively on LGBTQ-related activism and policies on Christian campuses, said many Christian institutions no longer require students to sign faith statements and are taking further steps to embrace a broader swath of students. For example, the majority of these institutions now have antidiscrimination policies that include sexual orientation and gender identity. Other research he's done also found that some Christian colleges and universities now have student groups for students from other faith backgrounds.
He added that online education offerings may be contributing to some Christian colleges diversifying their student bodies—it's harder to enforce faith requirements for online students—but he also believes there's an ideological drive.
Many Christian colleges and universities "see providing an education to others in society as a Christian thing to do," he said.
Enrollments by non-Christians have grown at some Christian institutions in recent years. For example, Belmont University held Jewish High Holiday services last year for the first time because its Jewish student population has grown. Last fall, Belmont enrolled 77 Jewish students, 69 Muslim students, 13 Hindu students, 29 Buddhist students and 636 students with no religious affiliation, according to university data. The college had a total of 8,910 students.
Staggenborg said that Christian colleges admit non-Christian students or waive faith statements in some cases not just for the sake of enrollments but also to encourage diversity of thought on their campuses.
Campus leaders want these colleges to be places were "students can learn to think critically and interact with a plurality of ideas and learn through healthy, respectful debate," she said.
Taylor, the president, is certain Multnomah can welcome all kinds of students and retain its Christian identity because she's seen other institutions maintain that balance. When she was a college student at George Fox University, another Christian institution in Oregon, she had a non-Christian roommate. She said they regularly engaged in theological discussions, and having to answer questions about religion grounded Taylor in her own faith and taught her about how Christian norms felt to an outsider. She saw that a university could "fulfill a Christian mission and purpose" while allowing "students that don't profess Christianity to be part of that really beautiful kingdom community."