You have /5 articles left.
Sign up for a free account or log in.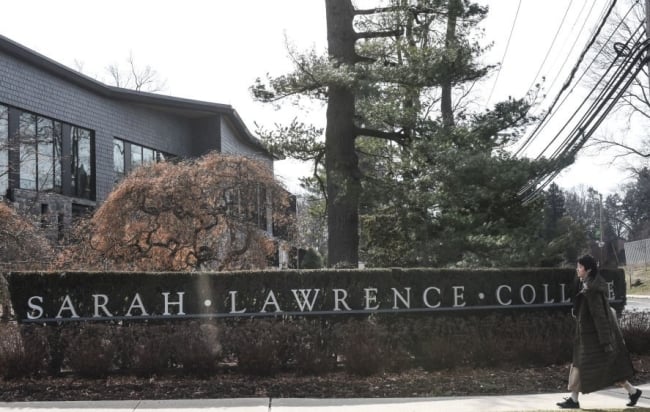 Stephanie Keith/Getty Images
Sarah Lawrence College released a new essay prompt for applicants on Tuesday, just ahead of the launch of this year's Common App.
It directly quotes language used in the Supreme Court's June 29 ruling striking down affirmative action in college admissions.
"In a 2023 majority decision of the Supreme Court of the United States, Chief Justice John Roberts wrote, 'Nothing prohibits universities from considering an applicant's discussion of how race affected the applicant's life, so long as that discussion is concretely tied to a quality of character or unique ability that the applicant can contribute to the university,'" the question reads. "Drawing upon examples from your life, a quality of your character, and/or a unique ability you possess, describe how you believe your goals for a college education might be impacted, influenced or affected by the Court's decision."
The prompt is one of three supplemental essays applicants have the option of completing. The other two highlight Sarah Lawrence's distinguishing characteristics as an institution—namely, its open curriculum; one asks applicants to pitch their own semester-long research project, and another inquires about how they might bring together seemingly disparate interests in their studies.
Kevin McKenna, Sarah Lawrence's dean of admissions, said the third prompt used to ask applicants to "reflect on the values of diversity and inclusivity in a community like ours," but that question seemed to ring hollow after the court's decision was handed down.
"There was a sentiment in the office and around the campus that it frankly felt disingenuous to simply reuse that same prompt," McKenna said. "We thought this one could foreground both the intellectual rigor and thoughtfulness of our student body and that we are a community that values diversity and equity in education as part of its mission."
It's a bold gambit for the nearly century-old institution, originally founded as a women's college, in Bronxville, N.Y.—a blunt response to, and a not-so-subtle dig at, the court's decision. It also treads a fine line between conforming to Roberts's caveat that institutions can continue to consider a student's race as it informs their life experiences, and his warning that institutions "may not simply establish through application essays the regime we hold unlawful today."
Their Words, Not Ours
On the day the Supreme Court struck down affirmative action, Anthony Kreis, a law professor at Georgia State University, went on WABE radio in Atlanta and made a salient prediction.
"If I was a university admissions officer and I wanted to preserve the status quo, I would essentially copy and paste the language [in the decision] about what universities can do and I would drop it in an essay prompt," he said. "Then the policy, at bottom, would change very little."
Kreis told Inside Higher Ed he was being "slightly tongue-in-cheek" when he said that—"I didn't think they would quite literally copy and paste," he said. But he's not surprised Sarah Lawrence is using the tactic.
"On the one hand, it gives them the ability to somewhat circumvent the ruling," he said. "On the other hand, it gives them plausible deniability to be able to point to the case and say, 'Well, we're just doing what the court said.'"
Kreis added that while the Sarah Lawrence prompt "really is confrontational and somewhat combative in tone," he thinks other institutions will use a similar approach, hewing close to the court's language.
McKenna said the purpose of the essay question is not to extract details about students' racial identity for surreptitious use in admissions decisions; rather, it's to encourage applicants to express their feelings about the court's ruling and how it will impact the makeup of their future college cohort.
"The prompt is not doing the same work that the wording of the decision is doing, and that's by design," McKenna said. "What we're really trying to do is give our applicants who are so inspired a space to address a challenging topic in society."
Art Coleman, managing partner and founder of the legal consulting firm EducationCounsel LLC, said that the court's decision left so much room for interpretation that citing the carve-outs was the best way for an institution to lawfully address the issue of diversity in admissions.
"The court did what courts often do, and that's to draw very fine lines. But admissions officers are also quite adept at drawing very fine lines … Lines that are challenging to toe? Yes. But navigable lines, I think," he said. "As a general rule, if your essay question is quoting the court decision, that's a good place to start."
Manufacturing Intent?
Kreis said he understood explanations like McKenna's, but they almost certainly are only part of the picture.
"It's going to disproportionately elicit responses from people about their backgrounds as nonwhites, and I think that's really quite obviously the point," he said. "At the same time, it's vague and open enough that the college can quite easily point to it and say, 'Well, anybody can offer their viewpoints on this, no matter their background.'"
The question is: Will it hold up in court?
Kreis said the prompt would probably pass legal muster since it uses the court's language verbatim. Still, he acknowledged it was a bold move, and one that was sure to draw attention from both laudatory opponents of the court's ruling and litigious conservative law firms.
"I think these kinds of questions comply with the letter of what the courts have ruled," he said. "I do think, however, there might be some room for questions about whether they're complying with the spirit of it."
McKenna said the admissions team ran the prompt past the college's legal counsel before making the decision, and that they were aware of the potential risks in such a direct callout.
"We decided that this prompt was doing the work of putting distinctives about our community out there, and we really felt that this was representative of who we are as a community," he said. "So we did have those conversations assessing risks and, obviously, we decided to go with it."
Edward Blum, president of Students for Fair Admissions, the group representing the plaintiffs in the Supreme Court cases, wrote in an email to Inside Higher Ed that the organization had "taken note" of Sarah Lawrence's new prompt but has "no opinion forthcoming" on the matter.
Jill Orcutt, global lead for consulting at the American Association of Collegiate Registrars and Admissions Officers, said essay questions like Sarah Lawrence's are vital in light of Roberts's carve-out.
"It's going to be really important for counselors and institutions to encourage students to write about themselves and their family experiences, to be able to give the kind of credit that they might get through that process," she said. "But many students aren't comfortable writing about themselves, especially if things have been difficult. So framing a question to really encourage transparency and openness and sharing their personal experiences, that's important right now."
McKenna stressed repeatedly that Sarah Lawrence did not intend the question as a way to provoke those kinds of stories, though he said the question would be an appropriate place to do so for those that felt compelled.
"We're not expecting any students who don't want to put any sort of trauma and anxieties around race in their essays to do so, or feel like that's an expectation," he said.
What the college does expect, McKenna said, is an ideologically diverse set of responses about a challenging and timely topic that affects students' lives.
"Hopefully we've worded this in the right way to open up this public dialogue space," McKenna said. "And if it opens up a litigious space, well, we've got counsel for that."