You have /5 articles left.
Sign up for a free account or log in.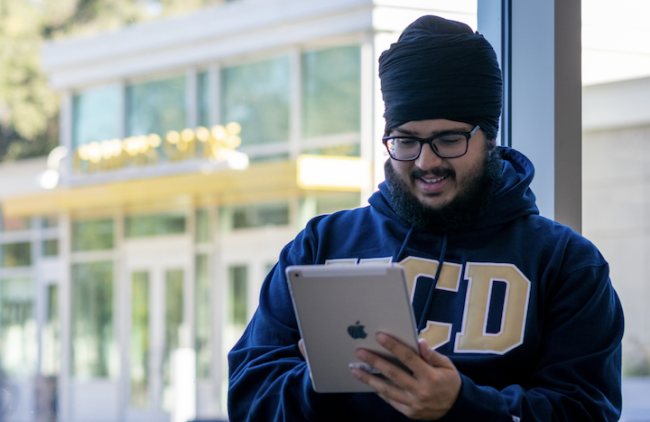 University of California, Davis
Natalie Silva, a third-year student at the University of Houston, is like many recent Student Voice survey respondents in that her primary concern with course materials is affordability. Silva, who is studying digital media, says she's spent between $100 and $300 on materials in previous semesters, while some of her friends have spent upwards of $500.
Adding up these out-of-pocket costs always amounted to "dread," she recalls.
In this sense and others, Silva sees the university's new Cougar Textbook Access Program, or CTAP, as a win. Under CTAP, Silva and her peers who don't opt out will gain automatic access to their course materials each fall and spring term for a flat fee of $299, with an emphasis on digital delivery. (The summer fee is $180, and materials not available digitally will be provided in physical formats in all terms.)
While this doesn't necessarily translate to money saved every semester, depending on Silva's course load and how she might otherwise obtain her materials (new, used, borrowed or free), she says CTAP will improve affordability over all. Moreover, Silva notes, "the cost is placed in students' accounts, where tuition and other fees are located," meaning she can now use her financial aid to buy books.
It's also "amazing that I have immediate access to any of my course materials without having to do anything," she adds.
Equitable and Inclusive Access
The University of Houston's new program is based on an innovative course materials model known as equitable access. In this model, adopted by some 245 colleges and universities as of 2022, all students at an institution pay the same predetermined fee for their course materials, regardless of major. Students who wish to source their course materials on their own may opt out. But, akin to insurance pooling, the model relies on large numbers of students participating in order to negotiate lower materials costs with publishers and other providers, via the promise of volume.
A related innovative model is inclusive access, in which students enrolled in participating courses at an institution are billed for digital materials automatically. As in equitable access, opting out is allowed, generally during the academic term's add-drop period.
Innovative Course Materials Models: Pros
Both equitable and inclusive access have many proponents, who generally argue that such models make textbook prices lower and more predictable, and textbooks over all more accessible.
Jason Lorgan, executive director of student affairs at the University of California, Davis, who helped launch that institution's inclusive access program in 2014 and its equitable access program in 2020, says that much of higher education is still asking students to source their course materials like previous generations of students sourced their entertainment, at "Tower Records and Blockbuster Video." Not only is this inefficient, he says, it doesn't maximize cost savings for students, and it creates barriers to entry for disciplines known to have consistently high textbook costs (think STEM).
Lorgan argues that equitable access also puts materials fees into alignment with every other kind of student fee. "We were asked, is it equitable for humanities majors to be subsidizing STEM majors? And my primary answer to that was, I'm not here to say whether it's morally correct or not. What I'm here to say is that we do 99 percent of student costs one way, where we make it equal for everybody. And we do textbooks in the polar opposite manner."
Currently, UC Davis's equitable access fee is $169 per quarter, down from $199 in 2020–21. Participation rates have increased over the same period, from about 50 percent to 80 percent of undergraduates. With input from student leaders, Lorgan says, the university decided to direct any surplus textbook fees to a materials scholarship fund serving several thousand low-income students annually.
From Lorgan's perspective, students are "voting with their feet" for equitable access.
Equitable access also has been linked to increased student success, especially for Black and Native American students.
New Models: Cons
Inclusive and equitable access have their detractors, as well, however. These critics tend to argue that such models effectively limit student choice in sourcing materials and position textbook publishers to again inflate the price of materials once inclusive and equitable access become the norm.
Another concern is that inclusive and equitable access could slow, halt or otherwise undercut the open educational resource movement toward more free course materials. The Electronic Frontier Foundation, for instance, has called equitable access "inequitable access" and an "anti-competitive scheme by textbook publishers."
Nicole Allen, director of open education at SPARC, a nonprofit advocacy organization for open and equitable research and education systems, says it's important to ask just who benefits from "so-called equitable access." (Allen prefers the term "flat-fee inclusive access.")
"It's beneficial for the publishers and the bookstore corporations, and it's maybe beneficial for the institutions," which sometimes receive commissions on flat fees, Allen says.
Whether equitable access benefits students, and which students, is less clear, she continues.
"Is it benefiting the students who need the cost savings the most? Or are they the ones who are actually bearing the greater burden because it's harder for them now to seek savings?"
Lynn Pasquerella, president of the American Association of Colleges and Universities, also is skeptical of these new models.
"The positive side is that all students in a course or across an institution gain access to textbooks at the same time at the beginning of the semester," Pasquerella notes. But she cites numerous "downsides," including that nearly all students are buying or renting materials at the new price point and can't resell their books at the end of the semester.
Ultimately, it's "a model that overstates the benefits to students and is at odds with AAC&U's efforts to integrate OER," as well as diversity, equity and inclusion, she says.
Student Voices
It's true that not all students like these new course materials models. In the recent Student Voice survey, which had 3,004 respondents and was conducted this winter, one student from a public university in California with equitable access wrote the following when asked to share something frustrating about textbooks that doesn't get enough attention: "Course materials can often be found for cheaper. I think this system should opt students out unless they decide to opt in. This is another stupid, greedy money grab by the administration."
Yet many other students with equitable access programs, like Silva at Houston, approve.
Beyond individual opinions, and circling back to Allen's question, do students benefit from equitable access and, if so, which ones? Since many institutions say that equitable access saves students upwards of 50 percent on full-price course materials, it may be helpful to look at how students tend to obtain their course materials in the first place.
According to the Student Voice survey on academic life, the No. 1 preferred method for obtaining course materials is finding a digital version for free, with 54 percent of students saying this (students could choose up to three options of 10 total). Ordering a used copy from Amazon or other online store is a distant second (28 percent), followed by renting a digital copy (25 percent), buying a used copy from the campus store (24 percent) and renting a physical copy (20 percent).
Some 16 percent of respondents say they prefer to buy their course materials new at the campus store, making this the sixth-most-popular choice. This is followed by buying a new copy online on Amazon or elsewhere (12 percent), buying a used copy from a local bookstore (12 percent) and buying a new copy at a local bookstore (5 percent).
In all, some 835 of the respondents say they prefer to buy their materials new, on campus or off. And it's these students who may benefit most from cost savings derived from inclusive or equitable access programs. (A note: preference for buying materials new at the campus store isn't the same as actually doing it, so this is a proxy measure. However, National Association of College Stores student survey data indicate that campus stores remain the most popular place to obtain course materials, with 72 percent of students shopping there in person or on the store's website for materials.)
Student Voice survey respondents who prefer to buy their materials new at the campus store, in particular, stand out in certain ways. They're likelier to be two-year college students than four-year college students. Black and Hispanic students also are likelier than white and Asian students to prefer buying their course materials new at the campus store.
Students taking all their classes online as of fall 2022 also are likelier than students taking all their classes in person to prefer buying their course materials new at the college store. And students at public institutions are likelier than those at private institutions to prefer purchasing their course materials new at the college store, as are students working full-time.
Students with financial aid are about as likely as those without to prefer buying their materials new at the college store, meanwhile. Socioeconomic status doesn't seem to impact this preference much, either.
If students who prefer to buy their course materials new stand to benefit disproportionately from innovative sourcing, then students who prefer to seek out free digital course materials may benefit least of all. Who are these students? They're likelier to be four-year college students than two-year college students, likelier to be Asian, white or Hispanic than Black, and likelier to be taking all their classes in person than online.
Again, neither financial aid nor socioeconomic status tend to make much of a difference regarding this preference.
Together, the data suggest that while students over all prefer free digital course materials, historically underrepresented groups aren't disproportionately reliant on this method. In fact, some historically underrepresented groups may already be overrepresented among students paying full price for course materials.
Education market analyst Phil Hill says that the biggest advantage of inclusive and equitable access is "providing day-one access and removing the case of low-income students not having needed textbooks due to affordability concerns." (Hill notes that other solutions exist, including the adoption of OER.)
However, it's unclear whether these models really do help students who need the most help affording materials, he says, adding, "I worry about making policy decisions based on averages and comparisons to alternative purchasing or renting of publisher materials. We don't serve a generic average of students—we serve a wide variety of unique individuals, and student agency is a risky element to remove."
'Think Bigger' About Course Materials
As for risk assessment, many of the institutions to go all in on new materials access models ran pilot programs first and like what they saw. Some 52,000 students participated in a voluntary inclusive access pilot program at the University of Houston. In internal surveys of participating students, some 85 percent said they preferred all their classes to include CTAP. Eighty-seven percent of participating faculty members said it was better or much better than other methods of obtaining course materials. The university projects the average student course materials savings to be about $254 per semester once equitable access is adopted come fall.
Emily Messa, senior associate vice chancellor and senior associate vice president for administration at the University of Houston, says that affordability is "very much on [students'] minds." In some cases, she says, students were waiting weeks into a semester for their financial aid to be disbursed in order to afford course materials.
"What students wanted was to be able to use their direct financial aid for course materials, because we know that some of our students don't have a credit card," she says. "This really was the impetus really for us—affordability and day-one preparation for our students."
At UC Davis, Lorgan says the share of students going without materials was a big factor behind the transition to equitable access. Some 78 percent of students said in internal surveys that they'd skipped purchasing or renting at least one required textbook in the last year, primarily due to cost. In the Student Voice survey, half of respondents say they've forgone purchasing or renting materials. A quarter of respondents say they've taken photos of pages or chapters from someone else's book for a class.
Allen, of SPARC, remains unconvinced that these new models are the answer to such problems.
"One of the big disconnects is that the inclusive access approach treats this like a procurement problem, when actually it's a market problem," she says. "Finding different ways to force students to pay for textbooks isn't going to solve the fact that the textbook industry drove up prices for four decades and created, essentially, a crisis where students can't afford access to all the materials they need."
Allen advises institutions to "think bigger" about course materials, "not just as ancillaries that we outsource to industries, but as part of the critical infrastructure of teaching and learning." At the very least, she encourages institutions adopting flat fees to exempt courses using free or all open materials.