You have /5 articles left.
Sign up for a free account or log in.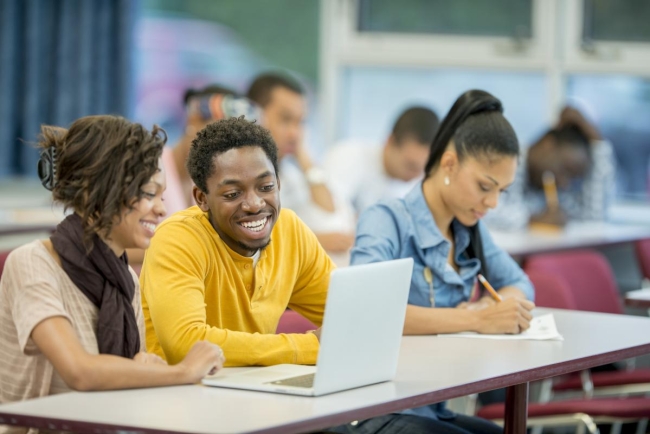 A new research initiative seeks to expand access to clear, precise data about minority-serving institutions. The founders of the Minority-Serving Institutions Data Project say policy makers, researchers and advocacy groups all define MSIs in different ways, which leads to inconsistent and inaccurate studies of these institutions.
The group of scholars recently published an article in the journal Educational Researcher outlining the complexities of MSI classifications and proposing clearer definitions, and they created a new database using those standards in hopes of providing a more accurate picture of the MSI landscape. Some studies end up with different counts of MSIs in part because the status of these institutions can change from year to year.
"Our goal was to be able to reconcile all of those differences and put out a uniform typology definition that the MSI community can then use in the way we describe MSIs and their status over time, whether they're funded or not funded, and then from there we can build an actual data set," said Mike Hoa Nguyen, assistant professor of education at the New York University Steinhardt School of Culture, Education and Human Development and principal investigator of the MSI Data Project. "If they're studying graduation rates, or if they're studying students' sense of belonging on campus, we can get a better sense now if their status as an MSI, if their funding from the Department of Education, plays a role in any of these outcomes. There's near-infinite possibilities of studies that can be done about ways we close different kinds of equity gaps now that we have a more precise data set."
The database features dashboards with data on MSIs from 2017 to 2021, including information about how many institutions are eligible for MSI status and how many receive federal funding under each MSI category, and enrollment and graduation rates for different types of MSIs. The data focus on 11 different MSI classifications used by the U.S. Department of Education, including historically Black colleges and universities, predominantly Black institutions, Hispanic-serving institutions, tribal colleges, and Asian American and Native American Pacific Islander–serving institutions.
The project is a collaboration between researchers at New York University, California Institute of Technology and the State Higher Education Executive Officers Association (SHEEO), with funding from the Kresge Foundation, SHEEO, NYU and the University of Denver.
The article notes that each type of MSI has different eligibility requirements for federal funding. Some kinds of institutions, such as tribal colleges and HBCUs, are "mission-based," intended to serve certain populations, while other institutions are "enrollment-based," receiving MSI status based on whether they enroll a certain percentage of a specific student demographic.
Andrés Castro Samayoa, an assistant professor of education at Boston College, said differences in federal requirements for eligibility as a MSI and "legislative history" make it difficult to arrive at a common definition of MSIs, and sometimes individual institutions shift their statuses from year to year.
"Because some of them are contingent on the actual enrollment numbers of certain student demographics, then that means it can be understood as a variable definition, and the eligibility then becomes something that can be achieved some years" and not others, he said. "It's a bit of a shifting target."
Meanwhile, some scholars believe MSIs should only be considered as such after they receive federal funding under that status, while others "have wanted to shift the conversation from the actual designation itself to ensuring they're actually serving the communities of students that they are designated to be serving," he added.
MSI Data Project researchers recommend colleges and universities be categorized as MSIs for research purposes only if they meet all federal requirements and that they be identified as their specific classification. For example, sometimes HSIs that receive funding under an Education Department program called Promoting Postbaccalaureate Opportunities for Hispanic Americans are simply categorized as HSIs even though these institutions have unique eligibility requirements, according to the article.
The researchers also suggest enrollment-based MSIs be identified in two different categories—those that meet eligibility requirements and those that received Education Department funding as an MSI—because it differentiates between institutions that hit certain demographic thresholds but aren't currently funded under an MSI designation versus those that actively applied for and received Department of Education funds to serve a certain student population.
"These are taxpayer dollars," Nguyen said. "There's an expectation that they're going to spend those monies wisely to support and serve the students that they're supposed to serve, so this allows us to measure the impact of those dollars."
Samayoa said the article addresses a "long-standing concern" among those who lead MSIs and those who study them about "potential discrepancies, some of the issues with dual designations, some of the absence of clarity that has sometimes obfuscated, either access to opportunities coming up, eligibility criteria for certain grants, from ED or from other agencies."
The article and database are responding to a "need to bring everyone together so we can all be on the same page," he said.
He also believes the database will be useful in his own research on MSIs and can jump-start a broader discussion among those using the new tool about how MSIs should be categorized to ensure clear research.
"This is such an important first step," he added.
Antonio Flores, president and CEO of the Hispanic Association of Colleges and Universities, disagreed with some of the ways the database categorized MSIs. For example, he believes it makes sense to categorize Promoting Postbaccalaureate Opportunities for Hispanic Americans institutions as HSIs given they're required to qualify as HSIs as part of their eligibility requirements. He also noted that the database doesn't account for all federal funding sources for MSIs, such as the National Science Foundation or the Farm Bill, painting an incomplete picture of the MSI landscape, which the article acknowledges as a limitation.
But he does see room for more data and more research on HSIs.
"It would obviously be very helpful to know more than who gets money for what, but how is that applied at an institutional level, and more substantive research on best practices that they might have developed with the funding," he said. "That to me would be very helpful in terms of different types of data for the different types of MSIs and all of them together."
Sophia Laderman, associate vice president at SHEEO and co-principal investigator of the MSI Data Project, said in a press release that the database will expand in the future. The group plans to add data from earlier years "so that users can explore how MSI funding and eligibility status have changed and expanded over time," as well as dashboards that allow "users to look up their institution and learn about an individual institution's MSI eligibility, status and history across each of the designations." She added that the database will also include how much funding each institution receives from the Department of Education.
Nguyen also said that the hope is to grow the database and include funding from other federal agencies, such as the NSF.
"Our goal is for this to be an infinite project where we keep building, go further back in time and get into history and adding more data as each year changes, and add in additional data from other sources that provide even more robust detail about these schools, about MSIs, and how they secure these resources and what they do with it," he said.