You have /5 articles left.
Sign up for a free account or log in.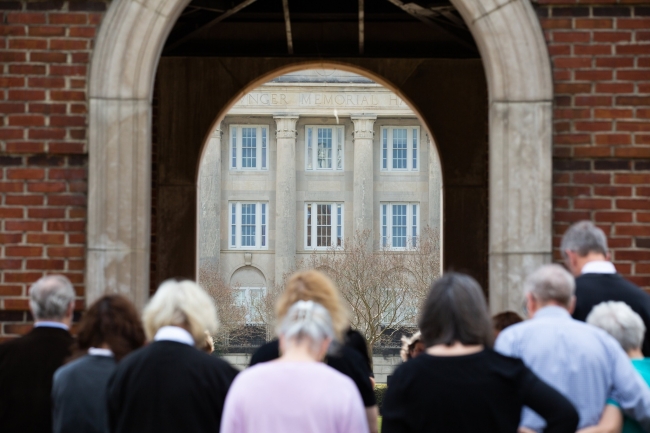 Birmingham Southern College/Facebook
For months Birmingham-Southern College officials have warned of almost certain closure if the college does not receive a financial lifeline from Alabama lawmakers. But despite those warnings, the college's Board of Trustees voted unanimously on April 5 to keep the private institution open, signaling either an act of faith or confidence in public officials.
Birmingham-Southern College has asked state and local officials for $37.5 million to remain open. Specifically, the college has requested $30 million from the state, $5 million from the city of Birmingham and another $2.5 million from Jefferson County, where BSC is located.
But as a spokesperson for Alabama governor Kay Ivey declared last month, "The state has no plans to use the taxpayers' public funds to bail out a private college." As of publication, no bills have been filed in the Alabama Legislature to provide funding to keep the college afloat.
However, there seems to be growing momentum for the possibility of a loan from the state.
Earlier this month, after voting to keep the institution open, the board hinted vaguely at ongoing efforts to acquire financial support for the college; board chair Reverend Keith D. Thompson noted that leadership has "been working closely with our allies in state and local government to secure bridge funding." Thompson added that the board would continue to work with legislators "to ensure all are aware of the significant direct economic impact BSC provides each and every year, as well as the immense contributions made by our alumni to the civic, business, and political leadership of our state."
The statement did not provide further details on how Birmingham-Southern College intends to stave off closure. Officials also declined an interview request from Inside Higher Ed.
Now, with Birmingham-Southern committed to staying open, questions linger.
Seeking a Financial Lifeline
Understanding the present-day plight of Birmingham-Southern requires stepping back to 2010, when a major financial aid error was discovered. The college had incorrectly calculated Pell Grant awards, overpaying by millions and leading to steep budget cuts and significant layoffs. That error led to the resignations of multiple college officials and was followed by a revolving door of presidents. Daniel Coleman, hired in 2018, is the fourth full-time president at BSC since 2010.
Adding to the financial woes, the college's endowment has declined significantly over the years. Once valued at more than $110 million, the endowment withered due to a mix of major building projects, drawdowns and the effects of the Great Recession, which saw lower returns. In 2021, Birmingham-Southern College's endowment was valued at around $53 million.
Since 2010, the college has looked to reduce costs while dealing with many of the same revenue challenges faced by other small, private institutions. Birmingham-Southern's enrollment declined from more than 1,500 in fall 2010 to 1,058 in fall 2021, according to the most recent data available from the Department of Education's Integrated Postsecondary Education Data System.
Those issues seemed to push BSC to the brink of closure. Now the college is embarking on an unclear path forward, hoping for a loan from the state to materialize.
In an effort to stay open, Birmingham-Southern leaders have appealed to private donors as well as state lawmakers, highlighting the economic impact of the small college on the local community.
While public officials haven't delivered, private donors have, contributing more than $575,000. And there may be more money on the horizon; a college statement noted that Birmingham-Southern "has secured nearly $46 million in pledges from private donors toward a goal of $200 million in endowment and has sought bridge funding from public sources to allow time to finish that campaign." The statement added that a $200 million endowment will provide long-term stability.
Exactly where the bridge funding stands is unclear.
In a statement to Inside Higher Ed, college officials said the Board of Trustees had delayed the April 5 meeting "for a week while awaiting additional information likely to impact its deliberations." The BSC statement noted the board voted "based on positive conversations with legislative leaders" to "continue the operations of the college."
Lawmakers so far have not revealed a plan to provide a financial lifeline to the college, but talks have shifted from discussions of a bailout to a possible loan, which seems to have bipartisan support, according to statements made by various lawmakers.
State Senator Jabo Waggoner, a Republican and BSC graduate, recently told CBS 42 that Alabama lawmakers are considering a $25 to $30 million loan to keep the college open.
"I think it will create the financial bridge that will allow Birmingham-Southern to do some financial gymnastics that will keep it open permanently. But this will be a bridge appropriation, one-time," Waggoner told the news outlet.
State Representative Juandalynn Givan, a Democrat who represents the district where Birmingham-Southern College is located, is also pushing for a loan for the struggling institution.
"At this point, it looks like there may be a little light at the end of the tunnel," Givan told Capitol Journal last week, noting lawmakers are "looking at the construct of legislation that will create a loan incentive program here in the state of Alabama" for private colleges in "crisis period."
(Neither Waggoner nor Givan responded to requests for comment from Inside Higher Ed.)
The Birmingham City Council also discussed the possibility of financial support last month but ultimately postponed making a decision, pushing a proposed resolution to its April 19 meeting.
Staying Open
Experts note that the request by a private college for public funds is somewhat uncommon.
"This is a very unusual situation. Typically, private colleges are not able to secure this sort of support, precisely because they are private and not publicly funded institutions," Stephen Gavazzi, a professor and director of CHRR at Ohio State University, wrote in an email to Inside Higher Ed.
Gavazzi—who also runs a firm focused on improving town-gown relationships—said that while the economic consequences of a college closure are severe for local communities, most municipalities "do not have the kind of resources available to bail out colleges and universities."
Others point to instances where public colleges—not lawmakers—came to the rescue of struggling private institutions, ultimately keeping the mission alive with partnerships or mergers.
"While it's not common for private institutions to receive a lifeline from the public, it is common for a private institution to seek a partner from a public institution," said Henry Stoever, the president and CEO of the Association of Governing Boards of Universities and Colleges.
Stoever pointed to examples such as Bloomfield College being absorbed by Montclair State University in New Jersey and the University of Tennessee system's acquisition of Martin Methodist College.
Ultimately, Stoever suggested, "closure is the worst option" and can often be avoided if college leaders and boards of trustees are willing to work together to make hard decisions and develop a long-term plan to improve the financial situation in the context of the challenges they face.
Gavazzi stressed the need "to build and strengthen relationships before a crisis happens," using the metaphor of marriage to describe the partnership between colleges and communities.
"Marriages, like these town-gown relationships, are optimal when both partners are heavily invested in the relationship, and when both partners are putting equal effort into making the relationship work," Gavazzi said. "Once in a crisis, it is very difficult to do anything other than damage control, whether it is a marital relationship or a campus-community relationship."
In some ways, the situation at Birmingham-Southern College parallels Iowa Wesleyan University, which recently announced its closure. Like Birmingham-Southern, Iowa Wesleyan had appealed to state lawmakers for funding, specifically seeking $12 million from the funds given to the state as part of the federal American Rescue Plan Act. But Iowa's Republican governor, Kim Reynolds, denied that request, citing "systemic financial issues" that were unsolvable by a one-time cash infusion. Following that decision, Iowa Wesleyan is poised to close at the end of the current semester.
Iowa Wesleyan is one of multiple institutions with a religious affiliation that have announced closures this year, alongside Cardinal Stritch University, Presentation College and others. Now, Birmingham-Southern hopes to avoid adding its name to that list, with trustees voting to keep the college open even as its fate seems to hang on a looming decision by Alabama lawmakers.