You have /5 articles left.
Sign up for a free account or log in.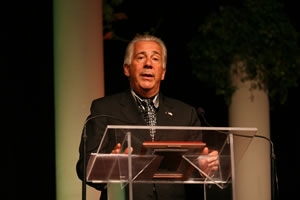 Worries about the health of a long-serving president at a private institution in San Antonio highlight questions hanging over aging presidencies at many universities.
How old is too old for a president? How long is too long in the top chair? How should the health of a leader weigh into decisions about his or her future?
The University of the Incarnate Word, a Roman Catholic institution with more than 6,000 students on its main campus in San Antonio, is an extreme example of issues that could be lurking at other colleges and universities. Incarnate Word's 65-year-old president of 31 years, Louis J. Agnese Jr., went on medical leave in mid-August amid concerns over his health -- concerns following student complaints that he'd made offensive comments about ethnic and religious groups. Agnese initially lobbed angry words toward his Board of Trustees when the medical leave was announced.
It's not clear whether the situation in San Antonio will be resolved with Agnese returning to work or whether it could become the next in a string of messy presidential firings this summer. The executive committee of Incarnate Word's Board of Trustees is scheduled to make a recommendation on the matter Monday. What is clear, however, is that Incarnate Word is far from the only institution headed by a president with a lengthy tenure who is approaching the traditional retirement age.
The average university president's age increased to 61 years in 2011, according to the most recent version of the American College President study from the American Council on Education. It was 60 in 2006 and 52 two decades before.
While higher education is full of vibrant professors and highly effective presidents well over 61 years old, advancing ages bring the possibility of more frequent health problems and longer tenures. And most higher education leadership experts say longer tenures can be problematic quite aside from issues of health. Even the financial sector, with its emphasis on stability and certainty, recognizes dangers associated with long-tenured leaders at colleges and universities. Moody's Investors Service mentioned the issue in a report issued Friday on leadership turmoil jeopardizing universities.
"Very long-tenured presidents can add an element of key man risk and difficulty in adjusting to changing market conditions," the report said. "These challenges can be exacerbated by insular boards."
Age is clearly tied up in length of tenure and health, and no institution wants a president who is asleep at the switchor physically unable to perform the duties of a demanding job.
Agnese on Leave
It's still not clear how much these issues may have played into the situation at Incarnate Word. That situation first became public Aug. 18, when Board of Trustees Chairman Charles Lutz issued a statement announcing President Agnese had been placed on 90-day medical leave. The statement cited "sporadic uncharacteristic behavior and comments" and interactions with students, faculty and administrative staff that had caused "considerable concern" for the president's well-being. It did not provide additional details.
Agnese denied acting inappropriately, adding in expletive-laced comments published in the San Antonio Express-News that he would file a lawsuit if the board did not retract its statement. He later told the newspaper that a visit to a doctor and an MRI scan had found some nerve damage on his brain's frontal lobe but that such damage takes place with age.
"They then did some more tests and I've been totally cleared," Agnese said, according to the Express-News.
Then at the start of last week, Agnese said he was no longer considering a lawsuit after he and university officials reached an agreement. He indicated he planned to take less than 90 days off before returning. Many saw the comments he was accused of making as being inconsistent with a man who, although known for bold statements, has devoted decades to a university that has a history of educating a diverse student body, one that enrolls many minority, low-income students.
But the university's Faculty Senate still unanimously voted to support the board's andling of the situation. The Express-News obtained a letter in which Brett Richardson, assistant professor of music and coordinator of music education, said the faculty senate fully supported trustees' decision to have Agnese go on medical leave.
"Furthermore, the Faculty Senate has asked the board to ensure the well-being and safety of the university community is considered during this uncertain time," Richardson's letter said.
Conflicting reports surfaced over Agnese's behavior. An anonymous university official said leaders were worried the president had a brain condition altering his behavior, describing him as disheveled and lost at a recent meeting. But friends of Agnese said the president had not changed.
Agnese, meanwhile, voiced suspicions that his medical leave was spurred by a discrimination complaint six white faculty members had filed.
Finally on Thursday, the Express-News published an account of a student complaint filed against Agnese shortly before he was placed on leave. The account described a luncheon attended by students, faculty members and administrators. It said Agnese told an African-American student who was not wearing Incarnate Word's cardinal-red color that she was "lucky you're black so you are in a way wearing cardinal black," and that he said Native American students' "Indian-red skin color would also count as wearing cardinal red." Agnese also told a Hispanic faculty member he looked "like a José," singled out a student's test scores and joked about Mormons taking over one of the university's schools, according to the newspaper.
Agnese confirmed those statements to the Express-News but said he hadn't made offensive comments.
A university spokeswoman declined comment on the presidential situation. A Friday afternoon statement from Board of Trustees Chairman Lutz said the board's executive committee planned to make a recommendation on the matter to the full board Monday. The statement credited Agnese with "immeasurable" contributions and transforming the university during his tenure before addressing his recent comments.
"However, recent comments by Dr. Agnese are not consistent with the traditions and values of the university and cannot be condoned," the statement said. "Inspired by Judeo-Christian values, the Catholic intellectual tradition and Catholic social teaching, UIW's mission is to educate men and women who will become concerned and enlightened citizens of faith within the global community and who will have learned and witnessed the importance of treating each person with respect."
Incarnate Word's undergraduate student body was 58 percent Hispanic/Latino as of last fall, according to its 2015-16 Common Data Set. It was 7 percent African-American.
Past Parallels
This is far from the first time a president's comments have drawn scrutiny of his age and tenure. One notable example is E. Gordon Gee, who announced his retirement from Ohio State University in 2013 following a series of verbal gaffes. A recording caught Gee making negative remarks about the University of Notre Dame , Roman Catholics and others, saying, among other things, that "those damned Catholics" can't be trusted. Gee had landed in hot water over comments before and had by that time earned a reputation as a free-speaking figure.
Gee apologized for his comments and said the controversy they created played very little into his decision to retire.
"I'm 69 years of age, so I've been thinking about transition for some time," Gee said at the time. "As I've said, I live in a world of turbulence. In fairness, turbulence does bring about a focused conversation with family."
But less than a year later, Gee was back in a president's chair when he was named interim president of West Virginia University as he approached his 70th birthday. The interim qualifier was later dropped. Gee, who had previously been president of West Virginia, remains the institution's president today. He has not had gaffe issues at West Virginia and officials said they could not schedule him to comment for this article.
There are key differences between the cases of Gee and Agnese, aside from the substance of the comments involved. Perhaps most importantly, Gee has held numerous presidencies in the last three decades. Agnese has held one.
Agnese has led his institution since the middle of the 1980s, less than two decades after it first admitted undergraduate men in 1970. He took over what was then Incarnate Word College in 1985 at the age of 33, officially being inaugurated as president in March of 1986. He led the institution as it became the University of the Incarnate Word in 1996.
Agnese's time at the top has been marked by considerable growth, with Incarnate Word expanding from 1,300 students in 1985 to nearly 11,000 in 2015, counting extended programs and locations. The university opened campuses in Mexico and Germany during his tenure. It added its first Ph.D. program and doctoral programs in several fields, and it moved into Division I athletics, fielding a football team for the first time in 2009.
Problems and Solutions
Long-running service and presidential success can make it more difficult to put in place a leadership change if and when one becomes necessary, experts said. Presidents of long standing often become embedded, feel secure and resist giving up their leadership roles. Many constituencies on campus can feel loyalty to longtime leaders, said John Moore, a former president at Indiana State University and a consultant whose specialties include transition planning and troubled presidencies.
Moore and other experts interviewed for this article did not comment on the specifics of the Incarnate Word situation, instead keeping their comments on larger issues of age, health and tenure.
Academe generally does not generally like succession planning because faculty members want open searches and national competitions instead of board members picking a president in waiting, Moore said. Consequently, transitions are often handled poorly because no strong policies are in place. That can contribute to a lack of presidential changes, eventually resulting in long-tenured presidents of advancing age at some institutions.
"Higher education doesn't do a very good job of any kind of succession planning or transition planning," Moore said. "We avoid it. We're terrible at it."
Still, college and university boards are responsible for evaluating whether a sitting president is right for a job. It can be difficult for boards to stay vigilant about longtime presidents, who were often hired at a time when they didn't sign contracts.
"What happens more than not, unfortunately, is they kind of go to sleep at the switch," said Raymond D. Cotton, a lawyer based in Washington who specializes in contract negotiations for both boards and presidents. "So the presidency just rolls on from year to year, and little by little the president can suffer medical issues -- and they might not even know it."
The time to think about length of tenure is when hiring a president, Cotton said. He suggests starting with a three-year contract that can then be extended with additional deals up to about 13 years.
"Remember, every time that contract comes up for renewal, it's an opportunity to talk about a lot of issues with the incumbent," Cotton said. "That's the advantage of having a contract with set terms."
Moore agreed that 10 to 15 years is generally long enough for a president to be at a college or university. He also agreed that contracts are a good idea, adding transition planning, performance reviews and medical examinations of presidents to a list of best practices.
There are reasons beyond the health of a president to consider length of tenure, Cotton said.
"A lot is happening in higher ed," Cotton said. "If you have one person who is sort of stuck in some particular era, he or she is not applying the current best practices to that university."
While some presidents are inclined to remain in office for decades, others make a point of moving on when they feel they have led institutions long enough. For instance, when Lawrence S. Bacow announced he planned to retire from Tufts University in 2011, he cited the length of his time in office.
"I have often said that 10 years is about the right term for a university president," he said at the time. "It is long enough for one individual to have a substantial impact but not so long that the institution, or the president, becomes comfortable."
Each president's situation is different, Bacow said in an email Thursday. Very long presidencies tend to come with their own challenges that add up over time. For instance, long-tenured presidents are likely to have to dismantle projects they put in place earlier, which is difficult for a leader to do, Bacow said.
Opposition to a personality can also build up over time on campuses.
"To get anything done in a university, you need to step on toes," Bacow said in his email. "No matter which direction a long-serving president turns, he or she is likely to encounter people with long memories. This may lead some presidents to either retire in place, or alternatively, even if they keep pursuing an agenda for change, it may lead to knee-jerk opposition. Neither is a good alternative."
Presidents can take health issues into account. Bacow fought an infection in the lining of his heart during his fourth year at Tufts. He had to be hospitalized nine times in six months. Although he'd recovered and was healthy when he later stepped down at the age of 59, the possibility of future health issues was "indirectly" in his thoughts.
"At that point, I did not take continuing good health for granted," he said in his email.