You have /5 articles left.
Sign up for a free account or log in.

Thousands of students trying to take the Law School Admission Test remotely were thwarted Friday and Saturday by problems with the proctoring service the Law School Admission Council used for the first time this year.
Exactly how many of the roughly 8,000 students who had chosen to take the August administration of the Law School Admission Test online were affected remained unclear Sunday, said Mark Murray, public affairs liaison for the Law School Admission Council.
"But we deeply, deeply regret and apologize for any test taker who was affected by the problems over the last two days," he said. "It doesn't matter whether the problems started with us or our proctoring vendor; it's our responsibility to deliver the test in a way that lets every student do their best work, and for far, far, far too many people, that did not happen this weekend."
Statements like that came too late and probably offered too little consolation to the furious test takers who in some cases waited hours for online proctors to show up or languished on hold with the law school council or Prometric, the proctoring company, seeking help.
This was Prometric's first administration of the LSAT since the law school council decided in April to reinstate in-person testing alongside the remote option it had exclusively offered since the COVID-19 pandemic. The council switched from its previous proctoring company, ProctorU (now known as Meazure Learning), to Prometric because the latter was better positioned to oversee both in-person and online testing, Murray said.
Despite what Murray characterized as "many months" working with Prometric conducting "large-scale tests" to "make sure their systems and procedures were all ready" for the August administration of the LSAT, "a mix of staffing and systems issues" combined to "create much bigger problems" that "didn't surface during our planning," he said.
The problems began early in the day on Friday, snowballed as more and more test takers started their tests on a rolling basis through the day, and continued into Saturday.
In social media posts on X (formerly known as Twitter) and on the r/LSAT thread on Reddit, in addition to emails to reporters, test takers described long wait times waiting for test administrators or proctors, significant technical problems and deep frustration. A few sample comments:
"Test time was 10:30, currently 1:15. At first I couldn't get past the screen that said 'A Proctor will be with you shortly,' but after a hour or so it started bypassing that screen and connecting me with a proctor. But it wasn't a proctor. It was me. They put me on a video call with myself."
"I truly cannot get past this weekend. I cannot focus on anything other than what should have been. I am devastated. My anxiety is driving up the wall. I scored a 174 on a previous PT. I was so ready, I logged in a substantial amount of time early and was excited to get started. This exam was my only opportunity to do my absolute best before the upcoming admissions cycle."
"Prometric support was nowhere to be found for any student. LSAC was overwhelmed with student calls and complaints. It was complete chaos, and LSAC was publicly radio silent, with the exception of one tweet, until almost 10 hours after the issues began (when it became clear that this issue had to be affecting thousands of test takers)."
Murray said LSAC and Prometric worked hard to correct the problems, and attributed its delays in getting word out to test takers to being focused on addressing the problems and not wanting to put out flawed information.
"But we can absolutely understand why test takers and their families would feel like they weren't hearing enough, and quickly enough," he said.
LSAC is taking several steps to "make it right for every August test taker," whether they successfully completed the test or not, Murray said.
Any student who feels as if their "performance was affected" can fill out a complaint form that is linked to their personal account with the council, and "anyone whose test session was affected" will have several options, Murray said: retaking the test on two new administrations added on August 19 or 20, either remotely or in-person; shifting from the August administration of the test to any other testing slot in the 2023-24 testing year; or keeping their score. Students who retake the test on one of the August makeup dates will get their LSAT scores at the same time as those who took this weekend's exam successfully.
Those steps may not satisfy all test takers, if this post on Reddit is any indication.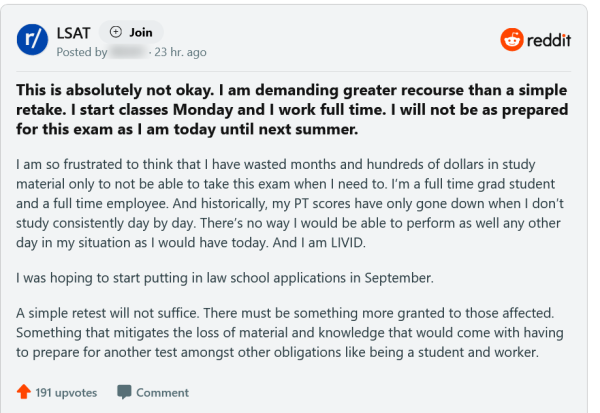 The LSAC is "focused on making sure that nothing like this can ever happen in the future," Murray said. "We take this very seriously. We know how important this test is to students, how hard they prepare for it, how much time and effort and blood, sweat and tears they put into it, and we're committed to making it right."
He said it was premature to say whether Prometric would stay as the company's proctoring solution.