You have /5 articles left.
Sign up for a free account or log in.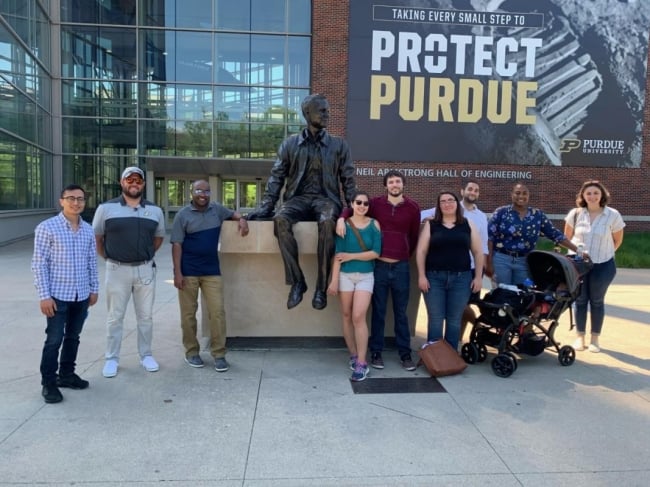 Jon Ferency from the Purdue Research Foundation.
Pam Watts is making a move. The writer and tutor is leaving the East Bay in California for West Lafayette, Ind., through a program intended to incentivize remote workers to resettle in a new community on the Purdue University campus.
The Purdue Research Foundation, the nonprofit foundation affiliated with Purdue, is funding stipends of $5,000 each for 10 selected workers who commit to living in West Lafayette for at least three years.
Remote workers who relocate to West Lafayette through the program can also tap into other benefits, including access to Purdue libraries, discounts on some continuing education programs and on co-working space, and access to services offered by the Purdue Foundry, a start-up incubator.
"I think that a lot of people over the course of the pandemic have been reconsidering their life choices," said Watts, who plans to move to West Lafayette at the beginning of August. "Northern California is a very specific life choice that is an expensive one."
"Like a lot of people who realize they can work remotely, I just got online and started looking for places," Watts continued. "Because community is important for me I was looking for places, opportunities that were actively trying to seek out remote workers. I was really intrigued by the kind of community that the Purdue project was trying to create."
Watts has no Purdue connections, and she hadn't stepped foot in West Lafayette before she and seven other selected remote workers were hosted by Purdue's foundation for an orientation visit earlier this month.
"I thought it was lovely," she said. "They had set up a meeting between me and the head of the Tippecanoe Arts Federation. I felt like I got a really good insight into lots of different things in the community and where I could fit into it, like working with kids with writing … Equality in creative arts education is something I feel pretty powerfully about. That's something that was exciting to me. The downtown area was super cute, and I got to meet some really interesting people who are going to be moving there."
Watts, who has two ideas for science-related books, is also excited to make connections with Purdue researchers and to potentially work with the start-up incubator on an idea she has for a children's science book publisher. She holds two master's degrees, an M.F.A. in writing for children and young adults from the Vermont College of Fine Arts and a M.A. in liberal arts from St. John's College in New Mexico.
"I do like studying things, so the opportunity to be on a campus again with that active intellectual environment was very attractive to me," said Watts, who majored in physics as an undergraduate.
The Purdue Research Foundation is partnering with MakeMyMove, a website that advertises incentive programs aimed at recruiting remote workers like Watts.
MakeMyMove's co-founder, Evan Hock, said more than 250 people applied for the $5,000 relocation incentive, about 50 of whom committed to move to West Lafayette if selected; eight of the 10 funded spots have been filled.
Hock said the first eight people selected are mostly midcareer professionals, with salaries in the $75,000 to $85,000 range; many work in technology fields. The applicants came from 39 states and 13 countries; many were concentrated in Chicago, New York or San Francisco.
"These are folks who are maybe just looking for a change of pace," Hock said. "A lot of the big cities have become unlivable. They're looking for a place they can afford a home, a place where they can be connected to their communities."
"Purdue's really in front in a major trend here," Hock said. "Over the last year, millions of people have been introduced to remote work, and suddenly they're free to choose their home; they no longer have to be hitched to the wagon of where their employer is. A lot of folks are really attracted to college campuses."
The Purdue Research Foundation is specifically recruiting people to move to the Discovery Park District, a new mixed-use development currently under construction. "When it's all built out, we're looking at a community of 15,000 to 20,000 people that will be beside the 50,000 or so people of the university," said David Broecker, chief innovation and collaboration officer at the Purdue Research Foundation. "We're literally building a connected community, if you will, or an integrated community."
Broecker said that while the foundation provided the initial seed money to fund the pilot program, it will likely be looking to government entities at the state or city level, or private developers, to potentially expand the program in the future.
Of the eight people selected so far, only one is a Purdue alumnus, Broecker said.
"The common denominator that I saw in the eight people that visited was the sense of community," he said. "People see the opportunity to come and immediately plug into a community."
Broecker said West Lafayette offers a good cost of living, excellent public schools and the amenities and activities associated with a major university community.
"You can imagine what it'd be like to be on a college campus; there are a thousand things to do," he said. "OK, we don't have mountains and we don't have an ocean view, but we have lots of trails and a river for kayaking, those kinds of things. Yes, in Indiana there are a lot of cornfields, but Discovery Park is not in the middle of cornfields."
The West Lafayette program is one of a number of programs looking to attract remote workers nationally.
The city of Tulsa, Okla., for example, offers a $10,000 stipend for remote workers who move there.
A program to lure remote workers to northwest Arkansas offers a $10,000 stipend plus a free mountain or street bike to aid newcomers in their explorations.
West Virginia University recently joined with the state Department of Tourism in launching a donor-funded program to recruit remote workers to West Virginia by providing a $12,000 stipend plus other benefits including a year of free outdoor recreation activities, free co-working space and the ability to earn a remote worker or remote manager certification through WVU's business college.
Drew Repp, content manager for Emsi, a labor marketing analytics company that tracks trends in remote work and migration from large cities in its Talent Attraction Scorecard reports, said Purdue's remote worker incentive program is the first he is aware of "that seems really tailored to leveraging the assets of the university."
"There are a number of remote worker attraction programs," Repp said. "Most of them seem to be based on quality-of-life selling points, outdoors [activities], leveraging cost of living benefits, that sort of thing, but I haven't heard of one that's basically saying as part of being there, as part of the incentive, we'll help you with access to the university library and things like that."
"One of the things they're doing right is you can't be all things to all people," Repp said. "There are going to be certain things about West Lafayette that are going to be attractive to a certain population. It's not going to be attractive to everyone, but you don't need to be attractive to everyone. You've got people who are going to be after a university community."