You have /5 articles left.
Sign up for a free account or log in.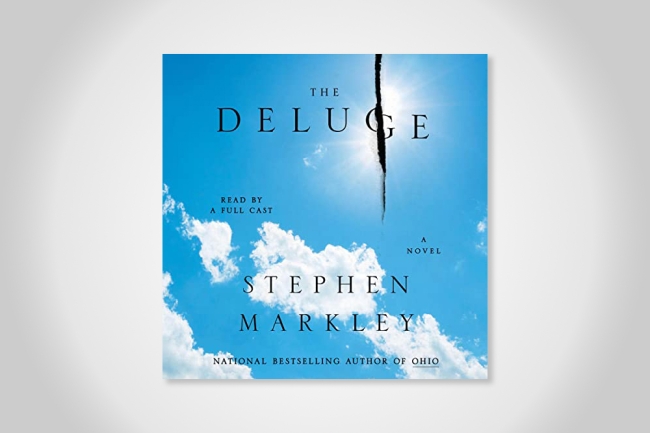 The Deluge by Stephen Markley
Published in January 2023.
Bryan Alexander gets a double thank you for helping me find The Deluge.
First, I credit Bryan's indispensable book, Universities on Fire, for getting me interested in climate fiction.
And second, Bryan's review of The Deluge convinced me to bring this 880-page novel (as a Kindle e-book) to the beach with me on vacation last week.
If you want a concise plot summary and critique of the novel's strengths and weaknesses, I recommend going directly to Bryan's review. The bottom line of Bryan's review, which I concur with, is that The Deluge is "top tier." If you liked T. C. Boyle's Blue Skies or Kim Stanley Robinson's The Ministry for the Future, then definitely invest the time to read The Deluge.
I'd like us together to wrestle with how climate fiction might be used on our campuses.
Reading The Deluge, I kept having this sickening feeling that we in higher ed are failing miserably to prepare for climate change. While universities are not utilized as a setting in The Deluge, it is not difficult to imagine the impact of the climate crisis on our campuses.
As extreme weather events grow common, as the water comes and the heat rises, what is at risk on our campuses? Which of our university buildings will be flooded when the "1,000-year storm" comes three times between now and 2033? Are we prepared to manage the challenges of academic continuity when unprecedented rainfall knocks out the electricity and the campus network?
The Deluge may help spur universities to action as a tool for understanding exponential change. I imagine it is difficult for university leaders to declare a campus climate emergency when the impacts of climate change seem manageable today.
The impacts of climate change (be they flooding, fires, heat or hurricanes) on our campuses will not get progressively worse. Instead, the effects of a warming planet on our universities will be nonlinear —and therefore hugely more extreme—than we can easily wrap our heads around.
Given the difficulty we have thinking about exponential change (a difficulty shared by university leaders), a novel like The Deluge can be highly useful in helping us to come to grips with where the climate is taking us. We think in stories. Narrative is how we make sense of the world. Through the characters' climate-related experiences from 2013 to the mid-2030s in the novel, the reader is carried along on a journey through time.
After reading The Deluge, I have a lot easier time picturing the effects of extreme weather on our physical campuses and the students, faculty and staff who live and work in these places.
Reading The Deluge left me with a sense that to dither on climate change, we in higher education will be judged complicit by future generations.
The Deluge is a long novel, but as Bryan says, "it will carry you all the way."
Forward-thinking university leaders will pair campus community reading of The Deluge with Universities on Fire.
Can you imagine a campus panel with Bryan Alexander, Stephen Markley, T. C. Boyle and Kim Stanley Robinson?
What other climate fiction novels do you recommend?
What are you reading?