You have /5 articles left.
Sign up for a free account or log in.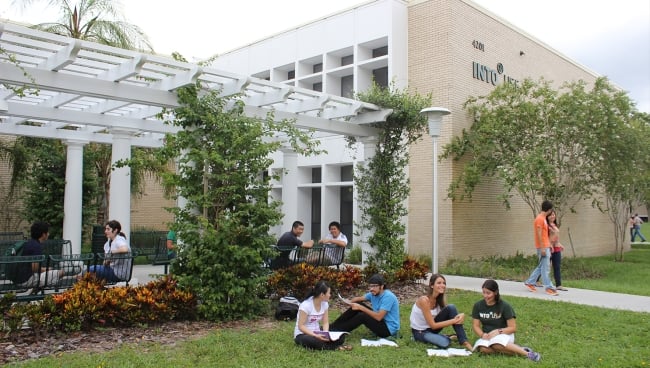 University of South Florida
A 12-year relationship between the University of South Florida and the international student pathway company INTO University Partnerships has ended in what looks like a messy divorce: each side claims to be the victim and is casting blame on the other, and both have lawyered up to save whatever money and face they can.
USF became the second U.S. university to partner with INTO, a U.K.-based company offering international student recruitment and support services, when it signed a 30-year contract in 2010. In addition to recruiting and marketing to international students, INTO built an academic center at the USF flagship in Tampa to help new international students prepare for their four years at the university. That center was managed by a joint venture company created under the contract, which is now at the center of a legal and financial dispute between the two parties.
INTO has partnered with dozens more U.S. institutions since 2010. Many of those partnerships have recently been modified to reduce INTO's role or were quietly terminated. But in USF's case, the termination has not been discreet.
"I'm not surprised the USF partnership is dissolving … INTO has had a number of other partnerships that have wound down or ended over the years," said Eddie West, assistant dean of international strategy and programs at San Diego State University and co-editor of a new book on international student recruitment. "What's surprising is how publicly acrimonious and legally fraught it is."
Althea Johnson, USF's director of media relations, confirmed in an email to Inside Higher Ed that the university ended its partnership with INTO in July 2022. She said that students already enrolled in the program have retained access to support services and classes "to ensure their experience at USF is unchanged."
She declined to comment on any legal battles, citing university policy on ongoing litigation.
In response to multiple inquiries about both the USF lawsuit and INTO's developing strategy in the U.S., a spokesperson for INTO said they were "unable to comment on this occasion."
Out of a Contract, INTO the Courtroom
International students who apply to U.S. universities through pathway programs typically don't have the English language skills or grades to be directly admitted. Companies like INTO collaborate with institutions to market to students abroad; once they arrive on campus, INTO provides classes in English language and more rudimentary subjects like American history and literature to help ease their transition. Students in pathway programs do not earn degree-seeking status until they complete the program, usually during their first year of college.
At one point in the mid-2010s, INTO's partnership with USF served as a success story for the pathway model, which it touted to other prospective partners.
According to a company-produced case study, USF's international student enrollment increased 255 percent between the 2009–10 academic year, when it signed with INTO, and 2019–20. The study also found that the jointly run INTO-USF pathway center generated over $23 million in revenue in 2019, largely from tuition and fees. (While the company has changed web domains and appears to have removed the case study from its new site, it's accessible via the Wayback Machine.)
But after years of enrollment decline among international students—and especially after the steep drop during the COVID-19 pandemic—USF's INTO program began hemorrhaging students and money. According to USF data, enrollment in the INTO-USF joint program, shown in the data as "non-degree seeking international students," fell from a peak of 800 in 2016–17 to 300 by 2019–20.
In April 2022, less than halfway through its contract with INTO, the university moved to terminate the partnership, citing "financial insolvency" and the joint company's "adverse financial position where it could not perform all or a substantial part of its obligations." According to notes from an April meeting of USF's Board of Trustees, the split "resulted in a positive change in equity investment in FY 2022."
Three months later, USF's financing corporation filed a lawsuit against INTO, which Inside Higher Ed reviewed, "to compel the wind-up and dissolution of INTO USF, Inc." and "any other and further legal and equitable relief to which it may be entitled."
INTO responded by filing a countersuit, alleging unlawful breach of contract by USF and dereliction of fiduciary duties by four INTO USF joint venture employees who INTO claims "prioritized the interests of USF over the interests of the company" by seeking to terminate the contract.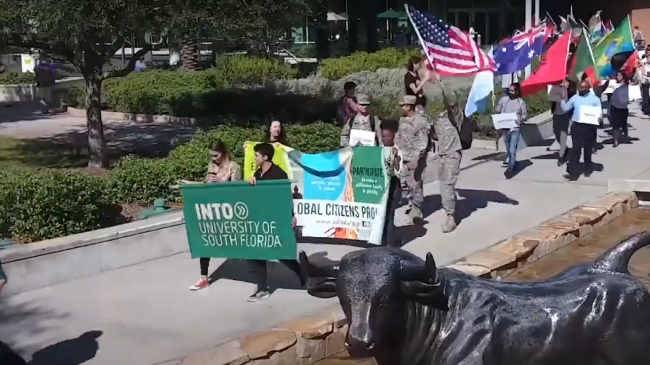 "The ultimate issue between the parties … is whether USF correctly terminated" the contract, according to a court summary of the two cases, a conclusion which rests on whether the joint venture company created by the partnership was insolvent. USF leaders claim it got to that point; INTO officials disagree.
Alan Preece, INTO's former director of global marketing and COO of European operations, told Inside Higher Ed that what's at stake in the company's legal battle with USF is not just money left on the table, but also INTO's reputation in the U.S. market.
"INTO looks to have had a tough time in the U.S., with six pathway joint ventures with universities ending in recent years," said Preece, who left INTO in 2016 and is now an independent higher education consultant. "It is not clear where INTO's U.S. strategy is going, and the USF situation seems a significant distraction."
A Dead End for the Pathway Model?
USF is not the first of INTO's dominoes to fall; it's just the loudest. Several of the company's U.S. partners have re-evaluated their arrangements, and in some cases terminated their contracts, in recent years. Most commonly, though, universities have begun moving away from the physical, jointly operated academic centers that were the hallmark of INTO's pathway model and toward a more direct recruiter-institution relationship.
Colorado State University, which signed with INTO in 2012, closed its jointly operated center in 2021. Marshall University in West Virginia, which partnered with INTO in 2013, closed its center in 2020 and modified its contract with the pathway program to "meet the realities of the current international recruitment market." A spokesperson for Marshall told Inside Higher Ed that the contract had since lapsed and was not renewed.
Washington State University, which signed a partnership with INTO in 2018, modified its contract last year to end its collaboratively run INTO WSU academic center and focus instead on marketing and direct recruitment, according to WSU media relations director David Wasson. That modification cost the university $6.4 million in a quietly resolved settlement with INTO, according to reporting by The Lewiston Tribune. Wasson added that the university has taken over the academic programming conducted by the INTO WSU center.
Marty Bennett, the director of global recruitment and partnerships at the University of Nevada at Las Vegas, said that the brick-and-mortar academic support model pioneered by INTO has become unviable for most institutions. Two new approaches appear to be taking its place: direct recruitment and online pathway programs that are less costly for both institutions and prospective students.
"Like a lot of things post-pandemic, the future of this space will likely be totally virtual," he said.
West, of San Diego State, said one of the biggest frustrations institutions have had with pathway programs is their tendency to overextend themselves, promising large returns to a growing list of partners without ensuring their ability to deliver.
"Too often, institutions put all of their eggs in one company. Meanwhile, that very same trusted partner is out actively courting and onboarding lots more institutional partners," he said. "If you wanted to be a little bit of a cynic, you could say these groups are just looking to build up revenues and assets and then cash out and take a nice payday."
While USF was the only partner to pursue a full break in its contract with the pathway program, West said that doesn't mean other institutions wouldn't do the same if they could.
"A place like USF, with a lot of resources, they probably feel like they have the heft to mount a case like this," he said. "Smaller institutions may not feel that they've got the kind of market power to be as assertive."
'The Salad Days Are Over'
In the late 2000s, international demand for U.S. higher education was at an all-time high, and American institutions were eager to meet it. Bennett said that as public disinvestment hit budgets across sectors, smaller institutions sought to get in on the international student bonanza. Pathway programs promised to build a pipeline to get such students on campus and provide the support to keep them there.
"It was a very different model than anything that had previously existed," he said. "At the time it was really attractive."
But Bennett said early projections for international enrollment growth were overly optimistic. After a few years, INTO's public-private partnerships in the U.S. were failing to deliver the surge they had advertised, and costs began to eat into the revenue they generated for institutions.
"When they made these 30-year commitments, a lot of these institutions thought this was going to be the solution to all their state budget woes. Now the reality has smacked them in the face," Bennett said. "The salad days are over, and I think there's certainly some buyer's remorse."
Steve Clark, Oregon State's vice president of university relations and marketing, told Inside Higher Ed that 15 years into its contract, OSU is still satisfied with its INTO partnership.
But enrollments secured from that relationship have plummeted over the years. In 2015, OSU enrolled 1,260 new international students through the INTO program, according to data from the university's Office of Institutional Research; by 2019 that number had fallen to 809, and in 2022 it brought in 250 students.
Preece, who also runs a blog where he offers commentary on international higher ed, said one reason behind the decline of pathway programs like INTO is their heavy reliance on recruitment from China, where demand for U.S. higher ed skyrocketed in the mid- to late 2000s. That market, while still the No. 1 source of international students for the U.S., has been on a steady downward trajectory since 2016—which has only steepened since the pandemic. In the 2021–22 academic year, Chinese student enrollment in the U.S. fell by 9 percent, following a 15 percent drop the previous year, according to data from the Institute for International Education.
"Most of the pathway programs were initially built around Chinese students going into undergraduate courses," Preece said. "Changes in source countries, particularly the shift from China to India, generally means more students studying at the postgraduate level and fewer needing academic or English language support."
There's also more competition. As the international student bubble grew in the early 2010s, companies offering pathway partnerships proliferated; by 2018, INTO was the oldest player in a crowded field that included ambitious newcomers like Shorelight and ventures from established education giants like Navitas and Kaplan.
"The pathways sector is a long way from its heyday 10 years ago, and yet more than ever the landscape is littered with these programs. That's unsustainable," West said. "You see that in how pathway groups are hedging their own bets and diversifying their offerings. These companies are losing confidence in themselves."