You have /5 articles left.
Sign up for a free account or log in.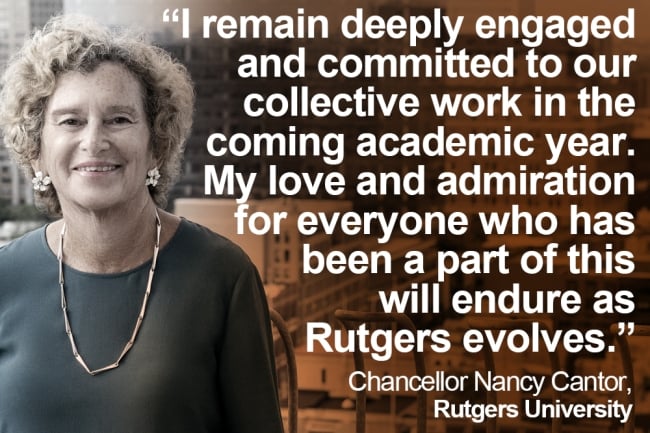 Rutgers University at Newark/Facebook/Justin Morrison
After a decade at the helm of Rutgers University at Newark, Chancellor Nancy Cantor will not have her contract renewed next year, sparking concerns on campus and questions from the community.
The decision was announced Wednesday in a letter to the university community from Rutgers University President Jonathan Holloway, who praised Cantor's contributions at the Newark campus without specifying why her contract would not be renewed when it expires next June.
"There may be no other chancellor in the country as committed to the impact that a university can have on its host community as an anchor institution," Holloway wrote in the announcement.
Cantor, in a letter of her own, made it clear that the decision to leave was not her choice. Now faculty and community leaders are searching for answers as to why a popular campus administrator is being pushed out, while Rutgers leaders deflect questions on the matter.
Faculty and Community Reactions
In the announcement Wednesday, Holloway had only positive things to say about Cantor, speaking of his "admiration and gratitude" for her leadership and ticking off various accolades. Holloway praised the chancellor's work in advancing social mobility at Rutgers, strengthening ties between the campus and the community, and securing legislative support for university initiatives.
What was left unsaid—and remains unclear—is why Cantor is leaving. The chancellor did not specify a reason in her announcement to campus, noting only that it was involuntary.
"I had hoped to remain here to continue advancing the expansive work we've done together over the past decade to build and strengthen civil and social infrastructure, but I am confident that the durable partnerships we've built are well positioned to grow and that our university and our community can continue to thrive. I remain deeply engaged and committed to our collective work in the coming academic year," Cantor wrote Thursday in a message to the Newark campus. "My love and admiration for everyone who has been a part of this will endure as Rutgers evolves."
Cantor's unexpected exit has prompted concerns among both faculty and community leaders. She is set to formally depart at the end of next June, but supporters are urging university officials to reconsider their decision not to renew Cantor's contract.
"To discard Chancellor Cantor is taking two steps backwards," Newark Mayor Ras Baraka wrote in a letter to Holloway that was obtained by Inside Higher Ed. "It disrupts a long and hard-fought progress that Newark is journeying on. It flies in the face of the collective work that we have been doing many times with Chancellor Cantor's insistence, her commitment, and sheer will."
Other signatories to the mayor's letter include three local Democrats: state senator Teresa Ruiz, leader of the Senate majority, and Assemblywomen Shanique Speight and Eliana Pintor Marin.
The mayor's letter called the nonrenewal decision a "grave error" and lauded Cantor's work in improving town-gown relations and "the college-going culture" in the city of Newark.
In a response to Baraka that university officials shared with Inside Higher Ed on Thursday, Holloway wrote that "the excellent work that Chancellor Cantor has been leading is being stewarded and executed by a superb team of dedicated faculty and administrators across Rutgers–Newark, and I have every confidence that this work will continue." He added that a national search to find a replacement for Cantor will soon begin.
Faculty expressed shock and discontent at the news.
"It doesn't make any sense," said Barry Komisaruk, a psychology professor and chair of the Rutgers-Newark Faculty Council, which intends to send a petition to Holloway urging him to reconsider.
He described Cantor as an effective leader who is well-liked on campus and in the community.
"It's a shocking piece of news and that's why everyone is in an uproar about it," Komisaruk said.
A group of 24 Rutgers-Newark faculty members also sent a letter to Holloway suggesting that "faculty and students of the Rutgers-Newark campus have been relegated to second-class status by this sudden removal of our chancellor without warning or explanation." The letter also demanded "basic accountability" from Holloway in explaining the decision not to renew Cantor's contract.
Faculty members did not hold back on social media, expressing outrage on X (formerly known as Twitter) over Cantor's removal after a decade of leadership.
"I'm disgusted by the ousting of Newark Chancellor Nancy Cantor by Rutgers President Holloway. Cantor has a vision for our campus that centers the humanities and public engagement. Holloway threatened adjuncts and grad students with arrest to scare them from striking. Says it all," wrote Mary Rizzo, a professor in the School of Arts & Sciences at Newark.
(The strike Rizzo referred to concluded in May, with the ratification of a new contract after months of bitter conflict. It was the first such strike in the institution's 257-year history.)
While faculty lauded Cantor, many were unrestrained in their criticism of Holloway.
"Nancy Cantor has a vision for what a great urban public research university can be. Jonathan Holloway by contrast is a wannabe union buster," Rutgers Newark history professor Brian Murphy wrote on X.
Support for Cantor remains strong even after a 2019 incident in which a vehicle that the chancellor was riding in struck a campus police vehicle, prompting an altercation. In that case, Cantor was caught on video yelling at campus police who questioned her driver as she was en route to the airport. The chancellor later apologized, acknowledging that she was not her "best self that morning" and expressing her respect and gratitude for the Rutgers-Newark Police Department.
Unanswered Questions
Rutgers-Newark officials referred questions about Cantor's forced exit to the communications office at the main campus in New Brunswick, which offered little new information on the situation.
"As a personnel matter, it would be wholly inappropriate to discuss why Chancellor Cantor's contract, which had been renewed once and recently extended for a total of more than 10 years, was not extended yet again," a Rutgers spokesperson wrote in response to an interview request.
The rest of the statement mirrored acclamatory remarks already released by university officials.
"She will remain a valued member of our community as she completes her current contract term as chancellor, takes a one-year sabbatical at her current salary and, at her discretion, returns to the faculty as a Distinguished Professor with all its rights, privileges and tenure. Distinguished Professors have lifetime tenure and are among the most revered members of the faculty," Dory Devlin, Rutgers assistant vice president of news and media relations, wrote to Inside Higher Ed. "Chancellor Cantor set a standard for community-university partnerships and maintaining those relationships will certainly be among the important qualifications in choosing her successor."
The Rutgers Board of Governors did not respond to a request for comment.
Now, with Cantor set to step down at the end of next summer, her exit is shrouded in secrecy by officials who are unwilling to say why her contract was not renewed, even as faculty and community leaders demand answers.