You have /5 articles left.
Sign up for a free account or log in.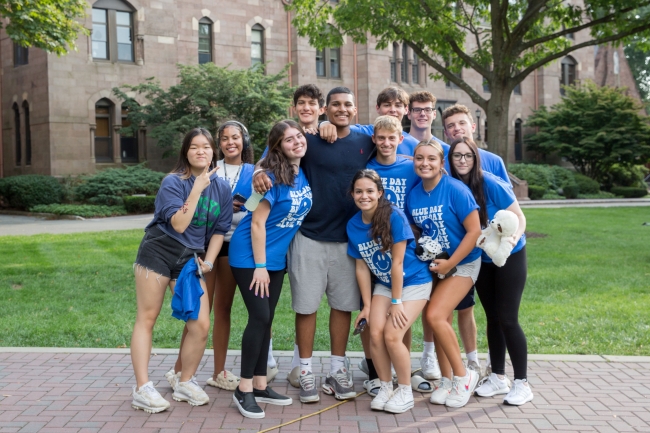 Over 1,500 new students are making their way on to Seton Hall University's campus this week, moving into dorm rooms, meeting new friends and participating in the University Life (U-Life) one-credit first-year seminar course.
U-Life has been a staple at Seton Hall for years, but since 2021, university leaders have re-evaluated the goals and content of a first-year experience class and how they can best prepare a new generation of learners to be successful in college.
"U-Life is that beacon, where we can plug you in to all the resources that you need across the campus," says Vaughn Calhoun, assistant vice president of student services and dean of the center for academic success. "It's not just about your transition into your first year, per se, but how can we make it impactful to introduce you to the people that you need to meet to be successful?"
The mission: Calhoun started at Seton Hall two years ago and, to him, U-Life is always in beta mode. "It's always evolving to deliver a better student experience," he says.
The course is aligned with many other institutions' goals for a first-year seminar, offering transition support, belonging exercises, career exploration and academic help. But over the years, Calhoun has moved core materials away from writing assignments and more toward campus resources.
"That first year is paramount. If a student can't make those connections that first semester, that first year, they're more likely not going to stay or not have a really good experience," Calhoun says.
Following remote instruction due to the COVID-19 pandemic, faculty members have seen students' college readiness decline because many had greater flexibility or accommodation during their high school years, Calhoun says. The course is a "quasi–early intervention, making sure that if a student is having any particular issue, that it can be identified early."
The course: Student success advisers serve as course instructors, establishing more personal relationships between students and their support system throughout the first term. "This creates a deeper sense of connection; it builds a foundation of trust," Calhoun says.
A peer assistant provides insight and advice for new students from their perspective as a student. Seton Hall has about 50 peer mentors with a variety of skills and experiences.
Sections of U-Life are also organized into cohorts for different students such as first-generation students, student athletes and undecided-major students. The goal is to foster a deeper connection between cohorts based on common experiences and allow advisers to focus on their unique needs.
During the course, students participate in introspective assignments like creating a vision board, identifying their career and personal goals and participating in connection-building exercises to plug them into the institution. Three assignments force students to meet others outside the classroom, like attending a professor's office hours, participating in an intramural activity or utilizing a community service. "I'm making sure that the way we craft our assignments aren't just 'do this' or 'do that,' but are very intentional: How can you connect with folks across campus?" Calhoun says.
The vision board remains the most popular task among students because it offers time for reflection and alignment of interests and future plans.
Next evolution: Calhoun and his team continuously re-evaluate the U-Life course, along with a curriculum committee in the center for academic success that measures student evaluations and outcomes.
"These first-year seminar courses can sometimes be overlooked in the larger scope of higher ed and curriculum as 'just' a first-year seminar," Calhoun says. "It can't just be 'we'll just update dates and faculty names.'"
Fall 2022 evaluations from students found, on a six-point scale, students rated U-Life as helpful in their academic (5.3) and social (5.1) transition in the first semester. Fall-to-spring retention from the past year was 94.9 percent, 1.6 percentage points higher than the year previous and beating a 2016 record.
In the future, Calhoun can see U-Life addressing artificial intelligence and generative AI like ChatGPT in higher education as a way to introduce students to the tools and university policies.
If your student success program has a unique feature or twist, we'd like to know about it. Click here to submit.