You have /5 articles left.
Sign up for a free account or log in.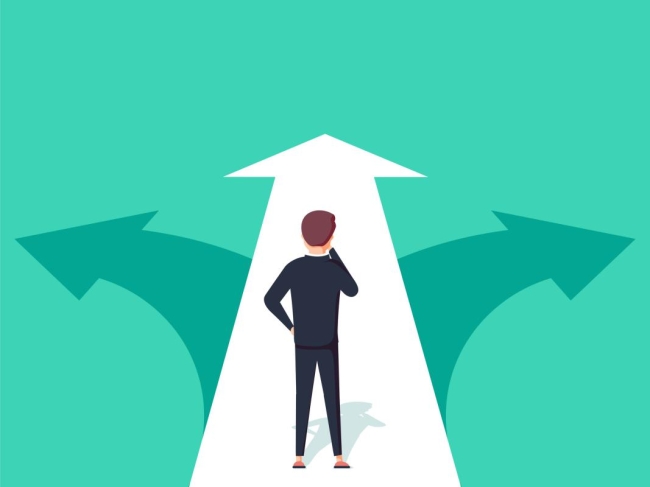 Mykyta Dolmatov/istock/getty images plus
If you're feeling overwhelmed by exploring careers right now, it may be a bit comforting to know that, at the very least, you're not alone.
I remember that when I was exploring careers as a grad student, the path toward being a professor, while difficult, at least seemed straightforward, singular and clear. In contrast, all the other possible career paths (UX researcher? Program officer? Consultant? Learning designer?) seemed as incomprehensible as they were unattainable.
Today, as I help other students and postdocs move through the career-exploration process, I can see the intense uncertainty of our current moment is further amplifying the kind of analysis paralysis I experienced 10 years ago. With the landscape of work seemingly shifting underfoot on a daily basis, it can be hard to feel confident moving forward into the unknown.
Getting Unstuck
When I enrolled in a recent course offered by the design firm IDEO on designing strategy, I learned that such a feeling of paralysis isn't exclusive to Ph.D.s or people changing careers. People and organizations of all kinds are feeling stuck when it comes to making decisions right now. With the future seeming especially unknowable, making the wrong choice can feel both terrifying and inevitable.
As a result, many of us resort to simply rolling the dice in an uninformed manner (as when I applied for random jobs I didn't fully understand) or not doing anything at all (as when I simply ignored the problem of finding a job). The problem is that both gambling and inaction are strategies—just not always effective ones.
So what can we do instead? The most useful phrase I learned from my strategy class was "Strategy needs both creativity and rigor." IDEO's approach to strategy recommends first using creative thinking to get past the assumptions that keep us stuck and then moving toward a more rigorous examination of our best options. With that approach in mind, if you feel you've fallen off the career exploration road map, here are four steps you can try to apply some more creativity and rigor to your strategy.
No. 1: Add more possibilities—especially weird ones. Often, at the point when folks are feeling stuck, they've already learned about many possible career options available to them, whether by attending career panels, talking to a career counselor or using online tools like MyIDP or ImaginePhD. What felt at first like a tantalizing buffet of careers has turned into a staring contest with a handful of jobs that all seem … OK.
It might seem counterintuitive, but sometimes adding more options to your list—especially weird ones—can help you get out of a career exploration rut.
First, list out all the sensible, logical careers you're considering. They can be broad areas like "industry research" or "tech," or more specific titles like "scientist" or "UX researcher." OK? Good. Now list 10 more. Include jobs that you aren't sure are jobs. Add the out-of-left-field ones you've been too embarrassed ever to say out loud. Don't self-edit right now. If you've dreamed of becoming a florist or a writer, those jobs need to be on this list.
One more thing: include your current position—like grad student or postdoc—on your list. After all, that's one of the options you're considering if inaction has ever been part of your strategy.
No. 2: Ask yourself what you like about your three most divergent options. Consider that embedded within each of the career options you brainstormed, especially the weird ones, is a problem you'd like to solve: something you don't like about your career right now. What is that problem, and why does this other career feel like a solution?
The purpose of this step is to unearth a better understanding of the kind of life you'd like to live and the choices you might need to make to move toward that life—without presupposing a particular solution to that problem. Here's an example—"Career: florist. Problem it solves: meetings are boring. I'd like to have a lot of creativity and joy during the day, and feel like I'm producing something tangible. Plus, I don't want to be staring at blank white walls all day, and I am craving color and beauty."
No. 3: Ask yourself what would have to be true to make each option a fantastic choice. So we've identified options—now what do we do with them? You might think that this would be the time to determine which option is objectively best. Any pro/con list would tell us that pursuing UX research makes more sense than becoming a florist, right?
However, strategy scholar Roger L. Martin argues that when we are dealing with conditions of uncertainty, it's not useful to move to analysis too soon. We tend to jump too quickly to evaluating the options on the basis of our assumptions, without first testing those assumptions.
Instead, Martin recommends asking, "What would have to be true (WWHTBT) to make this option a fantastic choice?" For instance, I might reflect that in order for floristry to be a fantastic career choice:
I would need to enjoy arranging flowers professionally as much as I do as a hobby.
The job would need to be low-stress and creative.
I would need to be able to find an entry-level florist opportunity in the Bay Area in the next eight months.
In contrast, for UX researcher to be a fantastic choice, I might conclude that I'd need to have sufficient income and work-life balance to keep up a floristry hobby on the side.
Remember, you're not ruling anything out at this point, just trying to understand what would make this choice a great one.
No. 4: Rigorously research your WWHTBTs. It's finally time to employ your analytical brain in the service of your career exploration. Now that you know what would have to be true to make each choice a great one, the question is: Are those things true or not?
To be truly rigorous in this step, don't just rely on your assumptions. You may be able to answer some of your questions using online tools like the aforementioned ImaginePhD or MyIDP or the job simulation site Intersect. Another part of your research should definitely include talking to people who are currently doing the job in question. (Oh, and don't forget to apply this same rigor to your "change nothing" option.)
Along with my colleagues at the University of California, San Francisco, Bill Lindstaedt and Mike Mullen, I created a fillable PDF tool called the Opportunity Comparison Matrix for people who enjoy having a concrete way to weight multiple WWHTBT criteria and then use these criteria to compare multiple options.
In conclusion, whatever you decide as a result of these exercises, keep in mind that another fundamental tenet of strategy is that there is no definitive right or wrong course of action. The goal is simply to be intentional about your choice. Even if you still stumble over some obstacles along the way, applying creativity and rigor to your decision-making will help you feel more confident moving forward in your career exploration.