You have /5 articles left.
Sign up for a free account or log in.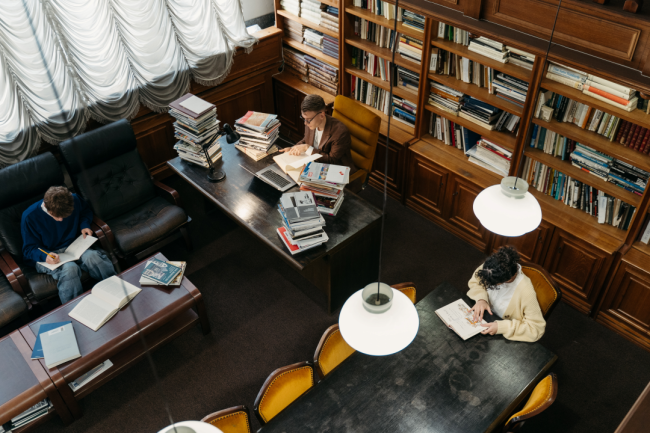 Tima Miroshnichenko/Pexels
Colleges and universities employ various strategies to promote student success, but how many are students aware of, and how many are supporting students in the ways they should?
A new report by Tyton Partners found 60 percent of students were unaware of the full scope of services offered to them at their college or university, creating gaps in student-facing offices that could negatively impact student retention and success.
Methodology
Tyton conducted two surveys in spring 2023, receiving responses from 2,048 students and 1,756 employees from 900 institutions, both two- and four-year.
Three in five employee respondents were front-line advisers (including faculty with an advising responsibility) or nonacademic support providers.
Oblivious to the Obvious
Tyton's surveys, on which the report is based, found two out of three students were unaware of available student support resources, including academic advising, career advising or academic registrations.
Academic advising was the most recognized support among students (62 percent).
Student awareness levels were lowest regarding the student health clinic, peer mentoring and student success coaches at 33 percent, 31 percent and 29 percent of respondents, respectively.
Students' ignorance was in stark contrast to institutional employees' responses, with a majority of employees able to identify every support in the survey, as much as 98 percent.
Accessibility services, library and research assistance, the student health clinic, and IT or technology assistance were most disproportionately recognized by employees relative to students. Staff, faculty and administrators indicated availability at 40 percentage points higher than students.
When asked what services are most important in their decision to re-enroll in the next term, students ranked academic advising most important (37 percent of student respondents), followed by academic registration (28 percent) and financial aid counseling (15 percent).
Crucially, the report found a direct correlation between awareness of support services and feelings of belonging—students who had higher levels of resource awareness also felt higher levels of belonging in their community.
Students also indicated higher levels of belonging if they felt equipped to pay for college or felt their institution cared about their mental health.
Bridging the Gap
The report recommends four strategies for institutional stakeholders to better support students and student services offices.
Communicate effectively.
Colleges and universities should increase communication and active programming around supports. Administrators reported the primary methods of communication around services were passive: sharing information on the campus website, in the student handbook and at new student orientation.
The report also recommends creating a mandatory advising process for students to increase awareness of support services and promote retention. However, overwhelming academic advisers with a larger caseload (over 300 students) can create burnout and limit their ability to interact proactively with struggling students. Institutions should be mindful of balancing student interests with employee bandwidth.
Coordinate efforts.
Student support offices are often siloed, but student needs are interconnected. Students who attend colleges and universities with a hub or one-stop-style office for student services reported higher levels of awareness of resources compared to their peers with separate service offices.
Academic advisers and career services advisers create the most referrals among support offices, and accessibility/disability services and mental health professionals receive the most referrals, highlighting opportunities to streamline communication between offices.
Invest in tech integration.
Institutions that practice digital sharing—a single online portal for resource access—were more likely to believe students have equal awareness, access and utilization of services compared to those without a portal. However, professionals identified a lack of solution integration (42 percent) as the top barrier to effectively using advising technology at their college or university.
Too many disparate solutions are bogging down support staff, as well. The average academic adviser reported using 2.8 systems to complete an advising session with a student, about the same as those in career services, financial aid and mental health. Seventeen percent of advisers and career services professionals use four to five systems in a session. Four percent use six or more.
Disaggregate data.
Institutions, on average, also neglect to collect and distribute data on at-risk students to advisers.
Two-thirds of academic advisers identified first-generation students, low-income students and students from underserved racial groups as at risk for stopping out at their institution. Yet only one-third of advisers track data from those identified.
Only 11 percent of advisers are able to easily identify the demographics of their caseloads, 26 percent could access such data with some effort and 33 percent do not have access to this data. Around a third of respondents don't know if they can view demographic data or have never tried to disaggregate data. Faculty advisers were even less likely to access that data.
We'd love know what you're doing on your campus to boost student awareness of key supports. Click here to submit.