You have /5 articles left.
Sign up for a free account or log in.
Have you watched Silo on Apple TV+?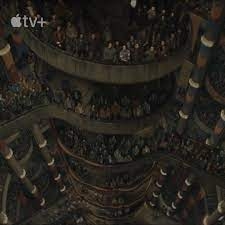 The series is based on a series of dystopian novels by Hugh Howey. Created by Graham Yost, Silo is one of the best shows you can stream this summer.
What makes Silo so good is that it is clearly a thinly veiled critique of university life.
There are at least three ways that Silo is exactly like higher education:
In the world of Silo, if anyone utters the words "I want to go out," then their fate is irrevocably sealed. They must leave the silo. In higher education, if any member of the faculty says the words, "I'm thinking about maybe accepting that role as an administrator," then they can never, ever decide to remain in their department as a professor. For higher education, going outside the faculty ranks is precisely like leaving the silo.
When residents of the silo either choose or are forced to leave, they are said to be "going out to clean." In the world of the silo, what needs cleaning is the camera that shows the poisoned outside environment. In higher education, if any faculty or staff member chooses to leave academia, we also say, "They are going out to clean." The roots of this expression for leaving academia are unclear. What exactly are former professors and staff "cleaning" in the world outside our gates? We don't know. But the expression stuck, and now Silo has adopted it.
IT secretly runs everything. The most obvious clue that Silo is a parable for university life is how the information technology (IT) division holds all the power that matters. IT is the force behind Judicial (what we call faculty governance), as IT knows everything and decides all. Just as in Silo, the power of the chief information officer is opaque to everyone else—only revealed to a select few citizens (and academics) who need to know.
Maybe you've discovered other ways that Silo reveals itself to be a commentary on academic culture?
We've needed a hard-hitting dramatization of higher education in the 21st century.
Thank you, Apple TV+, for making Silo and so vividly bringing our academic world to life.