You have /5 articles left.
Sign up for a free account or log in.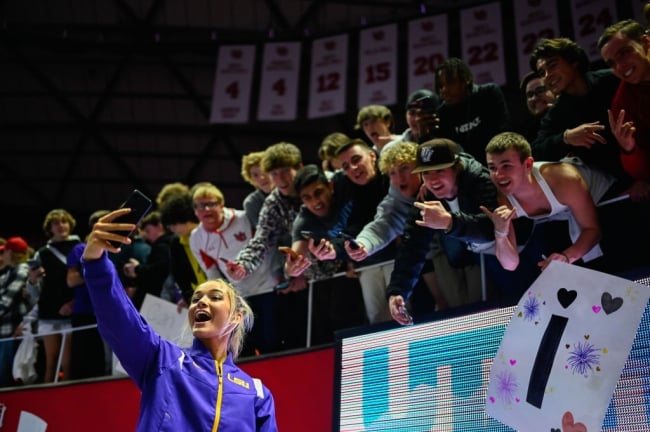 Alex Goodlett/Getty Images
It's been two years since the National Collegiate Athletic Association established policies allowing college athletes to profit off of their name, image and likeness.
The NCAA had argued for years that allowing athletes the same rights as every other student would ruin collegiate sports. Critics feared NIL would usher in a pay-to-play era, and many decried the early NIL landscape as a Wild West of unlimited possibilities—and hidden dangers.
Big-dollar deals made headlines early on.
Former University of Alabama quarterback Bryce Young cashed in on deals with national corporations like Subway and Cash App and local companies, too, such as a BMW dealership in Tuscaloosa. Louisiana State University gymnast Olivia Dunne channeled millions of social media followers into agreements with companies such as American Eagle and GrubHub, among other sponsorships. College athletes collectively made an estimated $917 million from NIL payments in the first year, with the most lucrative deals flowing to football and men's basketball stars.
NCAA Division I athletes reportedly earned an average of $3,711 in the first year of NIL.
While the long-feared death of college sports hasn't occurred, critics and supporters alike see problems on the horizon, particularly with a patchwork of state laws that provide more financial freedom for college athletes in some states than others. Now, two years into the NIL reality, heavy hitters in the college sports world are descending on Washington to push Congress to provide guidelines to keep NIL from becoming an arms race that will empower top athletic programs and conferences while leaving others behind. An NIL Summit this week also explored potential changes on the horizon.
The Need for Regulation
Officials from the Southeastern Conference will meet with lawmakers in Washington this week, looking for federal regulations on NIL. The group will include conference officials, college presidents, athletic directors and legendary Alabama football coach Nick Saban.
While various state laws exist, there has been little movement on an NIL bill at the national level. And after years of resisting NIL, even the NCAA hopes to see federal guidance on the matter. When the association hired former Massachusetts governor Charlie Baker as its new president late last year, it was widely believed that Baker was brought on board to flex some political muscle on behalf of the NCAA and help get legislation governing NIL passed at the national level.
Indeed, Baker has called for congressional action on NIL, arguing in a recent Twitter thread that differing state laws create an uneven playing field.
"NIL is a powerful vehicle that rightfully allows student-athletes the ability to earn compensation from their unique market value. At the same time, the lack of transparency in today's NIL marketplace puts student-athletes in jeopardy of exploitation by bad actors," Baker tweeted.
For the highly competitive SEC conference—which spans 11 states and has produced the last four national champions in football—the matter is of vital importance as states try to outmaneuver one another on NIL laws. Some states have created more restrictive environments, putting their athletic programs at a recruitment disadvantage compared to others operating with fewer NIL rules.
At the federal level, Democratic senator Joe Manchin of West Virginia and Republican senator Tommy Tuberville—who made a career in college football, including as head coach at Auburn University—have signaled interest in crafting a bipartisan bill to regulate NIL across the U.S. However, their efforts have yet to materialize into a Senate bill.
But other lawmakers have introduced legislation, including the Student Athlete Level Playing Field Act and the Fairness Accountability and Integrity in Representation of College Sports Act, in the House, and the Athlete Opportunity and Taxpayer Integrity Act in the Senate.
But despite such proposals, some experts are skeptical that federal action on NIL will happen anytime soon. Max Forer, a partner in the Miller Nash law firm, told Inside Higher Ed that while "the devil is in the details," comprehensive legislation governing NIL would have to consider how colleges navigate Title IX, oversee requirements for NIL deals and the classification of NCAA athletes as employees, and weigh an antitrust exemption for the NCAA, among other issues.
Mit Winter, a collegiate sports attorney at Kennyhertz Perry, offers a similar perspective.
"I am not optimistic that the federal bill is going to be passed this year," Winter said, adding that such legislation isn't a high enough priority for lawmakers to surpass other national issues.
Changing State Laws
To remedy the competitive imbalance that has emerged, some state lawmakers have revisited legislation passed in the early days of NIL, modifying or repealing laws to lift certain prohibitions.
Seeking to be proactive, some states passed NIL laws even before the NCAA created a bare-bones policy. In many cases, that means lawmakers initially restricted activity that the NCAA ultimately allowed later on, giving athletes in states without legislation more flexibility to make deals.
"When it all started, it was a slow trickle—everyone was pretty risk averse. But now more institutions and state legislatures are becoming more aggressive with their approach," Forer said. "It's almost akin to the facility arms race, where you want the best locker rooms or best treatment centers—now you want the best and most protective state bill."
So far, Alabama, Georgia and South Carolina have repealed NIL legislation passed previously. Other states—such as Arkansas, Connecticut, Florida, Illinois, Louisiana, Mississippi, Nebraska, Pennsylvania and Tennessee—have amended state laws governing NIL. A common theme in such amendments has been creating a legal environment more favorable to NIL deals.
In fact, Winter noted, some state laws have added permissions that are not included in the NCAA's rules governing NIL. But—just as the association did when state NIL legislation began taking off—Winter expects the NCAA to hang back and press for federal regulations rather than waging a legal battle against multiple states that are pushing the envelope on NIL deals.
The Rise of NIL Collectives
Following the introduction of NIL rights, collectives began to emerge and quickly spread. NIL collectives, as defined by the IRS, are "structurally independent of a school, yet fund NIL opportunities for the school's student-athletes." Essentially, such collectives raise funds "to create opportunities for student-athletes to leverage their NIL in exchange for compensation."
It's increasingly uncommon for a top athletic program to not have an affiliated NIL collective, which often helps athletes negotiate contracts and partnerships and develop marketing strategies; collectives also provide guidance on NCAA compliance while enabling athletes to cash in on their talents. In a sense, collectives—often established and operated by fans or boosters—provide a centralized entity to help athletes handle business matters, though how such organizations are structured may vary.
Collectives have become controversial since their inception. As NIL deal brokers, collectives have been accused of stealing recruits from colleges with promises of greater payouts, raising concerns about the influence of money on college athletics. The general lack of oversight of collectives has also drawn scrutiny.
The Future of College Sports
In the absence of federal legislation, institutions face an unclear future on NIL matters. But the introduction of NIL may only be the first domino to fall in a possible shake-up of college sports that could drive a sea change, leading to new challenges for colleges and new rights for athletes.
Johnson v. NCAA, a lawsuit currently winding through the courts, may ultimately decide whether college athletes should be considered employees under the Fair Labor Standards Act. While plaintiffs have argued that they should be considered employees, the NCAA contends that Department of Labor guidelines prohibit college athletes from being considered as such.
The National Labor Relations Board has also argued that college athletes should be considered employees in a complaint filed against the NCAA, the University of Southern California and the Pac-12 Conference. A hearing on the NLRB complaint is scheduled for November, and a decision against the NCAA could result in the classification of athletes as employees and open the door to unionization, radically altering the landscape of college sports in the years to come.
Forer argues there is a "clear and realistic possibility" that college athletes may be found to be wrongly classified and will be considered employees. That may then open the door to unionization, with sports teams possibly split into individual bargaining units. Suddenly an institution with 20 sports teams, for example, may find itself at the negotiating table with representatives from each athletic squad.
"Can you actually imagine having 20 different representatives from different teams at your institution negotiating with your institution on different collective bargaining agreements?" he said.