You have /5 articles left.
Sign up for a free account or log in.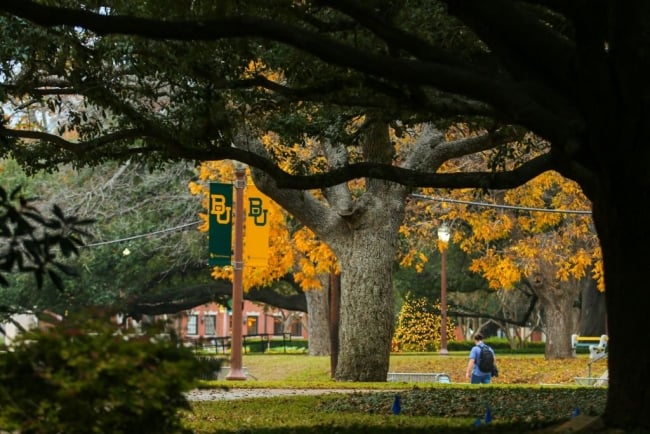 ANDY JACOBSOHN/AFP via Getty Images
The Biden administration has told Baylor University that it may be exempt from federal rules relating to the harassment of students based on their LGBTQ+ status, if it can show that doing so conflicts with its religious tenets. But the Education Department has not yet granted Baylor's request to dismiss complaints to the department from LGBTQ+ students that prompted the university to seek the exemption.
Title IX bans discrimination based on sex and requires colleges and universities to prevent and address sexual harassment. However, religious colleges and universities can seek an exemption if the requirements aren't consistent with the religious tenets of the organization that controls the institution.
The university argued in a letter to the department in May that civil rights complaints accusing Baylor of, among other things, not responding to sexual harassment claims from an LGBTQ+ student should be dismissed because the requirements conflict with the institution's religious tenets. Baylor officials told the department that it is exempt from any requirements under Title IX relating to sexual orientation or gender identity. (Note: The headline on this article has been updated to clarify that Baylor has long had a Title IX exemption.)
An advocacy group that tracks religious exemptions asserted that the department's decision to exempt Baylor from sexual harassment claims is the first of its kind, and that the move would endanger queer students at the university. The university said in a statement that the religious exemption "is being mischaracterized as a broad-based exception to sexual harassment policy within Title IX regulations."
"Instead, Baylor is responding to current considerations by the U.S. Department of Education to move to an expanded definition of sexual harassment, which could infringe on Baylor's rights under the U.S. Constitution, as well as Title IX, to conduct its affairs in a manner consistent with its religious beliefs," Baylor spokeswoman Lori Fogleman said in the statement. "Baylor has taken and will continue to take meaningful steps to ensure members of the LGBTQ community are loved, cared for and protected as a part of the Baylor Family."
Paul Southwick, director of the Religious Exemption Accountability Project (REAP), which also filed complaints with the department's Office for Civil Rights over Baylor's treatment of LGBTQ students, said student safety is at stake in this decision.
"The government is siding with religious exemption claims, even when student safety from harassment is involved and I think any reasonable person would say that goes way too far," he said.
Southwick clarified that it is not unusual or new for religious colleges to seek exemptions from federal regulations or laws; only the exemption from sexual harassment claims is unprecedented. The Religious Exemption Accountability Project has sued to block the federal government from allowing such exemptions from Title IX.
An Education Department spokesman directed Inside Higher Ed to the Office for Civil Rights' letter to Baylor, affirming the university's religious exemptions from Title IX. The letter from Catherine E. Lhamon, assistant secretary for civil rights, affirms that the department is granting the exemption, but includes the qualifier (emphasis added) "to the extent that they are inconsistent with the University's religious tenets."
It adds: "Please note that this letter should not be construed to grant exemption from the requirements of Title IX and the regulations other than as stated above. In the event that OCR receives a complaint against your institution, we are obligated to determine initially whether the allegations fall within the exemption here recognized."
Scott A. Roberts, a lawyer who specializes in Title IX for the Boston firm of Hirsch Roberts Weinstein, said it was important to note that Baylor did not claim—and the Education Department letter did not affirm—that preventing and addressing harassment based on sexual orientation or gender identity does conflict with the university's religious tenets.
"What I don't see in the letter from Baylor is how addressing active harassment against LGBTQ+ students is contrary to or inconsistent with a religious tenet," Roberts said. "Their policy and public statements acknowledge that these students exist, and that the university loves, supports and cares for them, They say, 'we love, support and will protect you.' So I don't see how it would be inconsistent with their religious tenets to take action against somebody who harasses those students."
Baylor sought the exemption after the Education Department's Office for Civil Rights started investigating complaints that accused the university of tolerating sexual harassment based on sexual orientation or gender identity, denying recognition of an LGBTQ student group, and pressing university media to not report on LGBTQ events and protests in September and October 2021. (The complaints were filed in 2021, and the university granted the student group a charter in 2022.)
"Because each of Baylor's rules and policies at issue derives from Baylor's religious tenets as a Baptist university, Baylor's enforcement of those rules and policies is fully exempt from any requirements under Title IX relating to sexual orientation or gender identity," Baylor President Linda Livingstone wrote in a letter to OCR requesting the exemption.
The university wanted assurances that "Baylor could not be found in violation of Title IX on the grounds that the belief in or practice of its religious tenets by the university or its students constitutes 'unwelcome conduct,'" according to a footnote in the request.
Veronica Penales, an LGBTQ+ student who graduated from Baylor this spring, said in a Title IX complaint in 2021 filed by the Religious Exemption Accountability Project that she faced harassment based on her sexual orientation while a student at Baylor. The harassment included being called a homophobic slur. Students also repeatedly posted sticky notes on her dorm room door that said "f-a-g."
"They did it repeatedly, and she reported it to the university and they did not protect her," said Southwick of REAP. "That's essentially what they were trying to be immune from. Failure to respond to that kind of horrible harassment."
Baylor's letter in May, which prompted the Office for Civil Rights' response last month, asked to have those complaints dismissed. Given the important qualifier in the Biden administration's letter about requiring proof that protecting students from sexual harassment conflicts with the university's religious tenets, dropping those complaints would be the true test that the government is giving Baylor latitude not to protect queer students from harassment, Roberts said.
"The proof will be in the pudding" when the department rules on the complaints, he said.
Southwick said he's not sure how the exemption will affect the complaints.
"This is unchartered territory when it comes to sexual harassment," he said. "What I can tell you is that the Department of Education has never denied a religious exemption and when a school has asserted one, historically, for our complaints involving queer and trans students, they've always dismissed the investigations afterward."
Penales said in a statement provided by REAP that she was "saddened by Baylor's lack of integrity and accountability to their students."
"I know many will not feel safe returning to campus, and rightfully so," the statement continued. "If Baylor believes it has a religious liberty right to allow us to be harassed, there truly are no protections left for us."
The Baylor LGBTQ student group shared news about the exemption and reminded students to be careful.
"We still exist and in community will continue to thrive," the group wrote.
One Baylor graduate asked on X, the platform formally known as Twitter, "how many queer students will be harassed and abused at the hand of a 'Christian' university?"
"Baylor doesn't care," the user wrote.