You have /5 articles left.
Sign up for a free account or log in.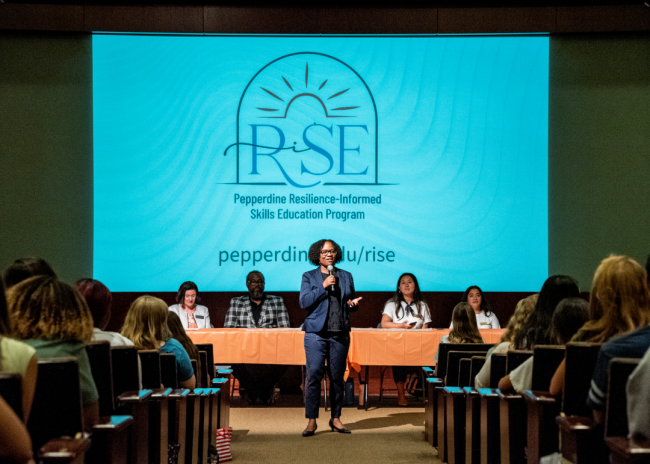 The Resilience Informed Skills Education (RISE) program at Pepperdine University integrates education around resiliency in student life and provides learners with life skills to get ahead of crisis and mitigate distress.
The curriculum, developed by Connie Horton, vice president for student affairs, draws on research to provide six dimensions of resilience. Students first encounter RISE programming in their first term through a credit-based small group, but the program is woven throughout academics, residence life and social programming.
What's the need: Horton started her career in higher education as a psychology faculty member researching mental health, eventually transitioning to leading Pepperdine's counseling center and now, student affairs division. Throughout her career, mental health concerns for college students have grown exponentially nationally and at Pepperdine.
A spring 2019 survey of Pepperdine students found 65 percent had felt overwhelming anxiety, 55 percent had felt things were hopeless and 44 percent had felt "so depressed it was difficult to function" during the semester.
While the university had a fully equipped counseling center, crisis team and student affairs staff who could manage a crisis as it happened, Horton envisioned a program that could address student distress before it manifested in crisis.
"The idea was: let's get upstream," Horton explains. "Instead of just being intervention and crisis response, let's get upstream and teach people skills, ways of thinking, ways of living that would help promote mental health."
RISE had a soft launch in fall 2019 and a gradual rollout over remote instruction in 2020–21, with most programs starting in 2021 or 2022.
The curriculum: RISE curriculum has six dimensions of resilience: physical, social, cognitive, spiritual, service and life skills, each with three "building blocks" that contribute to the dimension.
Physical resilience, for example, encompasses healthy eating, sleep and exercise habits, and cognitive resilience means students can accept challenges, adopt a growth mind-set and change their irrational or unhelpful thoughts.
Pepperdine, as a religious institution, encourages spiritual resilience in students by adopting a faith perspective, engaging in spiritual practices and participating in a faith community.
"We definitely wanted to use best practices, what does research show," Horton says. "At a faith-based institution, we also wanted to feel like we could authentically integrate a faith perspective."
To keep the integrity of the RISE curriculum, faculty members, staff and students who teach or provide RISE programming complete training, as well. Training includes comprehensive understanding of the six dimensions of resilience and role-playing under the supervision of Horton and her team.
"One of the things I feel strongly about is that we have to have coherence in the curriculum," she says. "If everything is resilience, nothing is resilience."
Programming: RISE programming exists as a specific office housed in student affairs, but also bleeds across departmental lines into academics, housing and residence life and spiritual life.
The RISE office includes a director, a program manager, two program specialists, and an administrative coordinator, as well as a team of student workers. Horton and her colleague La Shonda Coleman, associate vice president for student affairs and university Title IX coordinator, lead the team but are also hands-on, Horton explains.
Pepperdine first-year students participate in a for-credit RISE group, part of the undergraduate Seaver 200 requirement, during their first term. The students meet weekly for eight weeks in a small group, led by a faculty or staff member who has completed RISE training to discuss one of the dimensions of resilience, with two weeks of introduction.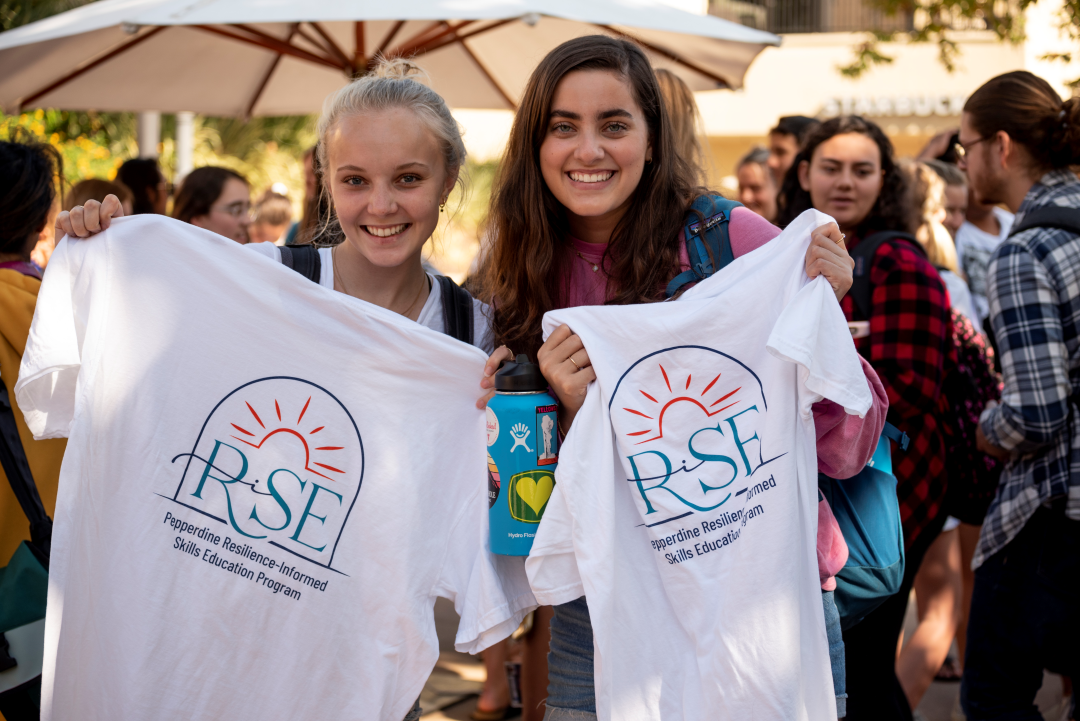 Pepperdine's foster youth program, Horizon Scholars, also receives RISE's eight-week curriculum and support.
Students in their second, third or fourth year at Pepperdine can opt into a RISE-specific living-learning community, which provides residents with special events and residential staff and student workers trained in RISE.
For the entire campus community—including graduate students—RISE can include coaching, which is one-on-one mentoring from a staff member trained in RISE curriculum.
The coaching sessions function similarly to an academic success coach or a counseling program: students complete an intake that identifies the primary hurdle in their life they're looking for support in, and the RISE coach helps by providing actionable steps, support and accountability as they look to meet their goals.
The RISE team also puts on frequent events centered around the eight dimensions of resilience, like Adulting Bingo or the annual RISE summit, a conference with speakers who share their experiences about bouncing back from hardship.
Newer to RISE is academic integration with faculty member participation. RISE offers professors two opportunities to promote resiliency in their work, either by serving as a divisional liaison to the RISE team or as a RISE fellow. Professors receive a teaching stipend in return for including RISE curriculum in their classrooms.
University buy-in: Getting RISE to the scope it covers today was one of the biggest challenges in the program, but the growth and integration was made easier with all community members getting on board, particularly the president, Board of Regents and other administrators.
RISE student workers also helped promote the program and integrate it into the campus culture, Horton says. The initial rollout saw some pushback from students, but the staff "were our eyes and ears and helped us, if you will, make it cool," she shares.
Faculty jumped on, too, applying voluntarily for liaison and teaching positions primarily in the health sciences and social sciences divisions if they had prior experience researching mental health or had a personal passion for student wellness.
"In some ways, we're kind of preaching to the choir at first, but it's also really inspirational to see their care and for them to get buy-in of this program," Horton shares.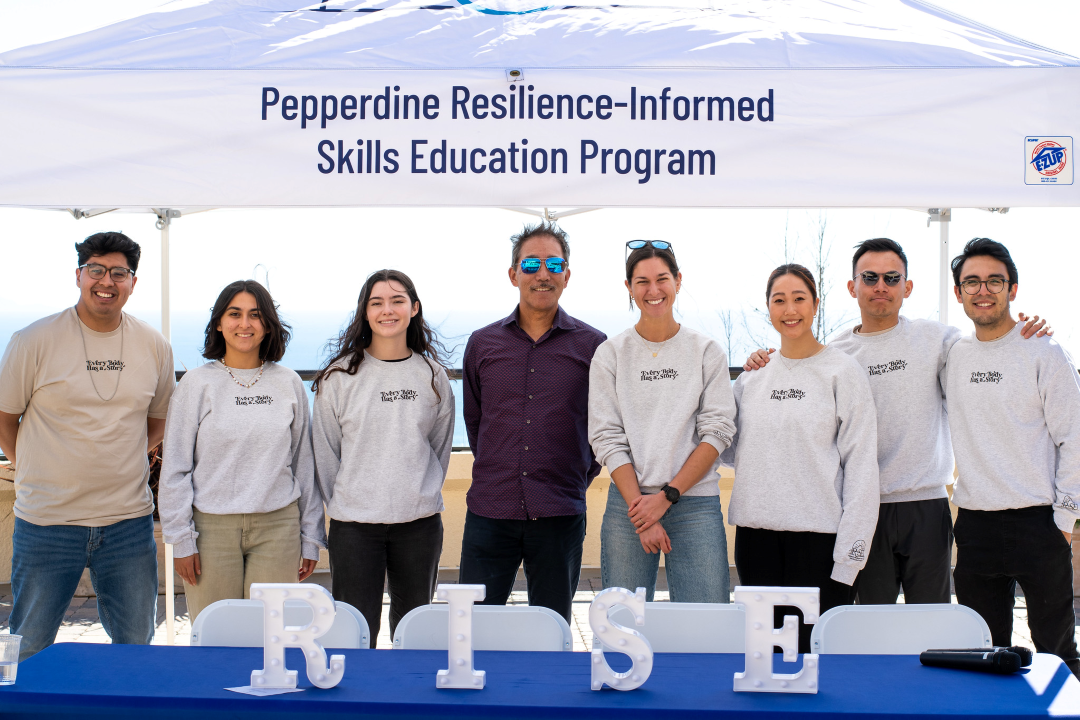 While not every administrator or staff member can get their institution to embrace a program of RISE's size, Horton believes integrating the principles of resilience into campus communication is invaluable.
"Even if you had nothing, if you couldn't add anything, can you train, for example, RAs [residential advisers] in this?" Horton says. "Even if they're not going to do big, formal programming, could they keep this in mind as they're talking to their residents?"
Measuring success: As RISE continues to scale, university administrators have yet to see a direct impact on retention and graduation rates, but anecdotally, they have seen a change in the campus community.
Survey data from students also demonstrate they're integrating RISE into their lives and talking about resilience with other students.
A fall 2021 survey of students who completed the groups found 95 percent gave a concrete example of how they applied RISE principles during the term, and 67 percent shared their knowledge of resilience with others. A fall 2022 survey of students who completed the credit-based groups found 13 percent frequently had conversations about resilience or resilience principles with other students, and 45 percent had those conversations periodically.
The university is participating in the National College Health Assessment this academic year and plans to compare its first- and second-year students who have completed RISE programming to the national trends.
Seeking stories from campus leaders, faculty members and staff for our Student Success focus. Share here.