You have /5 articles left.
Sign up for a free account or log in.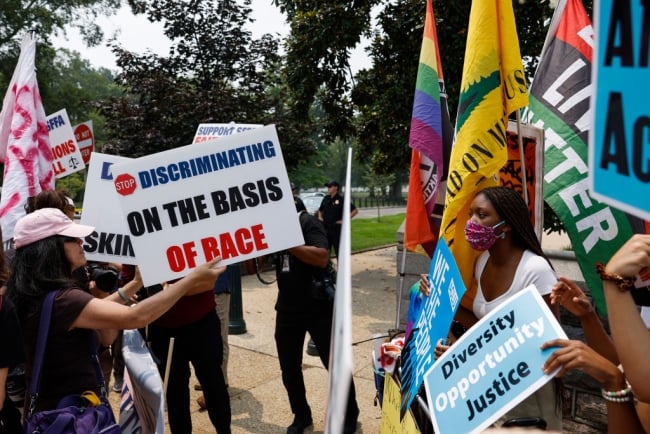 Anna Moneymaker/Getty Images
It's been less than a month since the Supreme Court ruled that affirmative action in admissions was unconstitutional.
Nonetheless, last Tuesday the group that brought forth the suits, Students for Fair Admissions (SFFA), sent a letter to 150 colleges and universities with a list of demands that went far beyond the realm of admissions offices and into recruitment, financial aid, scholarships, employment and data collection.
"Racially exclusive scholarships, internships and other educational programs have always been illegal but generally ignored by many institutions," Edward Blum, SFFA's president, wrote in an email to Inside Higher Ed. "The cases should compel the leadership—especially the general counsel's office—to revisit these programs as well."
Many higher education leaders dismissed Blum's demands as a string of far-flung extrapolations unsupported by the actual text of Chief Justice John Roberts's majority opinion. But even if the letter leans on an aggrandized view of his victory's impact, its premise—that while the scope of the ruling is technically limited to admissions, it will likely have more widespread implications—is hardly disputed by legal experts, including those who disagree with the court's decision.
"While there are still a lot of unanswered questions, the fundamental lay of the land now will be race-neutral policies, looking at those robustly and investing differently than ever before," said Art Coleman, managing partner and founder of EducationCounsel LLC, an education legal consulting firm that released guidance for institutions navigating the wake of the decisions. "That's not just a question of what factors into admissions; it's about what you're doing in recruitment and outreach, it's scholarships, it's a whole range of things."
That range is likely to have a more profound and wide-reaching impact on higher education than the striking down of race-conscious admissions, since the majority of institutions are nonselective and don't use affirmative action when admitting applicants. What those specific implications will be, which institutions they'll affect and when they could begin to rear their heads, however, are all still unknown.
Ann Franke, the former vice president of the insurance company United Educators who now runs her own education consulting firm, has decades of experience advising colleges on their legal liabilities. But even she said the full scope of the Supreme Court decision is too murky to recommend anything more than caution just yet.
"Some people look at these legal questions like math problems and look to lawyers to try to solve them, as if there's a clear answer," she said. "There are no mechanical answers here. We've entered a new realm where the answers are not clear."
Scholarships and Recruitment in the Crosshairs
The rulings have already begun to affect areas of higher education beyond admissions policies. On June 29, the same day the decisions came down, Missouri attorney general Andrew Bailey ordered all higher education institutions in the state to end all financial aid or scholarship programs that take race into account, with which the University of Missouri system promptly complied.
But the underlying premise of Bailey's order, that the SFFA decision can be applied to "race-based scholarships," is not a legal certainty. Luiz Maldonado, vice president for government relations at the American Association of State Colleges and Universities, said that in his reading the decision deals expressly with admissions and any attempts to conjecture about its further reach are just that—guesses.
Still, some universities have decided it's better to be safe than sorry. Shortly after the court handed down its decision, University of Kentucky president Eli Capilouto wrote in a statement to students and faculty that "based on our initial understanding, it appears that the Court has restricted the consideration of race with respect to admissions and scholarships."
Jay Blanton, the university's director of public relations, told Inside Higher Ed that Kentucky does not offer any race-exclusive scholarships but does administer several "in which race is one factor among many." He added that no action has been taken on the scholarships yet, but that leadership is "continuing to analyze the ruling and reviewing our policies and processes."
Others may soon have to deal with the same state-level political pressures as Missouri. Ohio attorney general Dave Yost sent a letter to the state's public colleges and universities informing them of employees' individual liability in lawsuits alleging violations of the affirmative action ban. And in Wisconsin, General Assembly Speaker Robin Vos has promised to file legislation to outlaw race-conscious grants and scholarships at the state's public institutions.
There are potential workarounds to the scholarship conundrum. Both Coleman and Franke mentioned a strategy called pooling and matching, wherein an institution groups all the scholarship money it administers and distributes it based on meritocratic, race-neutral factors. Only afterward do they match students with the source of their money, which in theory could satisfy both donor stipulations and the new law of the land.
This tool is most commonly used to match female recipients to funds meant specifically for women without violating Title IX. Coleman said the same process could now be used to match students of color with money intended for them.
"You're going to have a mix of racial diversity in the award because of who you've admitted. But the totality of decision making is race blind," Coleman said. "That has not been, to my knowledge, tested in the courts. But it is a space where I think institutions will be navigating and leading."
Another area of intrigue in the wake of the ban is recruitment and outreach programs and strategies, which institutions sometimes gear toward specific underrepresented groups, including racial groups. Coleman said most of those are harder to tie to the Supreme Court decision than scholarships and grants and should largely be safe from the tremors.
"What distinguishes recruitment and outreach fundamentally from admissions, financial aid and scholarships is you are not conferring an individual benefit on a particular student based on their race that benefits them and arguably not someone else," he said.
But that distinction becomes murkier when dealing with initiatives where selection is an element, like summer bridge programs for Black or Latino high school students.
"If you've got this very distinct line of experience or avenue for enrichment that is unique to a certain cohort, and racial status is part of the selection, I think that's vulnerable," he said. "I'd start to look at race-neutral criteria: first-generation, socioeconomic, something associated with the experience of students of color that's not about race per se."
A 'Litigative Haze' Approaches
Even if another high-profile class action suit like those brought by Students for Fair Admissions isn't likely to come in front of a federal court anytime soon, experts said institutions should already be preparing for other challenges, whether from activist law firms already recruiting plaintiffs or students filing complaints to the Education Department's Office for Civil Rights.
Coleman said that the main obstacle in the near future will likely be an onslaught of lawsuits from aggrieved students and empowered firms that see an immediate opportunity for large settlements as the dust continues to settle and institutions try to keep up.
"The litigative haze we're about to enter is unfathomable," he said.
That storm of legal challenges has already started brewing. In 2021, a boutique conservative law firm called the Wisconsin Institute for Liberty and Liability (WILL) sued the state's Higher Education Aids Board over grants earmarked specifically for Black, Hispanic, South Asian and Native American students. The case was dismissed in 2022, but the firm appealed, adding that if the Supreme Court struck down affirmative action, they believed that would buoy their argument.
Rick Esenberg, WILL's president and general counsel, believes that's precisely what's happened. While he declined to elaborate on any further lawsuits his firm might file, he said institutions "were already on thin ice" with race-based programs and scholarships, and the Supreme Court's ruling completed the thaw.
"It's very difficult to see how the state wins that case now, or how a scholarship program where certain people are excluded from eligibility based on race can survive scrutiny now that the court has made clear these cases cannot be trumped by concerns about diversity," he said. "I understand there's a lot of opposition to [the ruling] among college administrators, but they need to face the fact that there's a new reality."
Franke said there may be institutions that choose to take a pointed stand and continue offering race-conscious scholarships and recruitment programs; they should just understand the risks.
"You have to assess the risk appetite of a given school, and that will happen at the leadership level. Are you willing to explore the boundaries, or is your goal to lie low and not get sued?" she said. "Regardless, your institutional values need to underlie the legal analysis and advice."
Esenberg said institutions that choose to see the court's decisions as "narrowly defined" to admissions or that take provocative stances on race-based programs and scholarships can expect to be met with legal challenges from firms like his own.
"I understand there's a tremendous desire among universities to do everything to get around the court's decision. I think Chief Justice Roberts anticipated that and, at the end of his opinion, warned them against it," he said. "But if universities want to invite litigation, they'll get litigation."