You have /5 articles left.
Sign up for a free account or log in.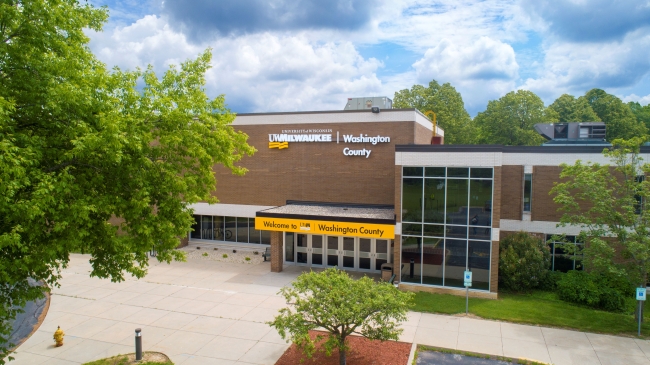 Five years after a controversial restructuring merged the University of Wisconsin System's two-year liberal arts colleges with its four-year institutions, many of the same challenges that spurred the redesign remain.
Budgetary pressures, demographic changes and declining enrollment that are occurring in Wisconsin and various states across the country are prompting state and local higher ed officials, and community members, to evaluate the long-term viability of small public institutions and to consider consolidating them into larger systems.
UW-Platteville at Richland, a two-year college located in southwestern Wisconsin where enrollment fell to about 60 students this past academic year, recently ended all in-person classes. Leaders of many peer branch campuses across Wisconsin are worried they could be next.
Local government leaders in Washington County, in the eastern part of the state, decided to act as they watched enrollment drop at the local UW-Milwaukee branch campus from nearly 1,100 at its peak more than a decade ago to about 300 today.
The county executive assembled a task force to explore options and it recommended putting UW-Milwaukee at Washington County under the governance of Moraine Park Technical College, a nearby vocational school that is not part of the UW System.
The recommendation won the support of key lawmakers who helped write the state budget and proposed $3.4 million to fund the merger. The state legislature approved the measure, but things came to a halt last week when Governor Tony Evers vetoed the proposal.
"I object to the Legislature singling out only one of our state's branch campuses when many campuses are facing challenges, in part due to the Legislature's repeated failure to provide an adequate level of funding," Evers wrote in his veto statement. "I further object to the Legislature determining a matter that is within the purview of the discretion and responsibility of the University of Wisconsin Board of Regents and the University of Wisconsin-Milwaukee, as well as the Wisconsin Technical College System Board and Moraine Park Technical College."
The governor's decision was praised by leaders at UW-Milwaukee who felt they were not properly represented in the task force's recommendation and that the county board and state legislature should not be deciding whether the branch campus should be consolidated.
State Senator Duey Stroebel, Jr., (R) vice-chair of the budget committee, said he was "very disappointed with the Governor's action."
"We are looking at ways to deliver education in a more efficient and cost-effective manner for future students," he said in emailed statement following the veto. "Unfortunately, this approach only continues to exacerbate antiquated inefficiencies."
Josh Schoemann, the Washington County Executive, said he was caught off guard by the veto.
"I am deeply disappointed that Governor Evers vetoed such a commonsense solution without more than a courtesy call from his staff a few minutes before it was announced," he said in a press release.
The turn of events highlighted the lack of consensus among state and local lawmakers and higher ed officials on how best to respond to shifting demographic trends that are resulting in too few students and too many colleges. It also underscored the challenges states across the country face in deciding how best to reorganize their public colleges.
Who Should Decide?
Schoemann said past changes to UW System's structure didn't provide the increased efficiencies state officials had hoped for. He said he created the task force after long voicing concern about the future of the college and not getting any response.
"I was very clear with the chancellor that I felt like these changes had a significant effect on the efficacy of [UW-Milwaukee at Washington County], and that I didn't see a path towards financial or demographic sustainability," Schoemann said. "I also made him very aware that I didn't blame him. UW-M has tried to make the best of a really tough situation … by taking on these campuses and no new fiscal resources."
Schoeman said the local UW branch was the county's only connection to a four-year institution and that it was his job to protect it on behalf of students, county residents and the businesses that rely on the college to educate and train the local work force.
"I'm not willing to sit back and wait for the legislature or either one of the systems to make a decision," about the future of the college, he said. "We need to control our own destiny."
UW-Milwaukee representatives believe they should have say over control of the college.
Olivia Hwang, UW-Milwaukee vice chancellor for marketing and communications, said in a statement via email that the institution is "grateful" for the governor's actions and recognition that the UW System and UW-Milwaukee should lead any plans for the campus's future.
Although UW-Milwaukee was aware of the task force and was represented on it by a nonvoting member, the institution didn't have final say on the task force's merger recommendations. UW-Milwaukee also assembled its own Work Group in mid-May to explore future possibilities for the campus. The work group will consider viewpoints of faculty, staff and students, who Hwang said were "excluded from the county's deliberations," and make its final recommendations by Sept. 1.
A UW-Milwaukee faculty member who works at the Washington County campus and did not want to be identified said he is "definitely opposed" to the idea of merging.
He said prior UW System consolidations were "forced upon" campuses and faculty and "that left quite a bitter taste."
He said he was concerned about the impact of a merger on the branch campus's ability to maintain a liberal arts curriculum and preserve academic freedom, faculty tenure and research funding.
"We're very leery of any potential merger, that doesn't involve a real bottom-up process of shared governance where everybody's involved," he said.
Bonnie Baerwald, president of Moraine Park Technical College, said in a statement that she respects the governor's "authority to revert any decision regarding the branch campuses back to the University of Wisconsin System and their Board of Regents." (Note: This paragraph was revised to correct a sentence that said Baerwald previously expressed openness to the idea of a merger prior to the veto. Her office said she did not.)
The statement also said Baerwald welcomes "the continued collaboration with our UW partners, including UW Milwaukee, building upon the robust transfer agreements we have created together and ensuring learners across the Moraine Park district have access to affordable higher education opportunities."
Hwang said UW-Milwaukee and the UW System will "seek out collaboration with Washington County officials and other stakeholders," but "UWM at Washington County will remain open for the foreseeable future."
She would not comment on whether a merger was still a possibility.
Complexity of Consolidations
Michael B. Horn, co-founder of the Clayton Christensen Institute for Disruptive Innovation, a nonpartisan think tank, said failed mergers or consolidations are not uncommon in higher ed but that he sees local communities advocating for colleges to operate independently more often than he does for them to consolidate.
He added that he was less surprised by UW-Milwaukee's lack of excitement about the idea of a merger.
"Institutional autonomy is something that they often desire and fight for, for better or worse," he said.
Other states including Vermont, Connecticut and Georgia have also debated, and, in some cases, put into effect, consolidation plans. "I think it's safe to say it starts a process then to figure out, 'What is our actual resolution going to be here?' Because this isn't sustainable," Horn said. "There's ample evidence from other states that have gone through consolidations that the processes are not linear, or quick."
Roger Schonfeld, vice president of organizational strategy for ITHAKA, an education consulting group, has conducted research on the impacts of prior consolidations in Wisconsin, and other public college systems across the country. He agreed that Wisconsin is not alone in having difficult conversations about realigning the state's higher education system.
"Look, it's a lot easier to make the argument in a growing state that you need more of something than in a case where there's population decline and that you need less of it," Schonfeld said, noting the political and emotional implications at play. "But regardless, those issues persist."
He said demographic changes are one of the largest driving forces behind consolidation decisions. "Those kinds of factors seem to explain a good deal of the dynamics around [efforts] to match supply with demand for higher education," he said. "The politics of the state, from what I can see, have not been favorable to making the hard choices proactively."